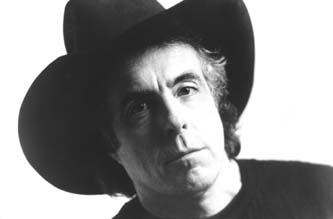 The Man From God Knows Where
Talks to Bill Nevins

's latest CD, The Man From God Knows Where, is a "folk opera" on themes of European immigration to the USA, with particular focus on Russell's own ancestral origins among the people of Scandanavia, Ireland and the American heartland. Various roles in this song cycle are sung by Iris DeMent, Dolores Keane, Dave Van Ronk, Sondre Bratland, Kari Bremnes and (via Thomas Edison's historic recording) Walt Whitman, as well as Russell himself. Musical accompaniment is provided by a host of European and American traditional players on Uileann pipes, Norwegian fiddles and other instruments. But he notes that his current tour, with just himself and guitarist Andrew Hardin, is "very close to the original concept of The Man From God Knows Where."

So rise up all you ancestors,and dance upon your graves,
I've come to hear your voices now, so maybe I'll be saved.

Russell says that, "The original idea was that I would both record and tour as this character, 'Man from God Knows Where', who would summon up his ancestors at each show and explore their history. Every show would be different, with new information being added. That's pretty much the way it is going so far, too. The show changes every night. I don't add new songs, but I bring in new thoughts, lines and insights from my ancestors. I am learning quite a bit doing this show live." Russell compares the project to the Lakota/Sioux sweat lodge and Yuwipi ceremonies, which honor ancestors by seeking their wisdom.

Lakota leader Sitting Bull himself appears in Man From God Knows Where, speaking from a gondola in an old photograph. Russell comments, "That's the ironic take on immigration. I saw that photo in an old cowboy photo book. There is some question about whether Sitting Bull actually went to Venice, but it doesn't matter. He was with the Wild West Show and the point is that I realized that while he was sailing to Europe with Buffalo Bill Cody, my own ancestors were sailing to America to settle in the very places where the Native Americans were being destroyed and dispossessed of their lands. It is very, very sad. And I wanted to include some thought on the indigenous peoples and what immigration meant to them on this project."

"I close my eyes and see the Big Horn Valley,
Harvest moons ago, The bloody hair of Custer
Hanging from our victory pole!" - "Sitting Bull in Venice"

Russell acknowledges the common perception among Southwest peoples, both indigenous and Chicano, that they were historic victims of an "Anglo" invasion. "I'm sure there is an awareness of the complexity of immigration, but there also must be a feeling that an outside 'army' of English-speakers marched in, just as an earlier wave of Spanish-speaking invaders moved over that part of the country.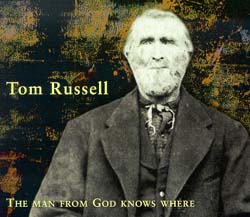 "I want to explore that more, about how people moved and interacted along the Rio Grande. The Spanish coming up the river, killing Indians all along the way, then the Americans moving in, killing Spanish and Indians. You know, the government wants to make the whole Rio Grande a national monument. I live in El Paso now, and I am reading a lot about all that. I feel like I am living in Egypt along the Nile! The Rio Grande is likely to be my next album project in a couple of years."

Russell lives in El Paso now. "I like it very much. There is no music scene and no real literary scene. Just regular working folks. I like that. My girlfriend and I looked around the Southwest about two years ago when we were sick of New York and the urban thing. We fell in love with this place on the Rio Grande."

About his part in the Merle Haggard tribute album a few years ago, Russell says, "I liked doing that album. Because I grew up on that music, those dust bowl songs, and Johnny Cash. George Jones. Merle Haggard. I liked country music when it was for working people. About ten or fifteen years ago country music left that and became a middle class dance-pop thing built around 'stars'. I was very sad to see that happen. I try to get back to that working class focus in my own songs, though I don't get real political about it."

Oh gather round me people, lend an ear now if you please,
Your promised land was settled by bastards, drunks and thieves,
Excuse me if it offends you, but I'm the worst of all of these,
Yes, I destroyed the family tree,
I am the Outcast!

Russell laughs about his choice of Dave Van Ronk to sing the part of The Outcast. "I wanted to have a Devil's Advocate, the opposite of my character, The Man from God Knows Where, to talk from that view of history: all the bigotry and swindling that went on. Originally I thought of Tom Waits. Then I talked with Dave about it. He loved the concept and I realized he was perfect for it. He had that voice! And he had done blues and Bertolt Brecht folk opera. And he had explored his own Irish and Dutch roots and related them to the slave roots and other folk roots in America. On the album, The Outcast says the things that the Man (me) could not say. The Outcast is the guy who met the immigrants when they got off the boat and told them his version of history at the same time that he was swindling them. I grew up on Rodgers and Hart and Broadway shows as well as Woody Guthrie and folk music. There always needed to be a villain, an alter-ego--like when I saw Jerry Lee Lewis play Iago in a rock version of Othello. I never forgot that! I loved having Dave play The Outcast part. He took all the racism, the dirty politics and put it right out there. History depends on who is telling it, doesn't it?"

Russell remarks on how the version of history told in The Man From God Knows Where differs from the common account in US history texts: "We know that there was lots of suicide, alcoholism, bankruptcy and despair. You don't get that in the standard school history books. But you see it in the photos, in the tales handed down, including my own family history. The ancestors can tell us this story. I wanted to make it real. I see this piece as balanced by The Man and The Outcast. Two ways of looking at immigrant history."

"This is a work in progress for me. I am still digging into it. It has to do with the struggle to find community--we are still struggling, aren't we? There were very tough times for the people out on the plains. Back there in Europe, in Ireland or Norway or Italy, there was and always has been a sense of community. People always have links to neighbors and relatives, to places. It roots them in time. "But in America all that was destroyed by the move into new land, by harsh reality, by destruction of the natives, by a lack of any real sense of place and belonging. By being told stories about this place that differed. By swindlers, by saints. And by loneliness. There was tremendous isolation."

Russell talks about the sense of community we are finding in America. "Yes, we are discovering it. At last. I love where I live now and I plan to stay. And I am learning community from ancestors along the way, and from audiences, from touring America."

He recounts his personal history. "I was raised on the West Coast. I tried performing my songs around the country. I also worked with the William Morris Agency in developing novels for publication. I always knew I had these characters, but I wasn't sure where to go with them. By 1979, I had quit performing and I was driving a cab in New York City. One night, I happened to pick up Robert Hunter as a fare. He's the lyricist for the Grateful Dead, you know. We got to talking and he encouraged me to get back to performing and recording my songs.
"I put together the Tom Russell Band and we went to Norway, where we had a hit song, "St. Olaf's Gate" that later was covered by Doug Sahm and others. I began working more in Europe and western Canada than in the US. I worked with both Ian and Sylvia separately--I was a big fan! And I even co-wrote a book with Sylvia Tyson. The Merle Haggard tribute and my last two CDs finally opened up the US market for us."

My father was a gambler, he threw horseshoes at the moon
He won a million dollars, and he lost a million, too.

His father's troubled life history is portrayed on the recording without apology and with clear affection. "My Dad passed away just two years ago, in 1997. I really could not finish this project until then. Writing and recording this album was more disturbing to the rest of the family than to me. It was more cathartic and cleansing and freeing for me. You know, it ends in 'Love Abides'. That song means a great deal to me."

Here's to what we've left behind us,
Here's to what we've kept inside
May the road that lies before us
Lead to a place where love abides.

Russell says that his time in Europe aroused dormant curiousity about his personal family origins. "I spent time trying to find the family farm in Norway, and found a deep sense there of connectedness, of roots going very deep and extending out across the seas.

I miss ancient rock and wild fjord
Where my grandparents stood by the door
Praise God that before I pass from this life
I'll lay eyes on that old Northern shore.

"That's where I really felt I could discover something important by focusing on research of my own ancestors. My Irish family history is more complicated. I am descended from both Russells and Malloys. It opened a big door to go there. Musically, I found myself in Doolin, in Dublin and all around the country, with so many songs, such fine musicians, and everyone wanting to talk about the people who went off to America. I would love to work with an Irish songwriter in the future. You know, it was Delores Keane, the voice of Ireland, who gave the wonderful idea for that song, 'When Irish Girls Grow Up'. She told me how Irish women can gossip, even though it is considered sinful, because they ask for forgiveness beforehand. And it was an Irish journalist who asked me if my song cycle would include anything about the Native Americans and how the immigrants impacted upon them."

Have you heard about the Cooney's, the Russell's and Malloy's?
Their girls all left the farm and went to chasin' city boys . . .
Oh, isn't it a pity, when Irish girls grow up?

Will there be a performance of The Man in its full multi-singer format, as on the CD? Russell explains, "The full cast of The Man from God Knows Where was assembled... in Norway at a castle on the really wild rugged coast. We spent two days there, got into the feeling and the reality of it. We performed the cycle for Norway television. Possibly we will put the whole cast together for a performance in the US sometime in the future. Meanwhile, Andrew and I will keep touring, getting to know our audiences and digging deeper into this material. We are having a grand time at it so far!"

Oh, they hung me in Downpatrick,
Up near St. Patrick's tomb,
But my ghost rose up in the peat fire smoke
Toward the rising of the moon.
Now as I drift through your villages,
All the maidens stop and stare,
'There goes old Tom, the vagabond,
The Man From God Knows Where.'



---
Bill Nevins is a freelance writer in Albuquerque.