Never Giving Up
Reggae artist Michael Rose talks to Silja J.A. Talvi

For reggae singer Michael Rose, a product of one of Kingston's most violent ghetto neighborhoods and the former lead singer of Black Uhuru, the lyrics he pens are the most effective way to reach his audiences with a message of hope, dignity and crucial self-respect.

"The music is really all about the people," says Rose. "You have a lot of people who don't get the opportunity to speak out what is in their mind," explains Rose. "If you [can] come up with a song that could help them out of that state of mind, it feels good."
As a youth in the Kingston 11 (Waterhouse) neighborhood, Rose was raised by parents who brought him and his older brother up in a stable home despite the influences of their harsh, external environment. But all that changed, explains Rose, when he gravitated toward the Rastafarian way of life as a teen and started growing his dreadlocks. "They [didn't] believe in [dreadlocks] because they [weren't] used to it. So it was really strange to them."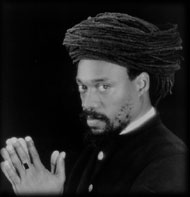 photo: E.K. Waller

In fact, dreadlocks and the Rastafarian faith engendered some of the greatest hostility and reprisal in Jamaica, the birth nation of the Rastafarian movement. Although prevalent throughout the Caribbean today, dreadlocks were, until relatively recently, viewed as an undesirable, antisocial adornment in Jamaica, ridiculed by the middle and upper-classes and targeted for persecution and harassment by law enforcement. Even in the 1970s, the decade during which Rose began to sprout his locks, Rastafarians were hardly being warmly welcomed into Jamaican society, which dubbed them"Blackheart Men."

Rose's parents demanded that he cut off his locks, or be cut off from familial support.

Faced with that harsh ultimatum, Rose refused to cut his locks. Promptly thrust into his ghetto environment without the cloak of parental protection, or the comfort of his former home, Rose, who hasn't shorn his near-knee-length-locks since then, only says that was able to keep out of trouble "most of the time."

"I could say today ... [that] it could have been worse," Rose offers with characteristic humility. "Because I have seen a lot of my brothers die."

Rose's concern for the plight of 'downpressed' youth extends beyond his ghetto-real lyrics, and takes the form of a number of projects including the singer's own coffee farm in Jamaica, which is run in his absence by young adults.

"I don't make any money from it," says the 43-year-old Rose of the youth employed on his farm. "They work to support themselves."

As a teen, Rose's own potential was nurtured and encouraged by a host of top-notch Kingston musicians and producers. His talents were quickly recognized, and Rose soon made his first recordings as a solo artist, before joining the already-formed Black Uhuru as the group's new lead singer.

By the late 1970s and early 1980s, Rose had gained recognition with international reggae audiences for his scowlin'-and-'prowlin' stage presence and ethereal wail 'n' scat vocals. Along with the legendary "Riddim Twins" (drummer Sly Dunbar and bassist Robbie Shakespeare), fellow Jamaican singer Duckie Simpson and a stunning South Carolina-born soprano, Sandra "Puma" Jones, Rose's vocals and his deeply mystical Rastafarian lyrics helped to bring an exciting era in reggae music with such albums as Sinsemilla, Red, Chill Out and Anthem, the last of which garnered the first-ever Grammy awarded to a reggae group in 1985.

Since the mid-1990s, Rose's solo records have melded dancehall beats and dubs with R&B, reaching for heavy, wicked trance and hip-hop rhythms influenced by cutting-edge UK producers like Mafia and Fluxy, studio wizards Karl Pitterson and Dr. Paul, and Rose's current British touring band, Dub Tribe. Those kinds of collaborations have drawn in new audiences, while Rose's beautiful melodies and heartfelt, uplifting lyrics deliver the vital impact on new songs including "Jailhouse Call," "People Dem Bawling" and "Musical Rate."

"The most important thing, you know, as Bob Marley used to say, is that 'you can't hide the truth,'" says Rose. "You have to tell the truth, because the children [are] the ones [who] come to live the truth." - Silja J.A. Talvi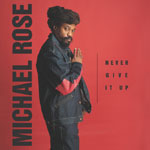 Michael Rose's latest recording, Never Give Up is on Heartbeat Records (www.rounder.com)
Available at cdroots.com