"The minstrel is an ancient role, and maybe more valuable than ever. So much of what people see and hear has been formed by a corporation, and is not just the opinion or creation of a single person."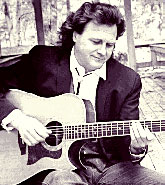 Guitar Voyages is Harvey Reid's year 2000 release from his own Woodpecker record label. "The goal," Reid says, "was to make something that was interesting to me as a guitarist, interesting to guitar appreciators, and enjoyable to casual listeners." Reid is capable of playing multiple instruments, but chose to concentrate on guitar this time around. "My first record was a guitar album," he explains. "My best-selling record is a guitar album. Guitar is the center of my musical world."

Please note that all audio links in this article are MP3's linked directly from Harvey Reid's web site. All audio ©2000 Woodpecker Records

Guitar Voyages is a beautiful collection of six-string, twelve-string, and slide guitar instrumentals. Reid has written the majority of the folk-tinged and traditional material, and performs without accompaniment. From the lively jaunt of "Racing the Storm" to the ethereal, melancholy of "Pegasus," this album sparkles with quiet intensity. "One of the things I am proudest of in 'Guitar Voyages,'" says Reid, "is the tone I am getting from the guitar. It's sad how many people listen on computers and boom boxes—the sound I get in 'Racing the Storm' and 'Pegasus' is awesome, but you miss it if you don't listen on good speakers."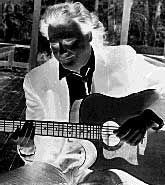 Reid's most ambitious instrumentals are the multiple part "The Norway Suite" and "The Scotland Suite," running ten and fifteen minutes respectively. Reid confesses that, "people like me have been pushed so far out of the radio markets, and a guitar album like this is so uncommmercial, that it seemed to me that it made no difference how long the songs were, and I worried very little about timing them when I did this record." He also believes that longer pieces are unusual because, "contemporary American guitar compositions in general have not gone into as much depth as things like concertos and sonatas, undoubtedly due to all-pervasiveness of the 3 minute song mentality, and repeating hook mindset."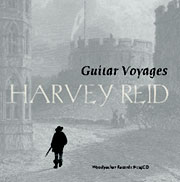 While Reid certainly shows himself a master of fingerstyle guitar on Guitar Voyages, he is also a talented singer/songwriter, harpist, and banjo player. Indeed, his eclectic talent and busy touring schedule have led to Reid being labeled a modern day minstrel. "It's an ancient role [the minstrel], and maybe more valuable than ever. So much of what people see and hear has been formed by a corporation, and is not just the opinion or creation of a single person." The modern day minstrel then, offers an audience a genuine experience, unsullied by commercial considerations. "Once you have experienced the passion and the art pour out of a real artist, you won't be amused or entertained as much by Madonna or one of the actors-and-publicists-posing-as-musicians."
When Reid's unique artistry failed to gain the ear of commercial recording labels, he started Woodpecker Records in 1982. "The best thing about having your own label is that you don't have to live with the negative energy of blaming your record company for everything." He admits that "it's hard work, and there is a lot of paperwork, but you really can't play guitar all day anyway." Twelve of his albums are currently in print at Woodpecker, and while all are offered for sale through his label's website, the greatest number of copies are sold at concerts. It doesn't seem to bother Reid that his records are hard to find. "I cherish some recordings I have that I know are hard to get. If they are at Wal-Mart it cheapens the joy of owning them somehow."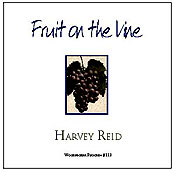 Owning one's label also comes with the advantage of deciding when you would like to record. "I have concluded that having your own studio greatly increases the likelihood that you will be able to capture your best work on tape. I have to set a deadline for when I want to release an album, and that motivates me. You need the momentum of that." Reid's momentum pushes him to sometimes practice 50-100 hours on a single piece before actually recording it for an album. "Some of the time is spent just learning the stuff well enough to perform and record it—some of the material is extremely hard," Reid admits. His standards are also extremely high for the music he writes, and a great deal of time is needed to refine each piece. "When I write music, I look for a sense of elegance and completeness, and I have a gut instinct for when something is right. I feel it in my head, in my emotions, and in my hands."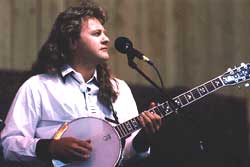 Reid's drive has also led him to release seven albums within the last ten years. His albums are often centered on themes, such as 1991's Steel Drivin' Man, an album of once familiar songs that seemed in danger of being lost to the next generation. The Artistry of the 6-String Banjo is especially intriguing, featuring everything from Bach to Scott Joplin on the rare, six-string banjo. "I was surprised when I started to play the 6-string banjo in 1987 at how well certain kinds of music work on it," Reid recalls. "I expected ragtime to sound good, but not classical." He has also recorded an album of holiday instrumentals, and a two-disc live set.

When Reid became interested in guitar in 1970, he listened to John Fahey, Leo Kotkke, and Norman Blake among many others. He says "the records that I listened to the most were probably (in no order) Doc Watson On Stage, Christopher Parkening Plays Bach (though I was pissed off later to find out he overdubbed some things on it) and Norman Blake's Fields of November." He also learned from bluesmen like Robert Johnson and John Hurt, as well as classical players like Segovia and Julian Bream. It is perhaps the connection between classical and folk that inspires Reid's longer pieces. "Classical music and folk music seem so far apart now," he admits, "but there have always been bridges between them, and they seem to have evolved with constant cross-pollination between them."

Reid can be critical of contemporary guitar players who rely on trickery instead of skills gained by hard work. "The fact that so many guitarists overdub and add effects and other things to what is supposedly solo guitar music, the average listener's concept of solo guitar music has been diluted and skewed also." Trickery involves many things, like adding an extra bass string to achieve a fuller sound, or using an echo unit. "The only 'trick' I used was the partial capo. I don't even use altered tuning very much." Other guitarists also get hung up about how fast they can play, as opposed to the tone of their guitar. "There is such a macho thing going on now in acoustic guitar playing to see how fast people can play. It has caused people to use lighter gauge strings, and you never really get to hear the wood ring the way I like to hear it."

Whether listening to one of Harvey Reid's albums or reading an article he has penned for a magazine, one gains the impression of a musician who takes his artistry seriously. "We can only hope that people will recognize the difference between quality and its opposite," Reid states, "or at least that with alternative media like the internet, those who know what they want and who want excellence will have a chance of finding it, and those who produce it can earn a living." Reid doesn't really care about being in the mainstream. He doesn't care if the big labels never call, and he can live without being on MTV or top-40 radio. He's just happy to be able to follow his muse and play to full auditoriums. "I just hope I can stay healthy and productive, and I am interested in what I will be able to crank out while my clock is still ticking."

For those who are new to Reid and not sure where to start, the live "In Person" serves as a two disc overview of his guitar playing, singing, and songwriting. A guitar player couldn't go wrong with the recent Guitar Voyages or Solo Guitar Sketches. Both Steel Drivin' Man and Chestnuts cover traditional music, while Artistry of the 6-String Banjo offer classical and ragtime banjo music. For the more introspective listener, Circles would be a good place to sample Reid's singer/songwriter skills. - Ronnie D. Lankford, Jr.

More information about Harvey Reid and Woodpecker Records can be found at www.woodpecker.com. This is also your best source for his CDs.
Guitar Voyages (Woodpecker, 2000)
Fruit on the Vine (Woodpecker, 1998)
In Person (2 CD's) (Woodpecker, 1997)
Artistry of the 6-String Banjo (Woodpecker, 1995)
Chestnuts (Woodpecker, 1994)
Circles (Woodpecker, 1993)
Steel Drivin' Man (Woodpecker, 1992)
Overview (Woodpecker, 1990)
Solo Guitar Sketchbook (Woodpecker, 1989)
Of Wind & Water (Woodpecker, 1988)
Heart of the Minstrel on Christmas Day (Woodpecker, 1987)
The Coming of Winter (Woodpecker, 1986)

Download MP3 tracks from Woodpecker
Comment on this music or the web site.
Write a Letter to the Editor