Helene Northway talks to accordionist John Redmond

Some people need a map to get from point A to point B and some people just seem to end up where they belong. Wexford-born button accordionist John Redmond talks to Helene Northway about his first CD, East To Northeast, and about not always taking the road most traveled.


His mother taught him the one piece she knew on the house accordion and his father bought him his own instrument, but it wasn't until his parish priest took John to train with accordionist Tom Dunne that he knew what was possible. "I grew up in an area that didn't have a lot of music," John says. "I didn't know any musicians existed besides players who played waltzes and a couple of marches."



"It's very limiting to say that one should just play hornpipes, jigs and reels in the 'old' style. Basically, people are saying that the way that they played it is the 'right' way and there's no other. I would never say that."

John "started playing competitions, started winning competitions, learned more tunes from Tom for competitions. I didn't play in séisíuns or anything, I just went off and played in Comhaltas competitions and won fleadhs and went home and did homework and played sports and then, when the next competition came up, I learned a few tunes and went off and played in that."

Throughout, John felt no pressure to bury himself in traditional accordion music. "I played what I liked, the way I liked it. If anything, there was really more of a fiddle influence in the tunes that I played." To date, most of the traditional musicians John listens to are fiddle players: Kevin Burke, Tommy Peoples and Dave Sheridan. He is also a fan of Mick McAuley of Solas, Jackie Daly, Altan, De Dannan and Niall Vallely of Nomas.

At 19, even John's 4 All-Ireland titles couldn't make the drudgery of competition worth it, so he quit, moved to Dublin and worked in a bank. "I didn't know about the whole vibrant séisíun scene," he explains, "all I knew was competition." For the next few years he was involved in drama and sports and thinks he might have played a few tunes at drama society parties.

Not sure what direction to take, but having now left the bank and decided that he wasn't going to be the next Marlon Brando, John went back to school before making his way to New York. For six years he tended bar. Then fate again stepped in. A Dublin ballad singer was in town and needed accompaniment. For a year, John played back-up. "We were playing in bars and people only wanted to hear ballads and a few tunes but the tunes that I was playing were the ones I had won the All-Ireland with. They were unusual tunes but they were the only ones I knew. I knew none of the tunes that everybody knew - all the popular ones."

Needing another change of course, John quit the gig and the bar but this time music wasn't about to let him go. Dermot Burke, owner of Manhattan's Scratcher and An Beal Bocht Café in the Bronx where John frequented, also owned a large traditional CD collection. "I started listening to all this music I had never heard. I was probably the only traditional music player at the age of 28 who had never heard of Tommy Peoples and Sharon Shannon. I had barely heard of The Bothy Band." In retrospect John realized that the music he was listening to, Echo and the Bunnymen, Queen, Brian Eno and Jethro Tull, had its own connections to traditional music. "But then I started listening to all these and saying to myself 'why did I ever stop playing?'" Dermot asked him to lead a séisíun, even if he didn't know any tunes, and John did it, studying as he went.



I was probably the only traditional music player at the age of 28
who had never heard of Tommy Peoples and Sharon Shannon.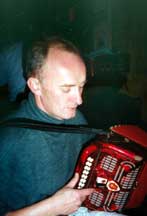 When fiddler Dave Sheridan needed a replacement for a run in St. Louis, John joined him, both learning sets that Dave had found, from tape. "Little did I realize that Dave knew more tunes than nearly anyone, so for him not to know tunes, they were really, really, good tunes," John laughs. "So I went from knowing no tunes to learning these brilliant ones that nobody else knew. I still was missing that whole middle block of regular tunes."

John recalls Dave's amazement at his love of The High Reel, which John had never heard before. "Dave goes 'What are you talking about? That's the most common tune in Irish music nearly' and I said 'I've never heard it before'. So we had this running joke about me wanting to hear The High Reel but that's where I was at. Over the last six years I've got to know all those tunes plus my own sets that a lot of others might not play. So I'm kind of where Dave was, in a way, six years ago."

Having learned the tunes, John settled in as a New York séisíun player. The Catskill's Irish Arts Week in 1998 allowed him the opportunity to play with Ged Foley (Patrick Street, The House Band). As he was leaving the stage to make room for Kevin Burke, they asked him to stay. Fortunately, John had learned Kevin's tunes note for note from his albums. The idea of a CD rambled around until he finally asked Ged to play guitar and produce it. Those live tracks recorded with Ged and Kevin appear on the album, which is being distributed by Dara Records and Ossian.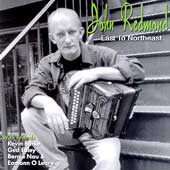 The album's title, East to Northeast, is a play on Alfred Hitchcock's North by Northwest as well as John's own move from the East of Ireland to Northeast America. It contains, not surprisingly, "a lot of fiddle tunes, a lot of Donegal music, some slow pieces that I just love." But just because this album takes a straight road, that doesn't mean that its the only one John's interested in taking.

"Change is inevitable," he says. "I don't think anybody should draw a hard and fast line that there's a certain way that an instrument should be played. I get quite incensed about this myself. There was a waltz from Finland that I fell madly in love with when I heard it, but does it mean that since it's not a traditional Irish tune I shouldn't play it on the accordion? Possibly one of the reasons that I like Kevin is that he plays what he feels." John explains. "He hears something and he loves it and he plays it. It's very limiting to say that one should just play hornpipes, jigs and reels the 'old' style. Basically, people are saying that the way that they played it is the 'right' way and there's no other. I would never say that."

As he begins to form a number of groups for festival and venue work, John isn't making assumptions about the future. "All I'm really doing is trying to make a living and just seeing where the music takes me. It's an adventure. If it turns around that I'm not able to make a living, I've no qualms about picking up another career and playing music part-time."

Still, somewhere in the back of his mind is the idea of a second CD. Since John just bought a concertina that will take him in yet a different direction, and grins devilishly as he says, "you know, if you strip away the lyrics from many a hip-hop tune, you can sit a reel behind the rhythm," it's clear that John's landscape is filled with many new roads, all leading to very interesting places. - Helene Northway

A different version of this story was originally published in Irish Music Magazine.
Tunes heard in the audio clip: "Mouse in the Meadow / The Jolly Tinker / James Byrne's Reel" (trad.)
Audio ©2001 John Redmond; used by express permission
B&W photo by Timmy Whelan / © 2001

John's recording East To Northeast is availabel at cdRoots

John can be contaced by e-mail at [email protected]