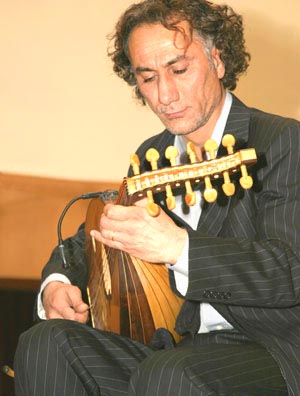 Rahim Al Haj

Touching Hearts with Ancient Music, Newly Formed
Bill Nevins talks with Iraqi composer and musician Rahim Al Haj

"Music is like a clock, it moves around in a circle," declares oud master Rahim Al Haj, sipping tea on the patio of an Albuquerque coffee shop. Al Haj is an innovative musician, and his own life has been formed by cycles of music, indeed. He has travelled in his person and in his music from his homeland into exile and then back home again as a true messenger of hope.

A Baghdad native and a serious student of the classical and folk music of his native Iraq, he was imprisoned twice by the regime of Saddam Hussein, in part for refusing to compose musical tributes to that regime's military adventures during the 1980s. His life came under threat by the Saddam regime at the time of the First Gulf War. With great difficulty, Al Haj escaped in 1991, eventually making his way as a political refugee via Syria and Lebanon to New Mexico in 2000. Here, in relative poverty, he began the long process of learning English, adjusting to a very different culture, and re-establishing himself as a musical authority, performer and composer.

His work has been marked by a thematic dedication to principles of peace and reconciliation in the form of wordless musical "poems" and by formal innovation on the ancient styles of the Iraqi maqam. Now he lectures at the University of New Mexico and he is in demand for performances nationally and internationally, with several acclaimed albums to his credit. Rahim Al Haj performed in June, 2006 at the Kennedy Center in Washington, D. C. for the release of his latest CD, When the Soul Is Settled:Music of Iraq, which features the percussion playing of Souhail Kaspar (Smithsonian Folkways Recordings). His earlier CDs are: Friendship: Oud/String Quartet Ensemble (2005), Iraqi Music in a Time of War (2003) and The Second Baghdad (2002).

During the past three years, Rahim Al Haj has performed concerts across the USA, in Europe and throughout the Arab nations of Africa and the Middle East. This ongoing musical tour has included a bittersweet return to his homeland, where Al Haj played his music for long-missed relatives and friends and brought charitable assistance to children hurt by the continuing war. While he notes that the fall of Saddam has been a good thing for Iraq, he is an outspoken opponent of the current war, calling for peace and healing.

The musical circle has turned for Rahim Al Haj, and turned well. He has had to work to make that happen, and it has not been easy. Rahim recently talked with this reporter about music, culture and his own experiences.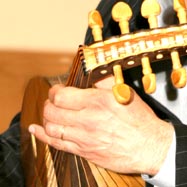 Rahim objects to the common use of the term "world music", declaring, "There is nothing that is really Western or Eastern music--we made that all up. What is so-called "world music"? That completely depends on your perspective, where you are located yourself. What is exotic in one place is commonplace or traditional in another. There is only the world, and there is only music."
A proponent and defender of musical traditions, at the same time that he is an innovator, Rahim is not a fan of all popular music. He explains, "Sometimes it seems that bad music dominates worldwide. Computer music, for instance, is about nothing--it is nothing! This is because people are not educated about their own musical traditions. But really, all music is linked, and can be the thing that brings us together. I've heard Lebanese singers, for example, borrow rhythms from Europe and translate them to Arabic song, and I have seen African rhythms brought into Iraqi music. "
Rahim opposes the use of music to build war enthusiasm, yet he recounts how music itself has sometimes transcended propagandistic expropriation, as happened in Iraq, "Sometimes good music can even emerge from a very bad situation. In the 1980s, during the Iran-Iraq War, we listened in Iraq only to war music. I once counted 669 songs about Sadam Hussein. A song writer whom I greatly admired, Kazem Al Sahar, a very skilled classical composer, recorded one himself in order to stay out of jail, but he did a marvelous job with the melody. People sang and loved it for its musical beauty. The music reached past the official subject, to people's hearts. " Kazem Al Sahar now lives in Canada and is one of the more famous Arabic singers in the world.
His own music is an example of beauty which comes, ironically, out of extreme adversity. Rahim replies, "Well, the way to reach people is through stories, from the heart. I don't use lyrics in my compositions--which in itself is a radical change from the Iraqi tradition of the oud accompanying lyrics--but I do talk before performing. I tell stories to help people put the music into words. For example, when my songs are about horses running, or trees, I tell the audiences about those images from Iraq which I have seen and loved. I am giving them an invitation to think about a part of the world that they may hear about, but that they don't know about. "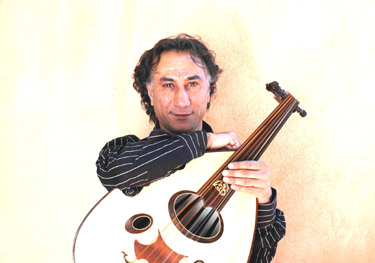 Rahim's instrument, the oud, has a 5,000 year history, though it is still often seen as exotic in America. Rahim comments, "People are not familiar with the oud in America, though it is the ancestor of guitars and other stringed instruments. The oud would be the central instrument in an Arabic orchestra traditionally, like the piano. Perhaps the exotic perception here derives from the fact that the quartertone, or microtone, used in our music does not exist in Western music."

Rahim strives to bridge the gap between western audiences and Arab musical tradition, working with a string quartet and composing works for oud and orchestra. "I think of it as a conversation between East and West, a dialogue," he says.

Along with his political activity, Rahim's music got him deep trouble with the Saddam Hussein government. With a pained expression, he recalls the experience."I composed a piece, titled 'Why?', which was based on a poem by a longtime friend who lost his legs in the Iran-Iraq War. The song talked about the tense, anxious time of that long war, especially for young people subject to the draft. It asked questions such as about 'Why the poor and the rich?' and 'Why the healthy and the wounded and sick?' The song used the name of Ali, the cousin of Mohammed, but it really criticized Saddam and the situation of injustice in Iraq at that time. 'Why?' became very famous in Iraq. It touched people's sensibilities and it gave them comfort. It was a curse on Saddam, but not by direct name. The song became so widely known and sung that most people did not know who wrote it. It became very effective."

Rahim's life was threatened and to survive he had to leave Iraq clandestinely, as a political refugee. Over several years he made his way through Syria and Jordan and eventually settled in New Mexico. He details that odyssey: "Catholic Charities sponsored my coming here as a political refugee, following my appeal to the UN in Jordan. Albuquerque was chosen by the UN as my destination because of the similarity of climate,a desert, to Iraq, and because New Mexico was thought of as a center of art and culture. When I left Iraq in 1991, I had to use false documents to get out. My mom sold everything to buy them and to bribe somebody to get me out. I had been imprisoned twice and tortured because I was involved in the democratic resistance to the regime. "

"They took away my oud at the border. That was the saddest moment of my life. I had had that instrument since I was nine, and I literally slept with it. That was very painful. I am happy to say that I have four or five ouds now."

Rahim's initial adjustment to life in America was not easy, as he recounts: "I knew no English. I learned from reading Nietzsche because I heard from a friend that the best way to learn a language is to choose a book that you love in your own language. So I started speaking English in Albuquerque by quoting Nietsche in English translation. Then I went to the local community college to try to learn more English. Catholic Charities found me a job, at MCDonald's. I did not at first understand and I thought they wanted me to play background music for diners in a restaurant. So, I tried to politely explain that my music is really not suitable for dining. When the caseworker told me that I would be a dishwasher, I lost it. I threw every bad English word I knew at him."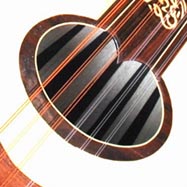 "Instead of that, I worked as a security guard for $6 an hour, but that was not going to pay back the money that I owed Catholic Charities for my passage here. So, I rented a hall at the University of New Mexico myself, and a friend helped me put up hand drawn flyers announcing an oud concert, my first in America."
"The local newspaper gave advance notices. The concert was sold out! In the following few months, I was invited to give concerts at The Outpost and other New Mexico music venues, and not long after I found myself touring the country with concerts."
Rahim explains how, in 2004, he finally managed to return to visit his family and even to perform his music in Iraq: "The actress Ali McGraw came up to me at a concert in Santa Fe and introduced herself. I had seen her in Love Story--it was the first movie I cried at. We became good friends, and she helped make arrangements for me to go back and forth to Iraq. My mother and Ali have exchanged gifts. She is a very good person. In Baghdad, I played for my family by kerosene lamps; there was no electricity. It had been thirteen years since I had seen them."
Asked what is the primary message of his music, Rahim responds thoughtfully, "Peace and compassion and love. Those three concepts are in the music, and the drive is to learn, to understand, though not to know."
Rahim Al Haj has spoken out publicly against the present war in Iraq. Asked about how his music relates to the present world political situation, Rahim smiles slightly and answers, "The music energizes people. It may influence them, and they may take action. The music contains the drive for the message of peace and compassion and love. The music should be involved with real life, we should talk about important matters. In Iraq right now, as in most of the world,what is vital is what we can find in that brings us together, not so much that tears us apart. I try to talk about these things, about the common links between us all, at my concerts, not just provide entertainment."
More information about the artist, including concert dates and how to get his recordings, is available online: www.rahimalhaj.com