"I feel people are looking for ideals, for something to believe... Understanding the past, you understand the present, and you can build, maybe, a better future."

Marty Lipp talks with one of the great innovators of Portuguese song, Dulce Pontes
Dulce Pontes is not the first singer to appear naked on a CD cover, but she's probably one of the few to do so covered in mud and one of even fewer whose purpose was to enlighten not titillate.
For the cover of her latest album, "O Primeiro Canto (The First Song)," Pontes wanted to express the elemental theme of the album, which tries to characterize and connect the four elements: fire, air, water and earth. Her yoga-like position is meant to show that giving and receiving are part of the same process.
To further bare herself to her audience, Pontes said, she included some of the writings she took down during the making of the album. While not a diary, the sometimes-surrealistic writings were both very personal but also echo the themes of the album. "This digital impression, this beat of the popular drum, is like a chalice offered with an open heart," she wrote in one section. In another, she writes of her family: "My mother taught me everything, even the sound of the words and how they could rhyme. It was as if she always knew my way, my steps, my dreams. I used to dance just for her on tip-toes."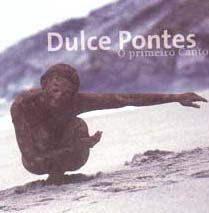 Pontes said, "It's a big challenge for an artist, after discovering musicality and the instrument that is the voice, to find concepts for each album, for each period of life."
When she began "O Primeiro Canto," Pontes said, "I was experimenting with the need to get back to the roots and to try to explain my feelings through these roots."
To do so, Pontes delved into both the highly dramatic style of fado as well as several lesser-known forms of Portuguese folkloric music.
Though Pontes grew up listening to fado, she actually began her career singing rock ballads. On her second album "Lágrimas," though, she began to tackle fado, interpreting songs written by the undisputed queen of the genre, Amália Rodrigues.
"It's one thing when you discover you can sing, that you have an instrument inside you," she said, it's another to discover "what you should do, where you can express yourself better."
For Pontes, that was fado. "It's very special music to express myself, almost like a prayer, with great respect. It's not necessarily sadness...it's putting yourself naked, in a very deep sense."
To learn about folkloric songcraft, Pontes traveled throughout Portugal wielding a tape recorder. "Portugal is such a small country, but there are so many different kinds of folkloric music, because so many people have passed through here."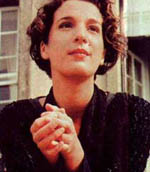 The song "Tirioni," for example, is in Mirandês, an ancient Portuguese dialect, and features cardos, which are brushes used as percussion instruments. "Ai Solidom" is a song typically sung by women after working in the fields and Pontes included an adufe, an old Portuguese frame drum.
Born in Montijo, Portugal, in 1969, Pontes began studying music before she was 10, though her greatest childhood ambition was to become a dancer.
At 16, Pontes became the lead singer for a rock band called Os Percapitas, and sang in commercials and musical theater. In the early 1990s, she was a regular on a television variety show called "O Regresso ao Passado," singing old songs. Her first big break was winning a song contest that allowed her to represent Portugal in the 1991 Eurovision song contest. Singing "Lusitana Paixão," she placed eighth, but caught the attention of the music industry, leading to her first album, "Lusitana" in 1992.
Leaving behind the pop orientation of her first album, she found success with the updated fado of "Lágrimas," which went double platinum. The opening cut, "Canção do Mar" was used in the Richard Gere film "Primal Fear," which brought Pontes worldwide notice. She subsequently has matched her powerful voice with stars from Caetano Veloso to Andrea Bocelli. Her 1996 album "Caminhos" expanded her repertoire beyond fado, setting the stage for the 1999 release of "O Primeiro Canto," her most ambitious album yet.
To create the album, Pontes reached out to an international array of like-minded musicians, she said, ones who were interested in roots music "but with a perspective to the future." The guests include jazz saxophonist Wayne Shorter, Anders Norudde of Sweden's Hedningarna, Basque trikitixa player Kepa Junkera, Brazilian cellist-arranger Jaques Morelenbaum, Madagascar valiha harp player Justin Vali and Indian percussionist Trilok Gurtu.
The album includes several suites that explore the characteristics of each of the four elements. It opens with "Alma Guerreira (Warrior Soul)" the fire suite, which builds to a crescendo like a huge, growing inferno. The album ends with "Ondeia," the water suite, which recreates the majestic sprawl and roiling waves of the ocean, with Pontes's soaring voice crying out the syllables of the title.
Several guest stars help Pontes create other facets of the album's diverse sounds. On the beautifully sad "Velha Chica," Pontes sings with Angola's Waldemar Bastos. "The first time I listened to him sing," Pontes recalled, " I was crying." She also wrote a short, playful song for the powerful vocal trio of herself, Portuguese singer Maria João and Italian lyric soprano Gemma Bertagnolli. "I harmonized it thinking about how the colors of the voices would sound together. She said the three women's rendition of "Modinha das Saias (A Tale of Skirts)," was particularly fun since it came towards the end of the recording sessions, which consisted almost entirely of male accompanists.
Already thinking about her next album, Pontes said it again will be acoustic, though she does not rule out using electronic instruments in the future. "There are so many rich sounds in non-electronic instruments. It's a big challenge to develop ideas for arrangements on those sonorities."
The eschewing of electronics on "O Primeiro Canto" reinforces its theme of returning to the past, a looking back that seems to be happening with roots-oriented music across Europe.
"I feel people are looking for ideals, for something to believe," Pontes said. "It's very good that people turn to that. Understanding the past, you understand the present, and you can build -- maybe -- a better future.
"Unfortunately many people are a little bit sleepy," she continued. "You can do something to reach people -- that's what I try to do in my grain-of-sand way. But there are so many things distracting people, putting them in a kind of zombie state. That's why I dedicate my life to give the best I can, and maybe it's nothing, but at least I try."
"It's a privilege to communicate through music and I hope that will never go away for me," she concluded. "But its also a big responsibility and I don't want to make fast-food music. It's important if you have the privilege to give everything to it."
- Article by Marty Lipp
CD available at cdroots.com: "O Primeiro Canto"
Read Marty Lipp's interview with Mísia, Mariza, Cristina Branco and Dulce Pontes