In Times To Come
Michael Stone remembers the music, words and legacy of Belizean cultural icon
Andy Palacio
in interviews with Andy and his friends.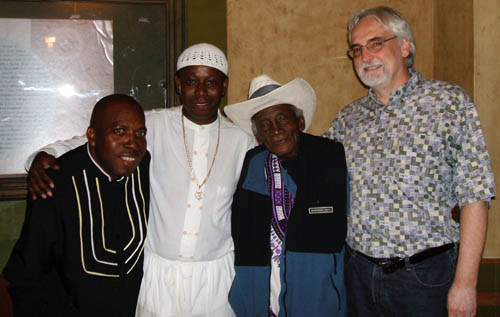 (Andy, Aurelio, Nabi and Stone, 2007)
With "Amuñegü" ("In Times to Come"), the closing track on the Garifuna Collective's Wátina (Stonetree-Cumbancha, 2007), Andy Palacio beseeches, "Parents, please listen to me. Teach the children our language and our songs, our beliefs and our dances."
As Palacio told me in early 2007, "The song came from some soul searching, looking into the future and asking fundamental questions about the preservation and survival of Garifuna culture. It asks, 'Who will speak with me in Garifuna in times to come? Who will perform the dances? Who will lead us in the sacred dügü?' The time has come for these things to be taught and preserved.' It is a very simple statement that ends with children's voices singing, 'Lest we lose it altogether,' and a haunting cello figure. It still gives me chills when I hear it."
The song encapsulates a process of cultural recuperation initiated in 1981 when Palacio, then a young schoolteacher, went to Nicaragua's Caribbean coast to work in the revolutionary literacy campaign. An elderly Garifuna there was overcome to meet a young man who spoke a language the old man considered to be lost. For Palacio, the encounter sparked a deeper appreciation for his own traditions, underscored the threat to cultural survival, and moved him to delve into the roots of Garifuna music.
In January 2007, before the Collective's New York appearance at GlobalFest, I talked with Palacio about those beginnings. When I asked him about his first recording—on Traditional Music of the Garifuna (Black Carib) of Belize (Folkways, 1982), with the late parandero Gabaga Williams on guitar, backed by a female chorus and Garifuna drummers—Palacio responded with characteristic modesty, laughing, "Don't remind anyone about that!"
Given how things developed in the ensuing decades, Palacio need not have worried, although he might well have taken another musical path. He often went to sea with his father Rubén, a fisherman and taxi-boat operator who was also a compendium of songs in Garifuna, English, Spanish, and (reflecting his Catholic background) Latin. Along with traditional music, like his peers, Palacio absorbed the diverse radio sounds emanating from nearby Mexico, Guatemala, Honduras, Cuba, Jamaica, and the United States, and pursued his ambitions in several high school bands, covering a diversity of popular music from abroad.
But Palacio returned from Nicaragua to a certain emergent pride in Garifuna culture and identity, manifest in the popularity of punta rock, the fusion of a roots Garifuna rhythm with electric guitar and the influences of R&B, C&W, gospel, jazz, and rock. The Original Turtle Shell Band, led by Garifuna musician and painter Delvin "Pen" Cayetano, burst into national consciousness just as Belize gained independence in 1981, and the band's invitation to perform with mentor Isabel Flores (the late, revered Garifuna singer and drummer) at the New Orleans Jazz and Heritage Festival encouraged Palacio to pursue a musical career. In 1987, when Pen Cayetano declined an invitation to work in England with Cultural Partnerships Ltd., a community arts organization, Palacio stepped in. Shortly after Andy's sudden passing on January 19, 2008, Michael Polonio, a cousin, reminisced about that earlier, critical moment in the singer's life.
Polonio related that Andy had always been a bright and motivated student. He gained a respectable career-teaching post, with an assured government pension, a situation most Belizeans would envy. Andy's extended family was perplexed, concerned that he was surrendering security for the uncertainties of a music career, but Polonio and his relatives pitched in to underwrite the trip to England. Polonio remembers, "Andy was very serious, intent and determined. He told me it was something he felt he had to do, to pursue music as a way to preserve Garifuna culture. We had to support him."
The anecdote reveals something of Andy's resolute, optimistic spirit, and underscores the collective character of Garifuna kinship and community life. Palacio returned to Belize six months later with important professional experience, a broadened perspective, and connections that led to his involvement with the Sunrise recording project, Ronnie Graham's initiative to document, preserve, and disseminate Belizean roots music.
Palacio's career took off, buoyed by the widely circulated Sunrise cassettes and a string of invitations to represent Belize abroad at the Festival Internacional de Cultura del Caribe (Cancun), Carifesta VI (Trinidad and Tobago), Carifesta VII (St. Kitts-Nevis), the Rainforest World Music Festival (Malaysia), the Antillanse Feesten (Belgium), the World Traditional Performing Arts Festival (Japan), and in Great Britain, WOMAD and the Commonwealth Institute, along with appearances in the United States, Canada, Colombia, Germany, and France.
His subsequent releases on Stonetree, Belize's only record company, cemented Palacio's fame at home, and enhanced his stature as a cultural ambassador. Recorded in Havana and Belize, Keimoun (1995) showcased Palacio's vocal and composition talents, enlisting first-rate Cuban and Belizean studio artists; the first recording produced in Belize, it put the country on the world-music map.
After releasing Til Da Mawnin (1997), an energetic mix of dance tunes backed by Belize's top instrumentalists and singers, at Duran's urging, Palacio began assembling the Garifuna All-Stars, a loose affiliation that evolved into the Garifuna Collective. "Fortunately, I was listening to the ancestors, tuned in," he told me, eyes sparkling, "to the living archives of Garifuna oral history." In the manner of music's critical role throughout the African Diaspora, Palacio and his band mates assumed the role of community teachers, social commentators, activists, and entertainers combined.
In 1997 Duran also began a ten-year field recording project to document the artistry of three generations of stunning female Garifuna singers from Honduras, Guatemala, and Belize. Duran relates, "My initial contact with Garifuna women singers came when I did Andy's first album, along with Bumari (1998), by Lugua and the Larubeya Drummers, and Paranda (1999) with Paul Nabor. These all had women singing backing vocals, with extraordinary voices, remarkable tonality, and lots of character. In Garifuna music, backing vocals are fundamental. There is a lot of call-and-response, and the response is as important as the call."
Duran continues, "I noticed that women seemed to know many more songs than men did. And they are very interested in the actual sound quality, while men treat music-making as more of a business. I came to see something really special about women in Garifuna culture. They are the bearers of family history and cultural traditions. They have their feet on the ground, literally. That's a basic difference, because Garifuna men traditionally go fishing at sea all day, or work abroad and send money to their families. Women are responsible for sustaining daily life at home, from sunup to day's end."
A milestone in the Palacio-Duran collaboration, Umalali (Stonetree-Cumbancha, 2008) commemorates Garifuna women's role as the guardians of social, cultural, and spiritual life. Umalali (the Garifuna word for "voice") highlights women's vocal artistry, revealing them as captivating storytellers whose poignant, lyrical narratives address the everyday struggle to preserve family, household, community, and the Garifuna way of life in a globalizing world. Raising the bar for roots-music recordings, the CD's enhancements include engaging footage from the field sessions, and video snapshots of Garifuna village life in Belize, Guatemala, and Honduras.
In the late 1990s Palacio began working with University of Michigan-trained linguist Roy Cayetano (a fellow villager from his native Barranco) to draft the documents that compelled UNESCO in 2001 to declare Garifuna language, dance and music to be "Masterpieces of the Oral and Intangible Heritage of Humanity." Palacio's continued popularity at home and abroad, together with his cultural preservation efforts, led to his naming by the People's United Party government as Belize's cultural ambassador, and his appointment as Deputy Administrator of the National Institute of Culture and History.
With Wátina, the stars seemed aligned in 2007 for Palacio and Duran. In the year before Palacio's death, their work with the Garifuna Collective came together with the albums unprecedented global success, and a variegated list of awards whose import is self-evident.
Afropop Worldwide: Top Album of 2007
cdroots.com: #1 International Album of 2007
BBC Radio 3 Awards for World Music (UK): Best Artist in the Americas
Belize Times: Man of the Year 2007
Boston Globe: Top 10 of 2007
fRoots-BBC Radio 3 Critic's Poll (UK): #2 Album of the Year
Global Rhythm: #1 Album of the Year
l'Humanité (France): Best of 2007
Liberation (France): World Music Album of the Year
National Geographic World Music: #1 Album of the Year
National Public Radio: Top 10 World Music Album of 2007
Public Radio International's The World: Best of 2007
Songlines (UK): Best of 2007
Stylus Magazine (USA): #41, Top Fifty Albums of the Year
The Beat Magazine: Best Album of 2007
The Guardian (UK): Top 1,000 Albums to Listen to Before you Die
Vibrations (France): Top 25 of 2007
Voir (Canada): Top 10 World Music Album of 2007
World Music Charts Europe: #1 Album of the Year
World Music Expo: WOMEX 2007 Award
To top off 2007, UNESCO named Palacio a UNESCO Artist for Peace, placing him among a small elite of artists in the Western Hemisphere so honored: Gilberto Gil, Tania Libertad, Patricia Velásquez, Céline Dion, and the Venezuela Children's Symphonic Orchestra. In connection with Garifuna Settlement Day (November 19), UNESCO conferred the award in Palacio's home village, in far southern Belize, within sight of the neighboring Guatemalan coast.

The Collective had spent a good part of the year touring in North America and Western Europe, culminating with Palacio and Duran's acceptance of the WOMEX world-music award in Sevilla, Spain. From the Prime Minister on down, Belize welcomed them home as national heroes. The Collective gave homecoming performances in Belize City, Dangriga (the country's nominal Garifuna capital), and the Garifuna village of Hopkins (where Wátina was recorded in a beachfront cottage). At the band's outdoor performance there, Palacio called all the children forward. Referring to his anthem "Amuñegü," he told the crowd, "I want to sing this song to the children, because it is about them, the younger generation." A quarter century of dedication to cultural preservation had come to poignant fruition.

The entourage continued to Punta Gorda (home of septuagenarian paranda singer and Garifuna priest Paul Nabor), and finally, Barranco, where the village's women, backed by drummers, lined the pier to await the boat, singing and waving cassava fronds in an emotional welcome to their native son. There, Palacio reminded the audience that Barranco's mothers, his own foremost among them, were responsible for his every success. Following his remarks, Palacio joined hands with the women and danced to the drums in communal celebration.

Earlier that year, Andy told me a story that proved all too eerily prophetic. Upon hearing the closing song of Wátina, UC Berkeley-trained Garifuna anthropologist Joseph Palacio (Andy's uncle and a fellow Barranco boy) told the singer that with "Ámuñegu" he had expressed a profound truth about the importance of oral tradition in Garifuna culture. He could now go and join the ancestors in peace.

There is no higher praise than that of a Garifuna elder, and Andy told the story with a mixture of self-irony and quiet pride. It made a telling anecdote in the year of his worldwide triumph. Perhaps he knew before the rest of us, but Andy's time was nearly over.

Two months after that historic moment, January's stillness was broken by unbelievable news from Belize: Andy was on life support, headed to the United States in an air ambulance, a little too late, it turns out, to counter the mortal effects of a stroke, heart attack, and respiratory failure. Tragic news spreads quickly, and soon I joined Andy's friends and family for his Belize City memorial service and a commemorative community concert, followed by his state funeral in Barranco.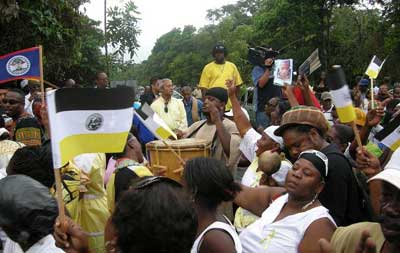 Until a few years ago, Barranco (pop. 160) was accessible only by boat, but a pockmarked dirt-and-gravel road now reaches the village by land. Some 2,000 people made their way to this striking coastal village on January 26, 2008. Joining the national caravan, we rode a bus south with Collective members and their families. Along the way, Rolando "Chichiman" Sosa and Aurelio Martínez traded guitars and extended parandas, to a sublime Garifuna chorus and drumming.
We left Belize City in early morning darkness, arriving in Barranco after noon, shortly before the funeral was to begin. The bus halted about a mile from the village, the uneven road nearly blocked by parked vehicles of all sizes. The mood was characteristic of a Belizean wake, simultaneously sad and joyous: the living spirit of the place—and the man we had come to remember—was palpable.
The small Catholic chapel could not nearly handle the volume of humanity, and many people crowded into a large open tent set up in a nearby grassy area. In a service in which music figured prominently, clergy, family, friends, and government officials had their words of remembrance and farewell, and a testimonial by Archbishop Desmond Tutu was shared with the crowd, while storm clouds swept in, driving those outside the chapel to seek what shelter they could from the intermittent January rain.
A military honor guard hoisted the coffin from the chapel, placing it on a purple-shrouded jeep that would lead the procession to a newly created shrine carved out of the nearby rainforest. People walked arm-in-arm, some singing, others wailing, while groups of Garifuna drummers moved through the crowd. Photographers and TV crews lined the road, and for a while, it seemed that the rain would let up.
As we reached the shrine, the clouds opened with a tropical downpour that rendered every umbrella useless. Women in heels and Sunday best removed their shoes, and the rest of us slid and sloughed through the mud, soaked to the bone. Drummers and singers surrounded the gravesite, oblivious to the rain, and some women began to cry out, too late for their voices to be heard by the man who had put Garifuna culture, and Belize, on the world map.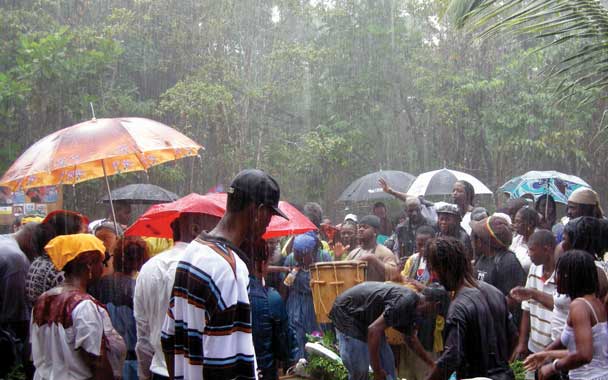 The gravediggers finished their sodden work, and suddenly the drummers ceased their playing. Drenched, bereft, people turned to their intimates, speechless, embracing and huddling in the rain, as though uncertain of what to say or do next. Andy was gone to rest with the ancestors. We skated through the ankle-deep mud, half-blinded by the rain, looking for our own ride home.
Reflecting on the significance of Wátina, Palacio said, "Music is a powerful means to preserve the culture. Our songs are narratives and images from everyday life that we carry inside ourselves. Songs are the living archives of the Garifuna nation. Music allows us to speak amongst ourselves, and with coming generations, about our life experiences, things that concern us as a people, and as human beings. The music has really broken down cultural barriers, such that young Central Americans who are not Garifuna can now identify with this African-Amerindian minority tradition."
As Ivan Duran remarked in December 2007, "The era of preservation is over. Now it is time to move the music forward. When you go to a Garifuna cultural celebration in Central America today, there are more Garifuna with cameras than foreign journalists or tourists. Everybody has a handicam, a digital camera, and a cell phone. They're taking pictures, texting, calling friends and family in the United States. That is the culture now, and to me, the music has to reflect that reality." Duran continues, "I didn't set out to do anthropological or ethnographic albums of Garifuna music in Central America. We were seeking striking songs to develop, but with a contemporary twist. To me, this is the best chance we actually have to preserve the culture. If we can engage young Garifuna by making the traditional somehow modern, cool, and accessible, we might just show them that people outside the community, internationally, recognize and value Garifuna culture, and that they should too." Amuñegu, the time has come.
Article and photos by Michael Stone.
Top photo by Cynthia Patterson