Roots, shoots, bones and drones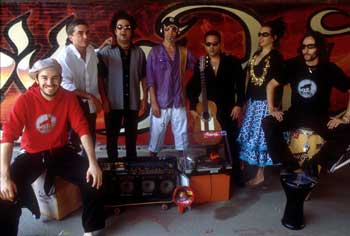 Marty Lipp experiences the wizardry of Barcelona's Ojos de Brujo

.

Think Spain; think flamenco. But it's not so simple. The country has become a bubbling stew of reinvented forms of traditional music. Even flamenco, the multifarious Gypsy genre, continues to evolve.

The genesis Barcelona's Ojos de Brujo was five years ago, when a group of musician friends began meeting regularly to play together, tossing anything and everything that they liked into the jam: flamenco, funk, hiphop, even Indian tablas. According to DJ Panko, one of the group's founders, Ojos coalesced as it began to perform for local audiences and recorded a CD. Problems with their record company sent the 10 members off to create their own company. The result was Barí, their self-produced second album. Panko said the members have been learning how to do everything as they go, from booking gigs to dealing with distribution.

The do-it-yourself, anti-corporate approach is very much in line with the group's egalitarian spirit. The group's songs bemoan the "too urban" world and suggest, as one song puts it, "If the world has lost its way/and you can't find any reason/get yourself a good rumba and dance! dance! dance!/not to forget, but to make it all better...."

To further press the point, in their live show, which they brought to New York City in February, Ojos plays quick-cutting videos behind them. In several there were images of student and worker protests.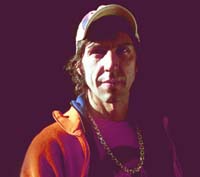 DJ Panko

Asked to describe their music, Panko said it's such a borderless creative process that he himself was at a loss to describe it.

"We don't know what we are doing," he said. "but we are doing it with a lot of love."

Panko said the group's musicians feel free to stretch the borders of flamenco since they respect the music, even if they love other types too. He noted that their guitarist, Ramon Giménez, was born to a Gypsy family, but at the age of fifteen "went crazy for breakdancing."

"Flamenco is a mix of cultures," Panko said. In fact, even the Gypsies, who are the group most closely associated with flamenco's development, picked up musical elements as they migrated over the centuries from northern India.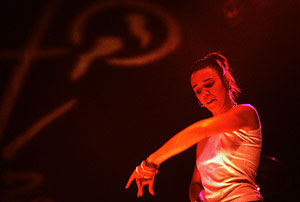 Marina

Ojos de Brujo (which means "Eyes of the Wizard") uses the drama of flamenco, but carries it along on a steady rhythmic foundation, making the group's music a closer relative to rumba Catalan, the danceable hybrid of flamenco and Afro-Cuban rhythms made famous by the Gypsy Kings. Usually the focus of Ojos' songs are the vocals by Marina "Las Canillas" Abad, which move smoothly from gritty flamenco wail to authoritative rapping; then there are flourishes such as explosive guitar strums or ziggurats of DJ Panko's "scratchismo."

"Marina takes her lyrics from the things she sees in the street," said the group's percussionist Xavi. "That's why our songs still have the feel of the city and the flavor of the way people live here."

While the origins of flamenco and rap are a couple of centuries and an ocean apart, both genres are similar in that they began as expressions of the underclass of their respective societies. The real wizardry of Ojos is that this ragtag group of friends not only bring the two disparate genres together, but turn the heartache of flamenco and the anger of rap into an invigorating mix suffused with a defiant joy. - Marty Lipp

Audio: "Zambra" ©2003 Ojos de Brujo, ©2004 World Village, used by permission
Photo of Marina ©2003 Sitoh
The band's web site

Their 2004 release Bari is available at cdRoots

The CD is also available as a free gift when you renew or add a year to your subscription to RootsWorld