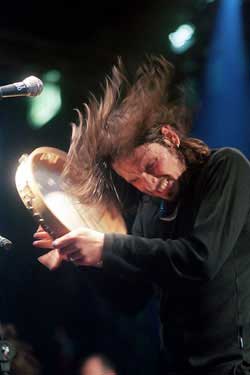 Alessandro Coppola

(Photo -Pasquale Modica)

Nidi D'Arac: Traditional, Yet Always Contemporary
Lee Blackstone talks with Alessandro Coppola about the importance and meaning of 'roots' in 21st Century Puglia

Saturday, February 26, 2006: New York City is in the grips of a cold winter day, but the sun has come to the Casa Italiana Zerilli-Merimo, which houses the Department of Italian at New York University. Inside are a gathering of folks drawn to learn more about Puglia, Italy. The southern peninsula of Italy is rich in cultural influences handed down through the ages, whether Greek, Roman, Saracen, Norman, Turkish, Spanish, or French. But on display this frigid afternoon is nothing less than tremendous pride in an Italian region now burgeoning with musical and cinematic talent. And wine, of course, always wine.

Nidi D'Arac, the outstanding folk-roots-electronica act, has come to Gotham for the first time to be a part of this event. The costs of importing the band on short notice being too prohibitive, only lead singer and guiding light Alessandro Coppola and the band's manager, Flaminia Vulcano, made the journey. Coppola surveys the crowd, and he opts to perform some of the mellower songs from the band's repertoire. He performs solo with his guitar on stage over pre-recorded backing tracks; overhead, pictures of the full Nidi D'Arac entourage are projected on a large screen. The sound is amazingly full and rich, and Coppola's voice is ideally suited for singing over electronic accompaniment: smooth and husky, he cuts through the technology not unlike how the best British punk singers sneer and stand apart through their slashing din. By the end of his short set, Coppola has picked up his tambourine (on which he is a rhythmic master), and members of the audience have begun to stand up and dance, some women whipping out handkerchiefs and dancing in the traditional southern Italian style. Coppola smiles through his long hair, obviously pleased.

"Nidi D'Arac began in 1998, almost ten years ago," says a relaxed Coppola after the show. It is clear that Coppola, who is also a sociologist/ ethnomusicologist, had a particular vision for the band: to "interpret the Italian past and folk music for how young Italians perceive the culture now." While the band's roots lie in southern Italy, Nidi D'Arac have based themselves in Rome to, according to Coppola, "get the metropolitan perspective."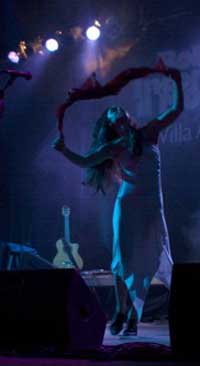 Vera di Lecce

Photo - Lucia Aiello

Prior to founding Nidi D'Arac, Coppola was a musician from Lecce. Over a decade ago, he was playing punk and rockabilly. The move to Rome came about because Coppola wanted "to find a new music to connect better with my soul. I moved from punk music, to ethnic music, because punk is not a style of music. It is an idea. For instance, The Clash, with their album Sandinista: this was a way of using music to protest, to go against the system, much like reggae or some Irish songs." Coppola pauses, turning influences over in his mind. "Like Mano Negra and Mano Chao, which was a further developing of The Clash…and Transglobal Underground, who combined new wave and roots music. Or Massive Attack, who experimented with new wave and hip hop, creating a new culture."

Creating and mixing cultures is an important aspect of the Nidi D'Arac project, and how Coppola views the band's relationship to folk music. Folk music can be interpreted as being either conservative, exalting past ways of life, or forward-thinking. In a Europe united by the Euro, it could be the case that turning to one's roots might be mistaken for a form of nationalism. Coppola is very careful to distance himself from such associations.

"In Italy, in the 1970's, the folk music revival was a protest kind of music. It was of the people, of the country people," Coppola explains. "The proletariat were unhappy. So bands were made up of blue-collar workers and peasants, and they sang traditional music as a protest against the capitalist system. So, even today, the traditional folk songs are a left-wing tradition. And the intellectual left-wing loves this, and Nidi D'Arac." Coppola grins.

"Nidi D'Arac are about folk music and progress. So, we see ourselves as part of this continuum; to say, we are of the people, the new generation, mixing cultures and society."

Nidi D'Arac's latest CD, St. Rocco's Rave, is a clear indication of how adept the band is at mixing traditional folk music with electronica. The beats are bigger, as on the grinding title track. But all the elements that make Nidi D'Arac sonically mysterious are present in abundance: Coppola's soaring voice, violin and flute, tambourine flourishes, dub and echo flitting about the production. It is an album where the band sounds incredibly confident and not a song is misplaced. St. Rocco's Rave takes, as Vulcano stated, the meeting of the past and the future as far as it can go.

Combining the influence of traditional melodies and songs with electronica can be incredibly difficult to carry off successfully; if either is pasted onto the other without thought, the result can be a mess. It is a process that Coppola deeply respects.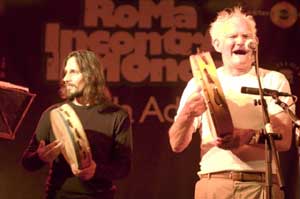 Coppola and Uccio Aloisi

Photo - Lucia Aiello

"Consciousness," Coppola says, "is the base for all music. You have to know the roots, before you can mix cultures. I've studied the roots, which is a very serious thing to do, to seriously study the region and then to appreciate the evolution of the music. I studied with older, local men, such as Uccio Aloisi, who is 78 years old and very popular with the young. I listened and studied to the same people that anthropologists observe...I have also been interested in the French sociologist Georges Lapassade, who noted the connections between the tarantella and trance music, which we can connect to raves."

The trance/rave connection is made explicit in the band's video for the song "Gocce" ("Drops") from St. Rocco's Rave. The band's performance is intercut with older black and white footage from the 1960 documentary film 'Taranta' by Professor Gianfranco Mingozzi. The Tarantism ritual was a means of healing people who believed that they had been bitten by the tarantula spider, and the whole community would be called in to free the person from the spell of the bite. Musicians would play; the victim would be laid on a white sheet; and prayers would be offered to Saint Paul, the protector of tarantula bite victims. Interestingly enough, many of the victims of the tarantula bite were women; and whether or not the women were actually bitten by the spider is questionable. The trance-like possession offered a way for many female peasants to 'act out' in a strongly patriarchal society. Coppola sings of the holy water being dropped onto the sick person's head during the ritual, but the tenth drop is "the poison of taranta!" The juxtaposition of the indigenous local instruments seen in the archival footage with the modern instruments employed by Nidi D'Arac, along with the magic of the ritual itself, makes for an unusual and mesmerizing video.

"This music," says Giorgina Cecere, screenwriter of "Sangue Vivo," a movie exploring the traditional music and dance from Puglia, "is always contemporary." Alessandro Coppola agrees. In the near future, Coppola would like to get all the members of Nidi D'Arac to America to perform. Given the band's impressive development and solid guiding philosophy, Nidi D'Arac are poised to carry on mixing cultures while remaining rooted in the Mediterranean sun.

The band's web site

Some CDs are available from cdRoots

All audio is copyright Tarantulae Music, and used with their permissiion