It's a leafier part of Manchester where Jenny McCormick and I meet, with its age-old sycamore trees and large houses turned into flats. It's still no English country garden, so it is strange that McCormick, a well known voice on the Manchester music scene who has honed her craft in and around the city, should choose the title English Country Garden for her latest album. It is a title with a million and one connotations – from the jaunty song of the same name, often attributed rude words, to an elitist cup and saucer setting – but an urban music scene isn't quite one of them.
"I was just singing it in the kitchen one day, and I thought that would actually really work as what I do is country influenced," McCormick explains, "but it is really English folk. I suppose I was taking the title for what it means, word by word."
It would appear, then, that McCormick is conscious of the pigeonholing practice all too prevalent in the music industry. Especially in the big old bad world of folk, where if they don't like you, you're labelled a 'singer-songwriter' and cast out into the dingy nightclub circuit to make your trade. If you're a folk singer, however, you're one of them and welcomed into the secret network of folk clubs, arts centres and growing number of festivals.
"How I'm defined does depend on who is reviewing me. Folk reviewers do tend to call me a folk singer as I'm drawn to the old ballads and the storytelling side of things," she ascertains, "but I'm certainly a cross-over as I don't just listen to folk. As I said before, I listen to a lot of country, more alt. country and Americana stuff, so I get a bit of that creeping in."
McCormick states that the Manchester music scene happily allows for this; in fact, actively encourages it.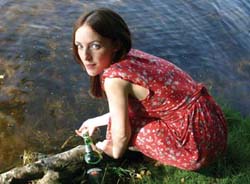 "Manchester has an eclectic and intelligent music scene and I know that if I sing a traditional song in any venue in Manchester then people will like it. Everyone's really open minded and knows their stuff, and I think the music scene in Manchester is more of a music scene – for people really into music, rather than one particular style of music."
And she seems to know everyone. As we entered the room for the Red Deer Club's Second Birthday Bash, a night well known for its off the cuff folk and acoustica, it's a wave here and a nod there. Just as McCormick performs regularly on the scene, she is there to appreciate and support others just as frequently. It's something that's paid off, as many Manchester musician friends found their way on to English Country Garden – oh, and her Dad.
"Yeah, my family have always been a massive influence. My dad plays and my mum's really into it all. The first gig I ever went to was Crosby, Stills and Nash with my family. At sixteen, my dad taught me a Paul Simon song and from then on I began to play songs I liked with my dad and brother."
For many, this seems like warfare in the making, but not for the McCormicks.
"They hear me writing at home so if they're critical I know that they only want o make sure I'm playing my best. I actually work really well with my dad, particularly arranging songs."
It is surprising that she has only recently – in the grand scheme of things – begun to perform live.
"When I released my first album, I simply didn't play live. I was very shy about music, and about my music. I didn't know any musicians. This time, I've relaxed into it, I've had more fun doing it, so I'm much happier with outcome."
She doesn't speak favorably about her first album, Me I Prefer the Moon. However, this was the recording that got her a slot at Cambridge Folk Festival. Keeping in touch with contacts made through Cambridge meant that English Country Garden – although self funded, produced and promoted with a little help from friends and family – will be properly distributed. And along with a recent support slot for Alasdair Roberts, Jenny McCormick must now be firmly embedded in the true folk tradition.
"Well, I've left it too late for any of the festivals this year, so I'm seeing what gigs come in. I've done a few gigs at traditional folk clubs, but it's something I definitely want to do more of in the future."
And now that folk music is a bit more in the public eye, surely things will be a bit more high profile?
"It's all very encouraging. I'd like to think it's resurgence in the interest of our heritage and history, but I'm sure it just boils down to a love of music, of live music. That's what it amounts to in Manchester anyway – a love of music."
CD available from cdRoots