In the artist's own words
Marthe Vassallo explains the philosophy of Breton dance band Loened Fall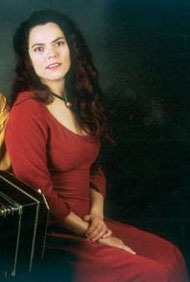 Loened Fall is (strictly) a fest-noz band. Just to make sure you know it, a fest-noz is a traditional dance gathering. There are usually a few dozen of them throughout Brittany (and Paris!) every Saturday night, each attracting three hundred to three thousand people of all ages and social backgrounds who drink and dance until the wee hours. No costume or athletic condition required; more than anything, a fest-noz is a public party.

Loened Fall first appeared in Januay 1996. The original idea was Marc Thouenon's and Sabine Le Coadou's (guitar and bombard). They wanted to try and play fest-noz music with kan ha diskan singing, performed by two voices as in the traditional a capella "couple" singing. This was quite new at the time, a few bands had included singing, but with only one singer, the other one being replaced by an instrument, meaning that an orphaned voice had to find its way into the instrumental material. Loened Fall went the other way around, starting from the original unity of the kan ha diskan binome and imagining how the instruments could interact with it.

Success was immediate, if rather unexpected; by intrumentally enhancing the precision and variety of kan ha diskan, thus creating a music that was both appealing to newcomers and satisfying to demanding dancers, it seems we filled some kind of gap.

Unlike other leading fest-noz bands, and due to its particular formula, Loened Fall stays (almost) true to kan ha diskan. In its choice of dances we decided to stick to the few that are actually sung in this style, i.e. the Central Brittany repertoire. Whoever invites LF knows they will get mostly plin/gavotte/fisel, but to a degree of characterization that few instrumental bands attain. We are a "specialist" band.

Another specificity of ours is a taste for improvised humor, from tongue-in-cheek horrors to downright surrealism, coldly mentioning bras, period cramps and all sorts of sexual combinations, putting socks to dry on mike stands or climbing up ropes when playing in sport halls is common Loened Fall practice - hence the (rather soft) bonus track ending "gouez!". Twelve years of shared singing between Ronan and I, and an implicit sense of respect between the dancers and the band, enable us to go rather far - what goes on when we start playing and they dance is very serious, sometimes quite violent, so we feel no need for any kind of mystique between the dances and prefer to unwind instead - the deeper to go into the next gavotte.
This no-nonsense, relaxed approach is one of the things we love about fest-noz. It is strong enough in its own inner life not to need any giftwrapping. Several Loened Fall members - including myself - also perform in concerts with other bands and musicians, so we know about elaborate orchestrations, shows, acting, creating an atmosphere, daily improving your technique, trying to make a long-term artistic stand, addressing a larger and more international audience and so forth. All that is just irrelevant when it comes to fest-noz music. The point is to make the dance as powerful, precise and wild as possible, nothing else really matters, and it is exactly what Loened Fall exists for, and what we record live CDs for. And when we invited fellow-singers Nolùen Le Buhé and Marsel Guillou to sing melodies on the CD, it was in the same natural, "kitchen-table" spirit.
So if I were to say something about Gouez!, it could be this: it is a "rough" live record, and was meant to be so, but if you want to know how Breton dance music feels in its natural environment, with its own transe-like energy and no tourist-attracting glitter whatsoever, then - or so we hope - Loened Fall might deserve a place with you. - Marthe Vassallo
Leoned Fall and Marthe Vassallo's recordings are available from cdRoots
You can learn more about the artists on their web site