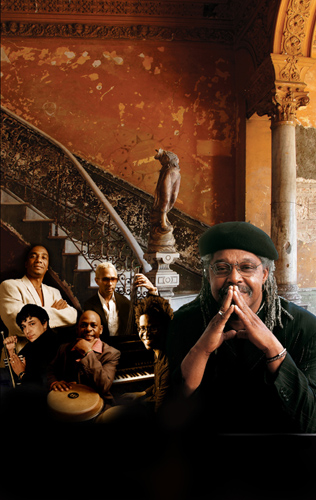 From Hendrix to Santana to the Afro Cuban All-Stars
Marty Lipp chats with Juan de Marcos González.
Despite the Cold War and a U.S. embargo, it seems rock 'n' roll was still able to infiltrate into Castro's Cuba. Juan de Marcos González - organizer of the Afro Cuban All-Stars, the Buena Vista Social Club and Sierra Maestra - recounted in a recent interview that though raised in a home thoroughly steeped in Cuban music, he and his teenaged friends would huddle around the radio to listen to American rock 'n' roll.
"We wanted to be like tropical Jimmy Hendrixes," he recalled. "Despite my passion for rock and R & B, I also listened to a lot of Cuban classics."
In fact, some of those classics were played by his father in Arsenio Rodriguez' orchestra. Though his dad was a professional singer, the elder wanted the younger to have a more stable career, so he went to school for what would eventually be a PhD in hydraulic engineering.
"Studying at the conservatory, we used to copy the arrangements of the hits broadcast by a couple of radio stations of the US - WQAM in Key West, Florida, and KAAY in Little Rock, Arkansas - and rehearse and perform them in private parties and events. Our bands... used to have English names like Giddy Souls, Hot or The What and the repertoires were basically standards."
Without rejecting rock, de Marcos began to gain a new perspective on Cuban music. "Santana was decisive influential on my decision to get back to my roots," he said. "A group of friends and me - all ex-rockers - decided to create an intellectual band with the purpose of re-introduce the acoustic music of the original Havana Septetos lineups to the people of our generation." He added that they created "The Salmon Manifesto," declaring their intention to swim against the tide. "To be more impressive we started dressing like the British punks"
The friends created Sierra Maestra, a group of self-conscious revivalists, kin to Latin neo-folkies like Chile's Inti-IIimani or Brazil's tropicalistas. Sierra Maestra, to their own surprise, gained a countrywide following and were able to tour internationally. In England, de Marcos struck up a friendship with World Circuit's Nick Gold and eventually the two began to talk about doing a Cuban project together.
For de Marco, the project, which eventually became the Afro Cuban All-Stars - was initially a way to continue to explore his roots as well as celebrating the music of his father's heyday in the 1950s. The pair also envisioned a second project exploring son montuno from eastern Cuba; that project was eventually named after a cut on their debut album: The Buena Vista Social Club. Due to visa problems, several African musicians didn't make it to the sessions (though some retried for the Afro-Cubism sessions that were released on an album in 2010). Several of the Afro Cuban All-Stars drifted over the Buena Vista project to fill the gap.
De Marcos has continued to tour different iterations of the Afro Cuban All-Stars. The latest band is composed of ex-patriate Cubans to, in part, help avoid visa problems. With a small amount of money left in their original budget, Gold and de Marcos even went for a third album, Introducing: Ruben Gonzalez.
"He was a hippie - in the right sense of the word," de Marcos recalled. "A great musician, very open-minded. When we started working together he was already suffering from Alzheimer's... But performing the traditional music he always played, was unbelievable.
"In 1998 I got a contract through our Mexican distributors to present the small ensemble I created for him at The Metropolitan Theater in Mexico," de Marcos continued. "The first song was supposed to be his composition 'Melodia del Rio,' a piano solo performance, but when Ruben sit down at the piano he forgot completely his own song and in this moment composed and performed a new song with intro, development and coda. We were astonished! And later we told him jokingly that he played 'Variations on an Unknown Theme.'"
Due in part to a successful Wim Wenders' documentary on the multi-generational project, the Cuban veteran musicians tasted a new-found success. Singer Ibrahim Ferrer went from shining shoes to Carnegie Hall and concert halls around the world.
"Despite of their high quality," said de Marcos, "some of them never were touched by the fortune before and the fact that I was able to contribute in certain sense to get them back to the stage and be really successful is one of my prides."
Watch a piece from the Wim Wenders film The Buena Vista Social Club