Steve Riley talks with RootsWorld's Bill Nevins about the Mamou Playboy's new recording, Grand Isle, dedicated to those impacted by the oil disaster in The Gulf.
Steve Riley was watching the Edith Piaf biographical flic, "La Vie En Rose," when he had an emotional revelation. "I was going through a break-up and the song 'Regrette Rien' at the end of that movie became my personal theme song for quite a while," Riley saidin a late January 2011 phone interview. "I remembered that CC Adcock had brought a famous record producer, Seymour Stein-- who worked with The Ramones and Madonna-- to hang out with us at the Back2Back Club in Lafayette, sometime way back in the 90s. Seymour had suggested we do a version of 'Regrette Rien' then, but we all laughed at the idea of a Cajun band doing a sophisticated Parisian café classic. Then with that movie and my own experiences, I finally got into the feeling of that great song. We started playing it at our dance hall shows and the audiences seemed to like it a lot."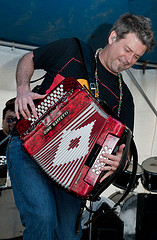 "Regrette Rien'" is a stand out track on Grand Isle, the new CD from Steve Riley and the Mamou Playboys. The album was produced by South Louisiana swamp rocker legend CC Adcock, a high school chum of Riley's who also plays with Riley in their successful Lil Band of Gold side project. In his production notes for Grand Isle, Adcock describes the Mamou Playboys' version of "Regrette Rien" as "The Edith Piaf classic put to a Swamp Pop glide with orchestration," adding, "We purposely went to a totally authentic, all vintage 50's period studio outside of Austin, Texas to cut the track. We wanted it to sound like a classic from that era. Steve' mother recently wrote a letter requesting that Steve promise to sing it at her funeral one day! My own mom asked me if I would perform 'Au Revoir' at her funeral some day. That's a beautiful song composed by Sam Broussard, the Mamou Playboys' guitarist, for his own mother. We decided to close Grand Isle with that song."
Adcock adds that "Lafayette is a small town where most of the families know each other." There that kind of close-knit comfortable feel to Grand Isle, probably the most emotionally moving, while certainly danceable of the Mamou Playboys' eleven albums of their twenty-three year career.
"It's not just dance music–it's a much bigger story," says Riley, explaining that Grand Isle is infused with the new reality of Gulf Coast life in the wake of the 2005 hurricanes and the devastating 2010 BP oil spill. "There are still sheens of oil in our marshes and bayous," Riley adds, "We're going to feel the effects of that oil spill for a long time. The USDA says it's safe now to eat four Gulf shrimp a day–that's ridiculous!"
The title track, "Grand Isle," was written by long time Mamou Playboys fiddler/vocalist/co-founder David Greeley. (Greeley reluctantly ended his live performances with the electrified band on the advice of his hearing specialist -- Kevin Wimmer has joined the band on fiddle to take over Greeley's performing chores.) Adcock explains the song's significance: "David wrote this song about the 'Cajun Riviera'. The Louisiana beach community of Grand Isle took the brunt of the oil spill this past summer. We've all vacationed and fished down there our whole lives and it has been overwhelming to see what has happened in the wake of this ecological tragedy. Yet, in contrast, we kept the song upbeat– with a Western Swing feel and a minor keyed, darker side that creeps in on the bridge–like some post-war holiday postcard from the island. Crab boils, surf fishin', crankin' up the car radio and throwing a dance on the dunes–but with all of those petroleum rigs in plain sight, right off our coast."
Adcock adds that the band's outrage boils over in another key track on the album: "Though Grand Isle is the album's title, another track, 'C'est Trop' (We've Had Enough) is the battle cry. David Greeley wrote the song with Cajun scholar Barry Ancelet in the days following the BP disaster. David sings it with almost punk rock style intensity, and I love how Sam Broussard's fiddle-toned electric rhythm guitar Cajun 2-step is exactly what I would have imagined Jeff Beck might've come up with if he had played with a 60's Yardbirds era version of the Mamou Playboys!"
Grand Isle alternates a sweet, haunting Acadian waltz, "Valse de Chagrin" and the Fats Domino shuffle "Honest Papas Love Their Mamas Better" with dense rockers like "Chatterbox" and the riveting, culturally-charged opener "Danser Sans Comprendre". Both of the latter feature Riley's trademark accordion and Adcock's deep seated rock n roll sensibility. "I mostly play button boxes, with a little bit of piano accordion," says Riley, adding, "I play an accordion that Marc Savoy made for me when I was 14. It's 26 years old now and going strong! Marc's are the best there are."
Adcock explains how he and Riley shares rockin' roots going all the way back to their school days: "Steve and I used to get more action at our high school dances cuz our mothers and aunts had taught us to jitterbug and two-step to local music at crawfish boils and Mardi Gras. So, when it came to the dance floor, we could really grab a prom queen and take her for a spin. And, man, I finally got a musician credit on "Danser" for playing synthesizer on a Cajun record!"
Grand Isle CD and MP3 is available from cdroots.com
More about The Mamou Playboys available at www.mamouplayboys.com
Photos ©2011 by David Simpson of Eunice, Louisiana.