mali acoustique
Marty Lipp talks with Rokia Traoré and Mory Kanté about the acoustic side of African music.

The story goes that when music from Africa and other countries began to break out in the UK and the US, people gathered to figure out a catchy name under which to sell the new genre. Among the results was the short-lived "worldbeat" - short-lived in part because it implied that all the music was dance-oriented, ignoring the quieter, acoustic artists.
In fact, for every lambada or macarena, there were successful artists such as Ladysmith Black Mambazo or Bebel Gilberto, whose music was a soft sell, so to speak. In Africa, the first music to be successfully exported was the whirlwind dance style from Zaire called soukous. But in recent years, acoustic music from Africa has been reaching more and more ears and two artists show the charms of Africa unplugged.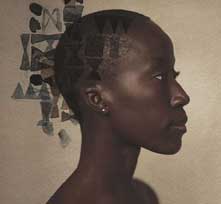 Rokia Traoré was born in Mali, but her diplomat father took the family to live in several European cities. Traoré said that because her parents were from a small village in Mali, she feels she has musical roots in two disparate world rural Mali and cosmopolitan Europe. With that unique background, Traoré created a small revolution in Malian music, taking traditional African instruments, but putting them in more western arrangements.
"It [would have been] easier if I did music like soukous, with more electric instruments," Traoré said, "but it would be less interesting for me."
While Traoré's voice can be either keening or angelic, her singing is not what sets her apart it's her ability to create songs that are intimate and interesting, that meld African and western music so well that when the Kronos Quartet slides in behind Traoré, as they do on her new album, Bowmboï (Nonesuch), it seems completely natural.
Her music is quiet, but not in the chill-out lounge sense; more like your archetypal guitar-wielding, socially conscious singer-songwriter type. Her use of Malian instruments makes her music sound, to western ears, very African, but to Malian ears it is quite new.
"We had to create a style," Traoré said. "And then create an audience for that style."
Asked if she thought her music was old or new, she said, "I'm trying to make more respected something old."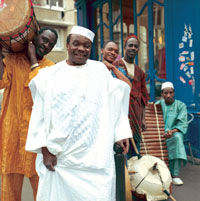 Kanté and band Mory Kanté of Guinea was born into a family of traditional African singer-storytellers called griots. But he made his reputation in 1979 with the international dance club hit "Yeke Yeke," which put the 21-string harp-lute called the kora into the middle of a bristling, electrified wall of sound.
On his latest album, Sabou (Riverboat), Kanté plays acoustically with only the occasional electric bass. Although the album is acoustic, the production is so full and percussive that many of the tunes seem as vibrant as his electric music.
"In contemporary African music, more and more frequently musicians are playing the parts of traditional acoustic instruments with electric instrument," Kanté said. "With my album I wanted to show that the traditional acoustic instruments of the griots still have a place in contemporary African music today."
Although he grew up in a griot family and first played the xylophone-like balafon, Kanté said this new project had him doing extensive research.
"The traditional instruments play differently from the electric instruments and I almost felt like a painter mixing his colors to get a final color result. I spent a lot of time at home with my Powerbook and a technician working on sounds before I went into the studio to record. My wife was beginning to worry that I had lost it with all the time I spent working at home with the instruments."
While electrified music is here to stay, acoustic music - from Africa and elsewhere - is often the music that traces the contours and secrets of a culture's heart, and that makes it worth cozying up to, whether in an intimate concert setting or through the modern magic of our electronics-filled homes. - Marty Lipp
Links:
Mory Kanté web site
Rokia Traoré web site
A performance video of Mory Kante
Kanté's Sabou available from cdRoots
Traoré's Bowmboï available from Amazon