Magos Herrera's meticulously crafted musical gift is like an undulating mosaic, the colors of its myriad tesserae growing in hue and intensity as she adds new facets to her musicianship. The mosaic grows brighter still as her spirit, intelligence and body in motion reveal her personal interpretation of the music that has captivated her: jazz. "Freedom," she says, "that's jazz to me. It's harmonic sophistication with freedom."
An artist of composition, voice, collaboration, even the finery of album design, Herrera did not come to jazz as if raised in its bosom. Having been born in Mexico where there was no true jazz culture, she'd had little exposure to the idiom as a child, although she recalls itinerant foreign musicians who passed through her hometown of Mexico City, and others who'd stayed, especially exiled Brazilians bringing with them their many rhythms, weighty lyrics, and winsome vocalists.
It wasn't until a sojourn in Italy to study painting and fashion design that Herrera discovered there was a jazz singer in her soul needing to be nurtured. She'd been singing and playing guitar in a small bar in Florence "just to cover expenses," when she heard a female vocalist improvising. Herrera was gobsmacked. "I didn't understand what she was doing," she says, "but it just hit me." The flights and freedom of jazz were the "gate to understanding what kind of musician I wanted to be."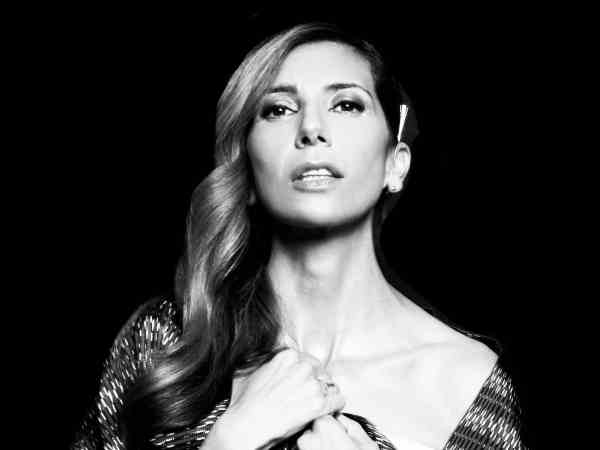 A daughter of Mexico to the core, Herrera had to acknowledge that she'd need uproot in order to dive deeply into jazz. And so, in 1992, she left for the States. She first studied in Los Angeles with Kevyn Lettau, a former Sergio Mendes' Brasil 66 vocalist who helped her to unearth the sense of pleasure and universality that makes Brazilian music enchanting worldwide. (We'd have to acknowledge the influence of Herrera's husband as well, as he is Brazilian.)
Perceiving the need for formal study, in 2007 Herrera moved to New York, where she has lived since. She took classes at various institutions, but found the academic approach ultimately lacked organicity. Studying improvisation now, not for vocalists, but for instrumentalists, she began to hear an instrument in her voice. Prior puzzling, searching and learning fell into place: her voice was indeed an instrument, rigorous and freewheeling, resonant, deep and pliant in the way of a viola or cello. "I just fell in love!" she exclaims, recalling the discovery.
As she honed her instrument, aspects of her being informed not only her sound, but the whole of her work. Herrera's DNA includes the genes of dance; she'd studied for many years before deciding to sing and today carries dance with her to every stage, where the liquidity of dance flows throughout her lithesome frame, her movement an eloquent counterpart to her voice.
Herrera's lifelong romance with couture comes into play too, as her stage fashion is equally beguiling - flowing long and dramatically, as sleek and black as a panther's night ride, or placid and cool as jade in shadow, or cast in the dusted metallic tones of olive leaves.
Herrera's fifteen plus years in New York have brought her closer to the African experience in the Americas and the musical fruit their struggle has wrought. First reckonings came when she was still in Mexico and learned the rarely-revealed history of slavery there, then heard African retentions in the music of the State of Vera Cruz, and in spots along the Pacific coast. The African backbone of Herrera's beloved Brazilian music, especially bossa nova, is notable in her songs as she captures its sensuality and luxuriates in the country's Afro-inflected Portuguese. Living in New York has deepened this absorption and appreciation.
Attaining gender equality has been a theme throughout her career. She is, for example, a spokesperson for UN Women, which advocates for a wide range of equality and empowerment issues worldwide.
Being recognized for her talent and achievement has been a struggle during her thirty years performing. Her recognized success and maturity as a female musician today make the challenge less arduous, as she uses her agency to command respect from players, collaborators, colleagues, within an industry advancing, if slowly, towards parity. "I'm really enjoying to nurture the virtue of being a woman, to really use that energy," she says, and continues, "I love the feminine energy."
Herrera has recently found a kindred soul in a male musician. Ed Simon is a Venezuelan-born West Coast based pianist, composer, and arranger. With Simon's trio, the two have collaborated on a gem, Femininas, an album that revisits the timeless and often groundbreaking songs of iconic Latin American women. Among them are Chabuca Granda's "Flor de la Canela," and Violeta Parra's, "Gracias a la Vida." He is not only a highly accomplished musician, but a woke male who reflects their shared ideals, having, as she observes, "the depth and humanity," and "sensitivity to honor women."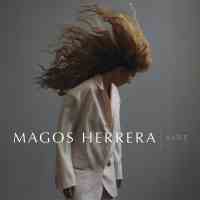 Herrera's latest album release, Aire, assisted by the small chamber orchestra, The Knights, is triumphal, a tableau of her years reaching towards artistic heights and autonomy in her profession, allowing her to captain all aspects of Aire's production.
Picking up Feminina's thread, Aire features a poignant tribute to the Mexican female shaman, Maria Sabina, of Oaxaca, whose story is both heroic and tragic. In songs dedicated to Herrera's niece and nephew, she uses extended vocalizations to express sentiments that words cannot, while the Bossa Nova brush sweeps sensually throughout. "Aire is an album that really defines who I am now," she remarks, adding, as one would guess, "That doesn't mean I'm going to be the same person tomorrow."
We might say that Herrera has reached her shining hour as Aire garners high critical acclaim. Currently touring the States and Mexico, she is claiming new admirers as proven by her magnetic under-the-stars appearance in New York's Bryant Park earlier this summer.
Herrera has left herself open to new projects to come her way, characterizing them as "adventures," including one that's still hush, hush, as it's not yet inked. If it reaches fruition, that would put her onto another plateau of accomplishment and critical recognition.
Magos Herrera is the epitome of a curious, searching, and successful musician, yet one who threads her humanity through her art. She's right on point encapsulating herself: "I'm a Mexican person that loves jazz and that loves to talk to the world."
Further reading and listening:
Magos Herrera - Aire
Petrona Martínez - Ancestras
Arturo O'Farrill and the Afro Latin Jazz Orchestra - Fandango at the Wall

Aire was our selection for Music of the Month for July, 2023.