Back to Lhasa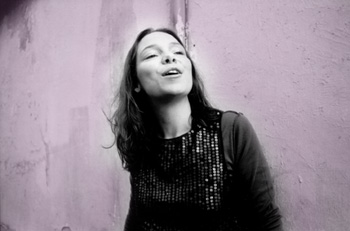 Philly Markowitz walks with Lhasa de Sela on The Living Road
After 6 long years, singer Lhasa de Sela is back. At the end of 2003, she released her long-anticipated sophomore album, The Living Road, the follow up to her stunning 1997 debut La Llorona. Once again, Lhasa lends her velvety voice to impassioned songs about love and loss.
Lhasa toured extensively after the surprise international success of La Llorona. In concert, Lhasa was by turns both shy and generous, and she gave a lot of herself away to her audiences. When the strain of touring threatened to overwhelm her, she knew she needed a break. Her escape route was waiting. Lhasa ran away to France join a contemporary one-ring circus "Pocheros" created and mounted by her 3 sisters. "When I left to go to France, it was almost like going to my death. I gave away everything. I did everything but shave my head and become a monk!" she laughs. "Afterwards I looked back and thought it was a bit drastic."
In France Lhasa lived a busy nomadic life, embraced by the loving and chaotic extended family the circus provided. "It was amazing. My little niece would wake me up every morning by knocking on my caravan door and she'd climb into my lap and say she loved me. If only touring could always be like that." The 400-seat circus in the round kept her busy "whenever you're not doing something up front, there's something to do behind the scenes, prop changes, costume changes". Lhasa also took time to pursue her visual arts, to eat well and to play. She still sang most nights accompanied by an accordion-wielding trapeze artist, but the spotlight was now on the talents of her whole family, not Lhasa alone.
Feeling refreshed, by 1999 Lhasa began to write new songs. She collaborated with French singer Arthur H, and contributed to a duet on an album by The Tindersticks. Eventually a relationship took her to Marseilles, where Lhasa began to hone the ideas she had gathered on the road and write songs about love and creativity, apocalypse and hope. These are the songs of The Living Road. To the casual listener, The Living Road will seem similar to La Llorona, but a deeper listen reveals many differences between the two albums. La Llorona was a Spanish-only album, The Living Road is sung in three languages: Spanish, French and even Lhasa's first tongue, English (albeit with a lovely French accent acquired on the continent). The band features a broader range of instruments, sometimes bordering on the orchestral. On La Llorona it was difficult to tell where Lhasa's voice ended and Montreal-based guitarist and producer Yves DesRosier's intimate accompaniment began. The two musicians felt like one musical entity living in two bodies. This time out, Lhasa chose producers Francois Lalonde and Jean Masicotte, also of Montreal. Together the three created a lush and spacious studio sound, placing Lhasa's voice above the band rather than mingling it with the instruments (in a few places the band has to be kept at bay for fear of overpowering her fragile-diva sound).
The plaintive vocal wail that sent skin a-prickling to the songs on La Llorona has been reined in and replaced by a more mature and measured tone. With The Living Road, one gets the feeling that Lhasa has invited you into her world and is sharing her confidences with you, in contrast to La Llorona, where one often felt like an uneasy voyeur into her private life.
This time, Lhasa isn't giving all of herself away. "The songs are autobiographical for the most part, but sometimes it's easier to stand back and write as if the story is happening to someone else who's just like me, but not me." The songs, though, are still startlingly intimate. "Anywhere On This Road" could be the theme song of the album, dealing as it does with both restlessness and heartbreak. It starts with the sounds of travel footfalls and bicycle bells give way to percussion and trumpet, then Lhasa's voice. The images are visceral:
My heart is breaking / I cannot sleep / I love a man / who's afraid of me / he believes if he doesn't / stand guard with a knife / I'll make him my slave / for the rest of his life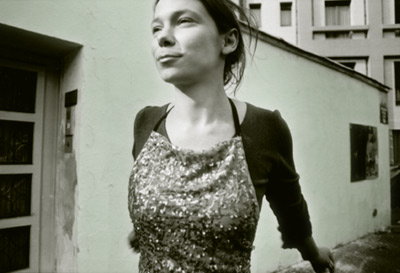 Almost every song is propelled forward by a walking rhythm, more often than not a slow, lurching clip-clop that could be tired feet or horses hooves or wagon wheels. Other outstanding songs include the hypnotic "La Maree Haute" ("High Tide") co-written by Raid Malek and featuring piano, bass clarinet, bowed bass and glockenspiel. "La Confession" is sung in French, but the laid-back guitar and trumpet is pure spaghetti western.
The guitar-driven "Small Song" is shocking in its simplicity. It deals with the pain of wrestling the muse in order to express one's self honestly. "I feel brave" Lhasa admits, "but what's really terrifying to me is NOT saying these things out loud." "Para el Fin del Mundo O el Aņo Nuevo" ("For the End of the World or a New Year") features the sounds of fireworks and military ships' horns recorded in the harbor of Toulon, France on December 31, 1999. The album's closer, "Soon This Space Will be Too Small," blends Lhasa's voice with synclavier, piano and lots of silence, and will simply stand your hair on end.
Lhasa says the music on The Living Road comes from a place of strength. It comes from the realization that she can live the life of a nomad and still feel at home wherever she goes, because she is at peace with the changes in herself. - Philly Markowitz
You can find out more about the artist on her web site