Kultur Shock plays alternative Balkan music in Seattle, incorporating punk, metal, Latin, jazz, funk, rap, and a lot of musical jokes. The core members are natives of Bosnia and Bulgaria. If you think of Balkan music as fine wine, alternative Balkan as Cuba Libra, then Kultur Shock is EverKleer and Red Bull.

I first saw Kultur Shock in the back room of Sit 'n' Spin, a combination deli-laundromat-club in downtown Seattle, milling around during sound check for their warmup band, Guardian Alien. For a moment I stared at the table with the lamp and drinks glued on hanging upside down from the ceiling. Then I cornered sax player Amy Denio and singer and percussionist Gino Srdjan Yevdjevich for an interview. We decided the dryers were too noisy and settled on the shabby office.

First, though, we'll look through the hanging crystal ball at the 11:30pm performance.

These were the calm, quiet people on stage, letting their instruments speak for them:

On drums, "Bobby""Boris" Iochev and Val Kiossovski on guitar, both from Sofia, Bulgaria. They are former members of a progressive rock band called Orion, who, during the communist era and not without cause, spirited themselves away from the San Remo festival to Germany and then found political asylum in Amerika.

Masha Kobayashi from Tokyo, with dread locks, playing bass.

Amy Denio, saxophone and Ambrose Nortness on sax and trumpet, Americans from Seattle, standing in back like angelic blond twins.

Mario Butkovich, from Brcko, Bosnia plays searing electric guitar.

This person was not quiet: Gino, the sturdy singer from Sarajevo, He too is dreadlocked and at the beginning of the show is wearing a khaki Ultikilt and a Japanese auto mechanics shirt. During the show he changes his shirt twice, because "My mother told me I should do this." People seem to know Gino. At one point he kisses the hand of a woman who greets him, something I need to consider at the next show. He begins thus: "We need to remember Christmas is not just about sex and fuccing. It is also about kindness and giving."

They are quiet in demeanor, but not in sound. Kultur Shock would be nowhere without the veteran musicians. They play a flawless mix, but in particular merge characteristically heavy passionate Balkan melodies into "heavy" with amazing skill and style. The plan is to play tunes from the first, less "heavy" album first, and then to finish with songs from the second, like a two disc retrospective. The first group of tunes is much smoother, without the crazy turns. The songs are not so classic and timeworn... here are all the names from the set list, in timeworn SlaviK: Mladuno, Ramo Ramo, Immigrant Song, Kita Mange, O Dila, Osmanaga, Wild Thing, Delem Delem, CupCik, Nadija, Mašina, Hadje Roma, Šota, Cajšucarje, Gigilo...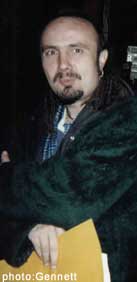 Gino as a singer is an actor. He is a stereotypical bad-tempered, suspicious jerk, a wheeler-dealer, a clueless clutz with a heart of gold. Specializing in tremolo, he wails, croons, paces, dances, metamorphoses into a gypsy, into Esma and Kultur Shock are his children. His golden voice could be on Broadway Sarajevo, but often rides the far edge of goofiness. He accidently steps off the front of the stage, WHAM! but the audience hoists him back up, where he continues the song laying on his back snarling "Mastika, Mastika!." During another song he accidently hits a woman (in black, they all wear black) next to the stage on the nose and gives her his shirt, ("No no, you keep the shirt, it's the least I can do."). In all this confusion, Gino is able to play tambourine and the doumbek they call a tarmbuka in Eastern Europe, and sometimes uses a bullhorn. During the second "heavier" part he and bass player Kobayaski begin dread-banging for emphasis to the "heavy" beats. The audience joins the band in imitating the Pirin Ensemble on "How To Fucc Songs and Irritate People"...eeee!!! Kultur Shock finishes, but returns for an extended encore, though no one has made much of an effort to ask for one, why bother when the band knows you want more? Finally Gino shakes his head and mutters, "That's it, no band plays for two hours straight, that's crazy, just Bruce Springsteen."
While all this Gino is going on, the rest of the band does incredible things. Butkovich picks out stunning electric hooks and intricate buzuki tunes. Kobayashi transforms the room into a bass clef TransAm on a dark wet night. Iochev knocks out blocky tropical rhythms to eastern tunes. The dirty brutality of the saxophones betrays their gentle jazz owners...
So now back to the tiny, battered office of Sit 'n Spin:
Since they call themselves "gypsies," since the album is called "Fucc the INS," I asked if there really was a political message to the band. Gino explained, "We do not recognize borders, passports..."
"National boundaries..." added Denio.
Gino went on, "Being free by the Webster Dictionary is the access to move...all access. Right? Access to all sides, so how can a guy with a mustache or a girl without a mustache stand on the border of some country to tell me if I'm good enough to get there, some kind of immigration police of some country. If I'm good to go somewhere and somebody else is not and so on I do not think that's legal. Freedom and borders...that's not legal. That's limitation of your national born right."
"You know," said Gino, "I was personally in the war for 3 years, couldn't leave. I was without water, without electricity and pretty much anything which makes your life like civilized life and trust me you get used to it like this, in 5 minutes, in 60 days I didn't really even remember how electricity looks like. What do I need it for? But I didn't get used to not being able to get out. Ever! So I think that's the idea."

Amy Denio, who so nobly plays killer sax in the far background, is from Detroit. "Both my parents played upright bass. I'm pretty self-taught on the instruments I play now, which is guitar, bass, saxophone and accordion and singing. When I started touring ten years ago, it was easiest to get gigs in Eastern Europe, so I played a lot in Yugoslavia and Czechoslovakia, Hungary. When I was over there I discovered I really love that music more than any other. I find it the most profound soul music...
"When I heard Kultur Shock was playing I checked them out and in their earlier days they were more like a restaurant band, loungey and nice. My friend Jessica started to play with them.
She was starting to tour too much so I said I'll be your substitute. So about 2 years ago I joined the group on saxophone and I've been learning a lot of gypsy words...swear words."
Gino is from Sarajevo. "I had an attention deficit, but it was not an attention deficit disorder that I had...I wanted attention all the time. So I had the deficit of the attention of the other people disorder. So pretty much at nine I wanted to be on the stage, to act, to sing, to play drums. I started playing drums at that time. Anything, just the stage. At the age of 16 I started playing drums with the teen not-one-but-a-couple-of-hit-wonder, and we made it when I was 16 and then made a couple of albums, played for a couple of years..."
"Which was when?" I interjected like a verbal crowbar.
"That was in 1975. Then at the age of 20, 21 I quit that band and started doing my own music, having an interest for doing a little bit more complicated music, so I made my own band and it took me about 4 to 5 years to make it. I thought that industry people were mine, because we were selling a load of CDs...of LPs at the time...but I had to start it all over again. I made it again in 1986 with my band Gino Banana and then we recorded three more albums. The first album was kind of jazzy rock and roll, kind of like at that age, in the '80s everybody was trying to sound Sade-like. The second album was done by the same record label, the record label jumped in saying need to do big commercial, so the second one got sold like gold, and the third got sold like gold.[in Yugoslavia] Since then I was like Ricky Martin. I mean I was like mainstream singer at the time.
"Then my other outlet was the theatre. I was a theatre composer at the same time and my alternative outlet was there. So when the war started I realized I don't want to play commercial music anymore because I guess life is too short. In minutes you can get killed as much as...you know, every five minutes you can get killed. So why would you waste your time and do stuff for money? That was my logic and since then I changed."
Gino came over to Amerika in 1996 on a cultural exchange visa to make a movie. "Kultur Shock has been around since 1997-98. It was different. We were a folk-acoustic band but then we started playing restaurants like every folk-acoustic band. We actually made a tour with Joan Baez who's a friend of mine...we met in Sarajevo during the wartime. Then we started playing in Seattle. It was a joke, so they [the audience] were starting to jump on the tables and take their shirts and bras off and they started dancing all over the place so we got kicked out of the restaurants so we had to start playing the rock clubs, so here we are." They released their first album Live In Amerika in 1999.
Kultur Shock's fame has grown with its second album, FUCC the I.N.S.. Released in late 2001 on the punk rock label Kool Arrow, it has gotten good reviews in both fRoots and Metal Hammer.
"... this [magazine] is like hard core heavy metal." confided Gino.
"Black metal..." added Denio.
Right now, though, they play about once a month in the Seattle area. They've played in Portland and Bellingham. They'd like to play in Canada and have had some offers from Eastern Europeans there..
"Pretty much the younger people, explained Gino. "I wouldn't say the Balkan Balkan people. Its pretty much the people who remember me from back home doing my music. They are usually quite surprised when they hear this. Its very much like Ricky Martin doing something very weird. Imagine if Ricky Martin would disappear for 5 years and then come back with some death metal Hispanic version."
I asked about traditional music back in Bosnia and those "Balkan Balkan people."
"Their grandfathers and grandmothers came to this country and started doing that beautiful music. Life didn't stop over there. We have electrical amplifiers and stuff, there's computers also. There's still people doing music there. It's played differently. Some people have a hard time listening to us, thinking of that music as pure as shepherd on the hill. A lot of sheeps, you know, with the flute. It's a good idea, but realistically it doesn't exist anymore....You know, melody lines are there, but everything else changed. I personally don't like the pop-ization of folk music, but experimentation is my very favorite action."
Gino's heart seems to be in several places at one time. He teaches part time at Seattle's Cornish College of the Arts in the drama department. He also does legal work for people with developmental disabilities, using the law degree he earned long ago in Bosnia.. "It's maybe the other theatrical side [of singing] that I do that calls the attention of the people and maybe they think I'm more into theatre than music, but I can say I'm 130% into music also and I do think...you can still do the theatre and the music on a professional level. You don't have to make the choice, one or the other." He wrote later: "There is a full separation in my head between playing music and doing the show. Both of it needs to be done in order to keep being Kultur Shock," I think listening to the album you hear more music and less theatre, less of the "real" Kultur Shock, but the spirit shines through amazingly well.
Denio's path is straighter. "I like the music part," she said. "The stage part is secondary. That's one of the nice things about Kultur Shock, that we draw a very diverse community when we play. A lot of people from eastern Europe, a lot of Americans and a lot of people from all over coming together. That's the part I like the most about the stage watching the mishmash of cultures.."
"They have a copy of our CD at the [Canadian]borders," opened Denio.
Gino said, "I was crossing the border... they always search me at the border. I guess I look like...but you know if I was really a drug dealer I wouldn't look like this. It's stupid. Why would you, I mean how, who normal would look like me and be a drug dealer? Right? Anyway, they searched my car last time and I'm having fun looking at them searching my car and I had a lot of our CDs back in my trunk and I later on discovered that one of them was missing."
"In heavy rotation at the border," said Denio.
"At the border listening to it I guess. Yeah, I was very proud at the time. Called every single one of my friends and say 'Hey, we just got robbed! One of our CDS was missing.' Wouldn't you take one? I would. If somebody said "F-U-C-C the Kultur Shock and there's a CD. If I had the authority, I would love to hear the CD. I mean, I understand the interest, definitely."
---
All audio ©2001 Kultur Shock and Kool Arrow Records, and is used with their express permision

FUCC the INS is available at cdroots.com
Kultur Shock's web page
Read the full transcribed text of this interview