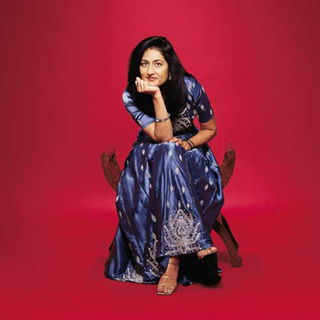 Punjabi love songs in a northern light
Marty Lipp talks with singer Kiran Ahluwalia

We've heard the story about someone who left a secure, comfortable life for love, but Kiran Ahluwalia left for love songs.

Born in northern India to Punjabi parents, Ahluwalia was raised in Toronto amid the small South Asian community. Although she was in North America, she fell in love with ghazals, the sophisticated musical love poems of India she was exposed to by her parents.

As a girl, she studied Indian music as she moved steadily towards a western-style middle-class life. She went into business, but would take six months or a year off to study music in India. She shuttled for several years between the worlds of music and commerce, even getting an MBA and becoming a bond trader. But she decided to leave a job as an executive at Putumayo records in 2000 to give performing a full-time shot.

Recording and performing in Canada, she won a Juno award, the equivalent of a Grammy. Now she has released an eponymous CD for an international audience with songs from her two earlier Canadian albums, plus two new songs that find her reaching into cross-cultural fusion.

Ahluwalia has rooted herself in the tradition of the ghazal, which she compares to jazz in that both genres are "less serious" than classical, yet not quite as propulsive and dance-oriented as pop music. Traditional ghazals (pronounced in India like "guzzles") as opposed to Bollywood film score ghazals, are highly literary and are given pretty serious listens.

As a young girl in Canada, Ahluwalia was exposed to various types of Indian music, but found herself drawn to ghazals in particular. "The literary repertoire of ghazals is beyond the reach of a child," she said. "But something would resonate with me."

The emotional message of the melodies, she said, communicated a "melancholy, but not melancholy in a depressive way; melancholy in a soothing way." As she grew, so did her appreciation for the sung poems. "If [a ghazal's] words are beautiful and it's something that touches me, this knot just gets released in me....I think: 'That's exactly how I feel...and the poet has said something that I did not have the beautiful words to say.'"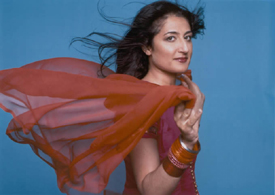 Ahluwalia's approach to ghazals reflects her own transplanted upbringing. For example, while Ahluwalia is not the first to use acoustic guitars for ghazals, she has brought it forward as a melodic instrument rather than just a rhythmic one. She also collaborates with two expatriate Pakistanis poets who work in Canada as a taxi driver and a car mechanic.
She also performs Punjabi folk songs. While one type of Punjabi folk song, bhangra, has been transformed into electronic dance music by young South Asians, principally in England, Ahluwalia performs other types that are lively, but not as boisterous.
She said she likes to include the folk tunes because they are a change of pace from ghazals, but are not so far afield that it is hard to return to the slower ghazals. It is just one of these folk tunes, in the keherva style, that Ahluwalia arranges in her most nontraditional fashion, teaming with fiddler Natalie MacMaster, who comes from the Celtic tradition of Cape Breton in eastern Canada.
The song, "Jhanjra," tells a young girl not to dance too exuberantly so as not to make others jealous of the bells jangling on her feet. The song opens with an acoustic guitar, then is joined by more-traditional Indian instruments such as harmonium and tabla. Flying over the galloping beat, MacMaster swirls in Celtic-drenched filigrees, filling the sails of the speeding tune, which ends with an unusual syncopated hand-clapping section that Ahluwalia initially improvised when her tabla player was late to a recording session.
With her first international release and a North American tour underway, Ahluwalia is excited, but cautious. "I wonder how long this will last ­ will I ever return to a normal workforce?"
Her self-titled 2005 CD is available from Amazon
The artist's web site: www.kiranmusic.com