Kim Carson Has Enough Heart Left to Break

Photo: Debbie Stein
Georgianne Nienaber talks with New Orleans country songwriter Kim Carson.
Leather-jacketed bikers were lined up along the levee on Algiers Point just five days after the close of Jazz Fest 2014 in New Orleans. Having contracted the disease of pop music avoidance and having assiduously ignored "Fest" for the past several years, it was time for me to prowl the streets and find some authentic roots music.
Kim Carson, 18-year local veteran of the New Orleans music scene, was playing with her new touring band, The Real Deal, and fine-tuning performances for a three-month European tour. Plastic chairs and rickety tables overflowed with dogs and people for a Friday night at the Old Point Bar. A yellow lab the size of a pony was greeting late arrivals and slopping water from an aluminum bowl near the stage monitors. Less than a stone's throw away, the renovated levee with a yellow-striped asphalt bike path snaked along Patterson Drive to the pedestrian ferry landing. Adventurous souls scrambled up the levee bank and ignored the graffiti covered stairs a few yards away. Their reward was New Orleans twinkling like a spectral OZ and shimmering in the Mississippi shipping lane snaking a sinuous route to Gulf waters wounded and stained by the BP oil disaster. The faint smell of creosote and diesel waxed and waned with the tidal flow.
The show hadn't started yet, but sound check was well underway and sounds of guitar riffs and Carson's crystal clear vocal warm-ups encouraged the enthusiastic crowd to tone it down. The biker elite had already claimed prime tables and one of the biker queens took it upon herself to make certain the stage lights were properly showcasing Carson.
Unfortunately, she learned the Fresnel's are immovable and Carson would have to play the darker side of the stage. The biker was not happy with this news. "I can't see her," she kept telling anyone who would listen.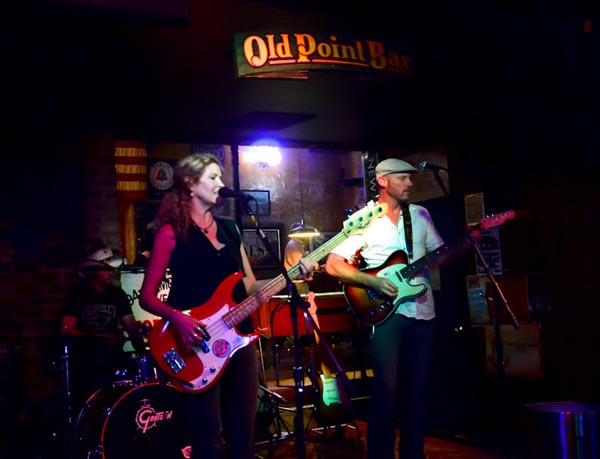 Photo: Georgianne Nienaber
The crowd obviously was there for Carson, and fans eager to dance were on the floor when the first notes twanged from Jeb Rault's lead guitar. Carson is probably one of the best country honkytonk singer/songwriters performing along the Gulf Coast and in southern Texas. The crowd was there to pay homage to their music queen and her authentic dance hall sound.
Kim Carson was named "Best Country Artist" by readers of OffBeat magazine eight times. Years of consistent touring helped make a name for Carson as the undisputed guardian of Louisiana honkytonk music. Growing up in Canyon, Texas and Oklahoma, and after doing a stint as a DJ, Carson took the performing songwriter plunge. After Hurricane Katrina, she moved to Texas to form the band Buffalo Speedway, eventually moving back to rebuild her house in New Orleans in 2008.
Her backstory is tough. First, she lost her fiancé and the love of her life in a jet ski accident. Then there was a holdup in front of her house in the fall of 2000. Her fiancé had been gone for only a few months. "I didn't care if they sent me to see him but I wasn't going to loose anything else. I just felt I had lost enough so I refused to give my money, my gig bag, my guitar," Carson says.
The perp said he was going to kill her.
"Over what? Something you can't use and I need to make a living. No."
Carson says the guy got frustrated and "either he tried to pull the trigger and angels jammed the gun, or he put on a big show like he was going to do it and I stared him down. Anyway, he left."
Then Katrina hit and she lost everything except a guitar, a pair of boots and a new pair of Levis. Her house was still standing but Katrina was all about the flood, not the wind, and water damage was extensive. Between touring, making a living, reconstruction, and moving on, Carson says she feels like she has "lost some buzz."
Understatement personified.
What Carson really needs now is a US publicist and social media guru to get the word out. Audiences can't get enough of Carson in Europe. Tonight she is nursing a cough and sore throat and worried about a recent diagnosis of chronic lung problems caused by almost two decades of singing in smoky Louisiana bars. The only solution is to book in nearby Alabama and Texas where smoking is outlawed in bars.
"What am I gonna' do? I gotta' make a living," Carson says through one more cough and a long pull on a bottle of water. New Orleans is home and she is not going to abandon her city.
Algiers Point is an oasis of calm just across the river from the French quarter, Harrah's Casino and the out of control gentrification and nightlife of New Orleans. It is a real neighborhood, where everyone meets at the Tout de Suite Café on Alix Street for morning coffee, Chef Jill's scrambled eggs, and where locals insisted the café not close on Mondays. After all, everyone "needs" their coffee. So Muffin Mondays, open until noon, satisfies the angst of the real possibility of no Monday morning coffee. This is a neighborhood with input.
Photo: Debbie Stein
The first time I ventured to the Old Point was a year or so after Katrina while I was covering the reconstruction. The HBO hit "Treme" presented a glamorous fairytale compared to what people, including Carson, were really going through in those years. Susan Cowsill lives a few blocks from the levee and called me while I was working and living near Morgan City and asked if I wanted to go see 60's soul singer Betty Harris at the Old Point. An interview I did with Cowsill about the loss of her brother Barry in Katrina's floodwaters cemented a friendship.
The following year I was covering Jazz Fest and photographing Carson's set, where she is a regular. Cowsill joined her on the main stage for a song or two. That night I was crashing on Cowsill's couch, when she and sister-in-law Bangle Vicki Peterson-- fellow Psycho Sisters and Continental Drifters cohort-- rousted me out of a dreamless sleep, wanting me to walk with them to the Old Point to grab a beer. It must have been two AM and I was in my flannel pajamas and a T-shirt, but hey "this is the Point," so I walked with them, still half asleep but acutely aware of the songs of nightingales and intoxicating scents of night blooming jasmine and gardenias wafting through the historic oak-lined streets like an other-worldly specter. Of course, Cowsill and Peterson knew every musician in the bar, and all seemed to be taking refuge from the Fest across the river. I sat on a stool near the bar, still in my pajamas, and waited. No one said a word about my attire. No pretense is needed on Algiers Point.
Photo: Georgianne Nienaber

Kim Carson is a singer/songwriter's singer/songwriter and the Point is a perfect venue. The thank you list and contributions on her tenth, newest and best CD Enough Heart Left to Break, tell you more about who she is and the respect she owns.

Kim Carson, like so many other New Orleans' working musicians and songwriters has been overlooked by the mainstream, and it is time to shine a little light on this consummate and honest honky-tonk singer. The title cut, "Enough Heart Left to Break," showcases Carson as a mature artist and songwriter, demonstrating that honky-tonk does not require a superficial sound. The cuts on this CD reflect a tough but tender woman's take on life and love. It is a rough road, but one filled with compassion, empathy, and an understanding of self that resolves the universal heartaches of lost love and longing. Being on the road puts an impossible burden on relationships and Carson deftly taps into what can go wrong and how to navigate these twin seas of passion. All that emotion aside, the title cut is a real dance hall tune.

"It's important to me to get a CD of real country music for real country fans. It's authentic music written and performed from the heart. These songs were not written to a formula to be accepted by the masses. A lot of what's on country radio today is really pop music. I call it Rural Rap," Carson says.

"If I'd known a storm was coming, I would've run for cover," she writes in "Missing You."

It's all right
It's OK
I know that I'm not always gonna feel this way
But for now I have to say
I'm missing you.

"I want to make my music and hope someone relates to what I was feeling when I wrote and recorded these songs. They are personal, like taking a peek at my diary. They are honest. And I want to remind people what real country music sounds like."

Carson's diary in "Missing You" mirrors the universal. It seems as if she packs all of the five stages of grief and loss into the lyric. It is direct, honest, and when the narrative shifts to "One day soon it'll be alright and I won't be missing you," it cuts deep.

Alex Rawls wrote in Offbeat Magazine, "Kim Carson is as fine a roots/country singer as someone like Rosie Flores. Her brand of high Octane Twang is traditional without being retro."

"San Antonio Again" is reminiscent of Flores' iconic tune "Bandara Highway." It's hard to miss the comparison in nuance, tenor, and a sense of a place. Joel Guzman's accordion just about breaks your heart. Carson tapped into the songwriting of former bandmate Brian "Bicycle" Jones on the cut and she more than holds up to Flores, her big voice, and certainly fills Rosie's colorful boots.

Carson's take on "Couldn't Do Nothin' Right" (Jerry Jeff Walker, written by Gary P. Nunn and Karen Brooks, 1976 MCA), and covered by Roseanne Cash in 1980, is a perfect placement on this CD. Go to YouTube and listen to the original versions and see if Carson's branding isn't the one you will remember.

Enough Heart Left to Break is her tenth CD, and Carson feels it is her best. Carson describes it as "straight up Texas honky tonk with a dash of Louisiana spice." You hear Cajun beats, accordion, harmonica and even some Tejano Spanish guitar. Carson wrote or co-wrote seven of the songs. Texas fiddle player and band leader Bobby Flores (no relation to Rosie) is featured on violin, viola, fiddle, gut string guitar, and harmony vocals. Flores is a first call session musician whose work is known internationally in a variety of genres.

Tommy Detamore co-produced with Carson, and the arrangements, sound, and over all production are mostly impeccable. At first I thought there might be a misstep with the addition of the male vocal on "Oh How I Love You" (Cómo te Quiero). But the more I listen, the more it seems the correct choice. The arrangement is straight up Tejano roots. John Arthur Martinez did the duet and people may recall Martinez from the first season of "Nashville Star". Buddy Jewel won that competition with Martinez in second place and a girl from Texas named Miranda Lambert coming into third.

Detamore has worked on 100 albums for performers including George Strait and Grammy Award winner Flores. He has also contributed to hundreds of demo projects for artists all over the world. Enough Heart Left to Break was recorded at Detamore's Cherry Ridge Studio, located southwest of San Antonio, where he has been recording and producing traditional, modern, and alternative country music since 1990.

Johnny Falstaff tackles lead guitar, Carson's friend and former band member of two years Eric Griffith is on drums, Rondal Huckaby from George Strait's Ace in the Hole Band on piano, Ric Ramirez (formerly of Two Tons of Steel and Miss Leslie and the Juke Jointers) on upright bass, and Joel Guzman on accordion. New Orleans trumpet player Ian Smith rounds out the sound on "Maybe My Baby."

Carson wanted a trumpet on the tune, and at first Detamore balked. True to form, Carson did not give up on the sound she wanted.

"I told Tommy I wanted trumpet and he said 'no.' He did not hear that. So I said let's put down a track and if he didn't like it, we wouldn't use it. I asked if he knew some trumpet players and he said 'yes.' Then I remembered I was near San Antonio and I said NOT mariachi trumpet and Tommy said he didn't know any trumpet players except mariachi."

Carson craved the sound of a jazz trumpet, so she called her friend Ian Smith, and he set up studio time in New Orleans. Smith just happens to be one of New Orleans' best studio musicians and studied under Ellis Marsalis.

"He was in the studio about 30 minutes, tops, from set up to finish, Carson said. "They sent the files over by internet and it was a PERFECT New Orleans trumpet!"

From thorough sound checks, to studio production, to finding her path in life, Carson never seems to give up. Experience and tenacity count for everything. Through it all she has gained the respect of an extensive roster of studio musicians and the love of country roots audiences worldwide.

I thought about Carson dragging her gig bag all over a tough world, making her way from sound check to sound check, as I took one last stroll through the depths of the neighborhood before a reluctant goodbye to Algiers Point.

The ghosts of the 18th century settlers were tangible in the wee hours as I walked past my car parked along Patterson Drive and took the familiar loop, turning onto Verret, Pelican, and Olivier. Creoles, sea captains, mayors, jazz musicians and nuns built this place. Civil War veterans recovered and were imprisoned here, depending upon the colors of their uniforms. I decided it best to avoid the old voodoo dancing grounds a few blocks away. Morgan Street can give you goose bumps if the wind whispers, the mind turns to thoughts of Marie Laveau, and the hour is just right. The sidewalks on Olivier became a jungle of ancient live oaks punctuated by the persistent nocturnal call of the ever-present nightingale. Her song blended with the sound of Carson finishing her set as I rounded the corner. Looking over my shoulder, shadows danced and played on rooftops and walls as the canopy swayed in the gentle Gulf Coast breeze. Inside the Old Point, biker couples moved as one; holding each other in the embrace of Carson's voice. - Georgianne Nienaber
---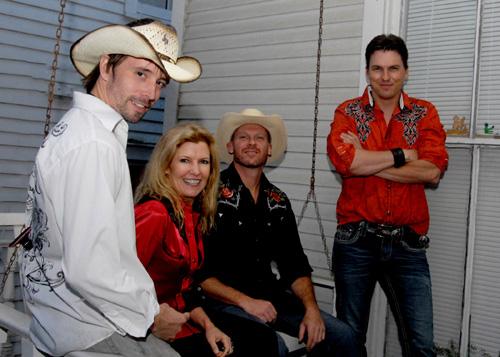 Photo: Bruce LeBlanc
Carson and the Real Deal band will be touring extensively in Europe the summer of 2014. Kim has performed at the Country Music Festival in Silkeborg, Denmark; Routes du Rock Festival in Lavardac, France; Country Music Festival Vinstra, Norway; Western Experience – Scheveningen, Netherlands; Country Rendez-Vous in Craponne, France and Mirande, France. Her band currently includes New Orleans players Jeb Rault on guitar, Jack Hinson on drums, and from Nashville, John Kunz on fiddle.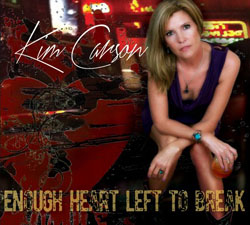 Enough Heart Left to Break is available at Louisiana Music Factory in New Orleans. wwwlouisianamusicfactory.com
and is also available on iTunes and CD Baby.