"The sweetest sound you'll ever hear"
Dennis Kamakahi talks with Jamie O'Brien about his island sound.

It's regarded by many as the oldest guitar tradition in the United States, predating the blues, jazz and country by decades or more. Ki ho'alu, Hawaiian slack key guitar music, has its roots in the early 1800s. "It's the sweetest sound you'll ever hear," according to Dennis Kamakahi, one of the finest exponents today, "...as soon as you hear it, you know, it brings it back to Hawaii."
Distinctive to be sure, with its insistent bass lines and dynamic chord progressions, its cascading harmonics and appealing harmonies, the sounds of slack key combine to present an image-laden style, conjuring up waterfalls and winds, oceans and mountains, flowers and food. It's a living tradition which is constantly being replenished.
Now in his early 50s, Kamakahi, along with being a highly respected performer, is a prolific composer, constantly adding to the repertoire. He also teaches and will soon be featured in a major Disney movie.
"I was about three years old when my father bought me my first ukulele," he says, looking back. "I used to play along with my grandfather and father during the evenings, because in those days we didn't have the television. There was just radio. But we'd go out on the back porch and sit down and play music all night long."
In typical Hawaiian fashion -- watching, listening, copying -- he learnt the old songs and tunes. At age 10, he switched to guitar and by 14 was writing his own material.
He then started attending the Kamehameha School, which is for children of Hawaiian descent and places high regard on maintaining the culture of the Islands. Also on the roll were George Kahumoku Jr., the Beamer brothers (Keola and Kapona), Jerry Santos and others "That class was called the 'Renaissance Class'. It was from that [class] Hawaiian music took a turn, began to involve more of the younger generation."
This new generation of musicians found inspiration in the legendary players of the time. "Around 1972, there was a breakout album by the Sons of Hawaii." The group's eponymous release featured Gabby Pahinui, Eddie Kamae, Dave Rodgers, Joe Marshall and Moe Keale. "We look back to that album as the start of a new appeal with the music. It started an awareness among us as youngsters."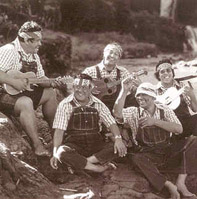 Sons of Hawaii

(Dennis on far right, with guitar)

Two years later, Kamakahi joined the Sons in place of Pahinui. "I wasn't going to stay in Hawaii. I was 19 at the time and I went to Canada to work for the Hawaii Visitors Bureau." At the end of a cross-Canada tour, curiosity got the better of him and he headed north to Alaska. "I fell in love with the place and said to myself, 'Gee, this is where I want to live.'"

In the meantime, Pahinui had formed his own band and Kamae decided to go back on the road with the Sons. "Eddie was looking for a guitar player and my name was mentioned." A phone call brought Kamakahi home to play at a festival in Honolulu and he became a fully-fledged member of the group.

Replacing Pahinui was not an option -- how can you replace a living legend? "I had to find my own niche. Gabby was a slack key artist and I wasn't too much into slack key at the time. But my forte, the area I felt comfortable with, was writing music."

Kamakahi soon established himself as the songwriter in the band, singing and playing guitar. Although younger than his partners, he soon fitted in. "We'd just get on stage and it's like, you knew exactly what the next person was going to do. ... There are very few bands I've played music like that with. It's just fantastic, spur of the moment, it's all spontaneous."

He remained with the band until the mid-90s. By then, many of his songs and tunes had entered the traditional repertoire and had been recorded by major and minor artists alike. Kamae introduced him to many scholars of Hawaiian music at the time, including Mary Kawena Pukui, whose encouragement helped him develop his composing talents.

Compositions like Wahine 'Ilikea, Kou Aloha Mau A Mau, Koke'e, Pua Hone, Ka `Opae and many others have since established him at the forefront of Hawaiian song writing today.

Over the last decade, Kamakahi has recorded several albums including two solo releases and one with his band, Hui Aloha, all on the noted ki ho'alu label Dancing Cat Records. He has also put out a duo album with his son, singer and ukulele player David.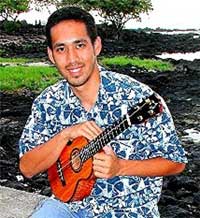 Davis Kamakahi

"I did a concert in Maui," he explains. "The promoter had said he wanted to have our children play along with us because it was Father's Day." He handed the then-15-year-old David a ukulele and showed him some basic chord shapes. "Just strum and keep in rhythm with me" were his instructions. Midway through the show, he introduced his son and they began to play. "You know, when the music is really going good, musicians have a tendency to pass the solo around." The music was really going well.

"I turned and said, 'Take it, boy!' He started to let it rip! I was in total shock, I had to stop." Unknown to Dennis, David had been playing for fun with friends after school. It marked the beginning of a new relationship -- no longer just father and son, but now music collaborators, too. "I said, 'If you really want to play and you love playing, come with me and we'll tour."

David is now set to release his debut album which Dennis produced. He also tours with other sons of 'old-timers', including singer and guitarist Keoki Kahumoku (George's son) and Herb Ohta Jr. (who, like his father, Ohta-San, plays ukulele). Dennis often performs with them "The young generation is just like the old generation except they're younger! I mean, they get along just as well as I get along with their dads. The way they interact and the way they play music is the way we play, exchanging ideas, having real fun playing."

Both Kamakahis are also featured playing in Lilo and Stich 2, a Disney movie currently in production. "I have no idea how that came about. All I know is somebody called me up and asked. I figured it was a joke or something." Except the phone calls kept coming and the pair was invited into the studios to record a song for the movie. Their slack key approach was exactly what was required and Dennis is hopeful it will make the final cut.

Dennis Kamakahi has come a long way from ukulele on the back porch to the world of Disney, from playing with school friends to playing with the Sons of Hawaii to playing with the sons of those old school friends; he experienced the revival of the 1970s, which briefly took Hawaiian music into the international spotlight and is now part of a new wave which is once again bringing attention to this distinctive music.

He has seen many changes. "The younger generation in Hawaii has attached itself to the reggae style. ... But what happens is, these kids go to college and people in the mainland or wherever they go ask them, 'Can you play ukulele?' And they're embarrassed when they have to say 'No'. So they come back to Hawaii and they look for us. 'Hey, we want to learn, uncle!' It's OK, because it's never too late.

"I'm thinking of turning more toward teaching because I've done everything I think has been important in my life. I look at the younger generation and I see a lot of talented musicians out there, a lot of composers. They just need direction and a way of bringing out their work so people can hear it."

And as he says, "As soon as you hear this music, you know it'll bring you back to Hawaii."

Article by Jamie O'Brien

CDs, audio samples and more information is available on the artist's web site
www.denniskamakahiproductions.com