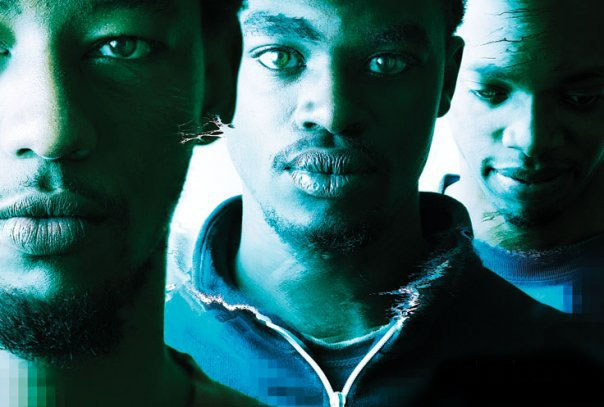 Just a Band: Sheng Meets Brooklyn
Nyasha Laing talks with members of the multi-media ensemble from Nairobi.
It is close to midnight in the plush Converse Recording Studios in Williamsburg, Brooklyn. Bill Selanga, one of the four members of Nairobi's Just a Band – is in the booth, trying to internalize some lyrics before he samples them. Fela Kuti's vocals croon through the ten-foot speakers. Then Selanga's husky voice pierces through the glass, trickling into blues on "Migingo Express," a time-traveling Afropop electronica track from the band's sophomore album 82.
The off-the-cuff rendition speaks to the studied effortlessness with which Just a Band does their cool, upbeat, trancy music, so afro-specific and yet so possibly from anywhere. A group of animators, musicians, graphic artists and new media activists who met in college, these four seem to blend genres, technologies, and mediums in a way that makes new meaning out of the word band.
"The name of the band is actually a joke," says Daniel Muli, the soft-spoken animator. "Sometimes we are trying to do projects that are supposed to mean something, and if all we do is give the moral of the story, it can be very boring."
Kudishnyao, an experimental video installation exhibit that completed its run at the Rush Arts Gallery in Manhattan in August, brings this playful thoughtfulness to life. Say it with the right bit of nasal high pitch, and it's a serious sound effect.
"When kids on the playground are playing they have words for different sounds. Like police cars, gunshots," Says Muli. "We called it that because it sounded cool. But the exhibition itself is about different points of view of things we were thinking of at the time."
The most memorable video in Kudishnyao has to be "Can I Be Forgiven," which captures the forbidden inner thoughts of six people in different places on six video screens as they simultaneously experience the moments leading up to a terrorist attack.
Kudishnyao is Sheng, which Muli describes as "English and Swahili mixed together with any kind of traditional language which kind of fits the occasion." In a country with forty-two tribes, an official language of English, and a national language of Swahili, communication can be fluid. The band capitalizes on that, switching between English, Swahili, the four native tongues of its diverse band members, and Sheng, to make the music and messages blended.
Like other African artists of their generation, the band is hyper-aware of influences, drawing on the fragments of pop culture that have penetrated Kenya and shaped their sensibilities: the Blaxploitation flicks popular throughout Nairobi, the music of Def Punk, the Tupac Biggie Smalls, Fugees, and Bones Thugs and Harmony tapes they traded as kids in Nairobi schoolyards.
When they take it back to history, their message is direct. In the celebratory anthem "Usinibore," they sing,
Just because I'm an African with black skin doesn't mean I won't win if I try
It doesn't matter where you've been, what you've seen,
What you know, I know I'm going to win
I have the heart of a champion.
I want to play along, join the chorus. But what motivates the lyrics? There are so many stories of Africans winning that are never told, Selanga explains, so many Africans helping Africa who go nameless.
The antidote, he feels, is in the making of the music as well as in the message. "I feel like it's important to make stuff that's punchy so that wherever you go, people will say that was made in Africa?" he says. "We want our music to be heard because we are good, not for affirmative action… That is an important statement that we're making, an important part of the story."
At the age of twenty-nine, the four are becoming conscious of the incredible power of their voices.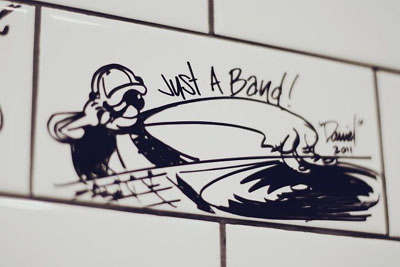 After the 2007 Kenyan election crisis that left over 600,000 persons displaced and over 1,000 dead in ethnic conflict and extrajudicial killings, they mounted a nation-wide viral social media campaign.
"What we realized was that the apathy among the middle class was really great. People just were talking about things from a distance," explains Mbithi, the social media guru.
"As a country we are very opinionated. But we keep our opinions within the family sitting room or in the bar… So we were trying to give people a place to express their opinions and then see if we could do something," says Mbithi.
The campaign reached tens of thousands of youth, ultimately engaging them in the political process. The band's sheer dedication may explain why the music and message have resonated with their fans in Kenya and outside of Africa. Done with their summer sojourn in Brooklyn, the band has returned to their home-based studio in Nairobi, recharged from the New York experience and already working on the next album.
"Seeing your work having appeal for people so far away… in a place that has provided so much inspiration for you," says Muli, "makes you want to live up to their expectations."
You can find out more about the band's projects online.
Nyasha Laing is a Belizean-American filmmaker and cultural advocate from New York City and a graduate of Yale University.