Morten Alfred Høirup talks with the young Danish fiddler, Henrik Jansberg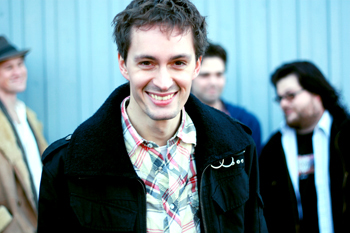 This is the part of a series of articles written by Danish musician Morten Alfred Høirup, wherein he interviews Danish artists he knows and loves. So these may be a little more personal and a little less "journalisitic" than usual. These articles were made with the support of the non-profit organization "Danish Roots," which promotes Danish folk music to the world. I hope you enjoy them! - the editor
Listen:

In his early 30s, Henrik Jansberg is one of the young lions in the pride of Danish folk fiddlers. His band, Jansberg Band, plays mainly acoustic music composed by Henrik himself, and he already has several albums to his credit. Henrik Jansberg has won Danish Music Awards, for Danish Debut Album of the Year and Traditional Danish Folk Artist of the Year.
From Juelsminde on the east coast of Jutland, Henrik has played violin since he was 7. His parents were active folk dancers, so Henrik had the music, and in particular dance music, around him from the start. He spent his childhood and early youth surrounded by traditional Danish folk music, on the Århus folk scene, at the East Jutland Folk Dance Festival and at Roskilde Folk Dance Festival.
In 2000, Henrik matriculated at the folk department of the Carl Nielsen Academy of Music Odense (Det Fynske Musikkonservatorium), graduating in 2004, the year he released his first album, Signatur. With his band or solo, Henrik Jansberg has performed and given workshops internationally: in Denmark, Norway, Sweden, Finland, Estonia, Belgium, Germany, Spain, Scotland, Japan, Taiwan and USA.
Henrik Jansberg was born into the Danish folk music tradition. He knows his tunes and dances like the back of his hand. What is remarkable is that from the word go he has made his name as a composer and innovator within the tradition. That is not the way these things usually work in traditional Danish folk music circles. Henrik describes his mode of operation, saying that it is simple; he calls it "Instrument + Theme":
"What it means is that I toy around with a theme on the instrument - usually violin but occasionally also viola, mandolin, mandola, piano or guitar. Sometimes I write the theme down, sometimes I make a recording. It matures and a B, perhaps a C part, crop up. When I have a whole tune, I test it with other musicians and that's where the arrangement is shaped. For me, my tradition is right there in everything I have ever composed. I have often gone in to a certain polka form or a circle dance form and created new tunes to those dances. I have also tried making variations on a tune until the original is no longer recognizable. Another tradition I have used is to make suites of melodies - perhaps composing a new tune then combining it with a traditional melody."
He also feels that teaching traditional music is critical, to pass on his knowledge of the tradition.
"The more good traditional players who hand on their skills, the more subtle and refined the music will become. My particular specialties, the ones I give on, are naturally not the same as other players. In the music schools, my main aim is to convey my enthusiasm for the music and to motivate the youngsters. The bit about the tradition comes later, when they are no longer strangers to their instruments and the interest in learning has begun to show in my pupils. I have taken my pupils out to play for dancing: that is often an open sesame - people can dance to my music! That often takes the biscuit."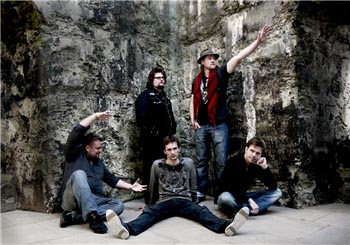 In recent years, Henrik Jansberg has been working intensively with his band, Jansberg Band, which includes some of the most distinguished Danish folk musicians of his generation. They tour and perform at festivals in Denmark and abroad. In 2008, they were a hit at the Shetland Folk Festival, and since they had a camera crew with them in Shetland, we will see a short documentary film about a young Danish band and their experiences on a little archipelago in the North Atlantic, coming later in 2009.
He says of the band, "Jansberg Band was originally quite simply the musicians who worked with me on the first album, Signatur. Since then there have been some changes, but the basis is still the same. Now after recording Omnivor, Jansberg Band is Rasmus Zeeberg (guitar, mandolin), Rasmus Brylle (percussion), Steffan Sørensen (bass, violin) and Perry Stenbäck (guitar, mandolin & nyckel harp) plus myself on fiddle, of course. The distribution of roles is now in place, and that means that we can begin to play more freely, without losing the tightness, it goes without saying. I have always dreamed of having a super-talented band that could fuse the straight, traditional sound with a more rock feeling, keeping to acoustic instruments."
There are many differences between performing with a band and working solo. Jansberg explains, "Solo, I am more traditional, often playing for dancing. The solo aspect lies in the more direct contact with the dancers via the music, small variations in melody and timing. I have also worked solo in the studio, with Danish and Faroese songwriters like Peter Abrahamsen and Stanley Samuelsen. What is needed then is the ability to hear precisely what the song requires, and add it in the right amount at the right time. Working with the band calls for artistic effects on a larger scale: breaks, powerful dynamics, the sounds of the different instruments, solos and riffs. I love working on all these levels, they challenge me and I learn from them. I have got to the point where I believe in my own playing; standing alone on a stage, you are on the spot in a different way than if you also have to communicate with a band.
Henrik Jansberg and his band are one of young Danish folk music's most potent projects and it is not by accident that the band appeals to a younger audience in Denmark. In the coming years Jansberg Band will be on tour both in Denmark and internationally, but until you can hear them live at a music venue or festival near you, you can hear them and learn more about them online and in recordings. - Morten Alfred Høirup
Further resources in Danish roots music:
Danish Roots: www.danishroots.eu
The artist's web site: www.jansberg.com
MySpace: www.myspace.com/henrikjansberg
Video performance: www.folkstreaming.dk/jansberg.htm
Danish Folk Council: www.folkemusik.dk

Henrik's CDs are available from cdRoots
Translated from the Danish by Rod Sinclair