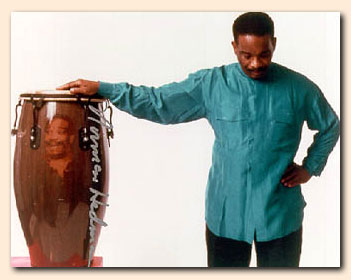 Percussionist Norman Hedman's biography exemplifies the pan-cultural roots of New York's vibrant Latin music history. Born in Jamaica and raised in 1950s New York, Hedman became an enthusiastic adherent of the Latin jazz phenomenon that brought together African Americans and Latin and Caribbean immigrants in musical venues across the city during a seminal era. Norman cites Chano Pozo, Dizzy Gillespie, Mongo Santamaria and Willie Bobo as early influences, heard live by stealing into the Brooklyn clubs during their packed performances.
His parents would have had it differently. In their view, music was at best an avocation, not a way of making a living, and they prohibited music-making in the house. Norman salvaged his first instrument from a neighborhood trash can, a castoff Mexican drum that would open his mind and ears to a world of percussive possibility. He took it to a friend's house whose parents were more understanding.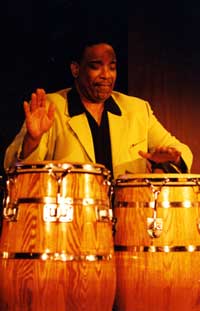 "I wanted to play, but my father wouldn't get me a drum," he says. "My friend, St. Clair Burnett, played marimbas and hand drums. I kept my drum at his house until my parents found out. They saw I was interested, so they gave in. They said I could keep playing if I kept my grades up."
Seeking formal training as well, Norman joined the Wingate High School band. But a cousin, Earl Fogarty, became another strong influence. "Earl grew up in the West Indies, but he fell in love with Miles Davis, Art Blakey, Max Roach, Olatunji, Chico O'Farrill, and all the Latin jazz big bands. He had a huge record collection too. So every weekend he'd pick me up and take me over to his place. I listened to his collection and tried to play what I heard. When he thought I was good enough he bought me my first conga. It was Candido's Echo Tone, with a fiberglass body."
"But," Norman continues, "I really learned to play conga on the streets." Whenever possible, he shuttled from Brooklyn to Hunt's Point in the Bronx, earning spare change from passengers as he worked out new rhythms on the ride back home. "I grew up with reggae and calypso, and played with Byron Lee at one time. Being from Jamaica, people ask me sometimes why I don't play reggae. But I came to the States when I was seven. New York was a whole new world. Sometimes you just don't end up playing the music you grew up with."
Augmenting his New York street-corner training, he assimilated Senegalese, Nigerian and West African traditions more generally by working with Papa Laje (with whom Norman studied djembe), Chief Bae, and Olatunji. Norman toured as an Olatunji congüero for three months while still in high school, until the traveling schedule got too demanding for his parents' liking. Norman then secured a gig with the Frank Abel band, playing throughout the 1963 New York World's Fair.
Moving on to Brooklyn College, Norman combined talents with fellow student and pianist Monguito Santamaria (Mongo's son), which brought a series of R&B assignments into the mid-1970s with Ronny Marks, Boobie Knight & Soulciety, The Night Liters, New Birth, and Love, Peace & Happiness. Then, Norman's own group, Charisma, backed jazz singer Jean Carn. He also performed with The Main Ingredient and did stints with other popular artists, including Des'ree, The Spinners, Daryl Hall, and New Kids on the Block.
Homing in on jazz in 1987, Norman began touring and recording with Von and Chico Freeman, co-producing several albums with Chico for the Brainstorm project. Norman also recruited friends Luther Vandross and Gary Bartz among others to form the group Colors, while producing other acts on the side, most notably flautist Andrienne Wilson.
Before emerging in the mid-nineties as a band leader in his own right, Norman logged sessions work and performances with such jazz luminaries as Arthur Blythe, George Cables, Dizzy Gillespie, John Hicks, Giovanni Hidalgo, Julian Joseph, Hilton Ruiz, Arturo Sandoval and Bobby Watson. A 1992 appearance in Havana with Chico Freeman found the group combining forces with Dizzy Gillespie and Giovanni Hidalgo. That led in turn to Freeman's booking at the Moscow Jazz Festival, where Norman first met pianist Misha Tsyganov, who would later join Tropique.
Norman recently contributed to the "Shaft" soundtrack, and will appear on the bill with Dave Koz at the 2001 Barbados Jazz Festival. He also looks forward to the release of an album he produced of Queen Esther Marrow and the Harlem Gospel Singers (their first U.S. issue), a group that has performed for the Pope and Presidents Ford and Clinton, while enjoying tremendous reception at the Monterey Jazz Festival and in many European venues.
Norman also manifests his artistic commitment through service as a faculty member of the Drummers Collective in New York, where he teaches conga, bongo and other hand percussion. Moreover, he sees music as a vehicle for dance and dance instruction. "I love dancers. I played for Katherine Dunham in her later years, and still do some dance classes, but only if I like a teacher's style. I loved Dunham's technique, so now I'm working with some students of hers."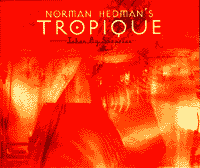 What's on Norman's personal musical horizon? He plans to concentrate on developing the Tropique project. "I want to show growth with my next Palmetto release, and bring the audience along with us. I have three album's worth of material ready, but I also want to keep the other members involved by encouraging them to contribute their own unique sounds and compositions." He continues, "In the end it's about doing the music we believe in, coming from the heart. With Tropique, we're all committed to that concept."
Hedman's inspired fusion of piano, vibes, marimba, kalimba (thumb piano), bass and percussion, dispensing with the brassy salsa sound so popular on the dance floor, creates a fresh, understated approach to Latin jazz. The core strength of Taken by Surprise resides in allowing each band member to contribute his unique instrumental and composition talents in a cosmopolitan synthesis steeped in jazz, R&B, funk, soul, and the percussive traditions of West Africa, Cuba, Puerto Rico and Haiti.
Consider "Maurice," penned by bassist and kalimba player Ron Monroe. Hedman says, "Ron's a kalimba lover, and very much inspired by Maurice White and Earth Wind and Fire. I told Ron to take a tune like Tower of Power's "What Is Hip" and write something in that vein. He comes into the studio and says, 'I don't know if you're going to like this'. But Ron pulls out the chart [for "Maurice"] and we're off. I'm playing a mozambique rhythm in the A section and a bomba in the B. The usual approach to kalimba is just to play lots of runs and licks. This is the first time kalimba ever been played in a song form, playing the introduction, the melody and a solo, playing all the changes and all the sections on the kalimba."
Hence, "Maurice" is a lyrically inspired interplay between kalimba, bass, timbales and congas with just a touch of samba, a mesmerizing percussive groove, lightly piano accented, with the woodwinds soaring throughout. In short, it constitutes a sublime collaboration on an album whose many nuances will reward casual and serious listeners alike. It exemplifies the room Taken by Surprise allows for a talented array of soloists and composers to hold forth under the discerning direction of Hedman. It confirms the virtuosity and integrity of an artist whose multiple talents have rendered a transcendent vehicle in the musical inspiration that is Tropique. — Michael Stone
Norman Hedman's Tropique CDs are available at Palmetto Records
and also at:
cdroots.com
Taken by Surprise
One Step Closer