"I sometimes torture my nyckelharpa. At times so much that I fear the strings will snap."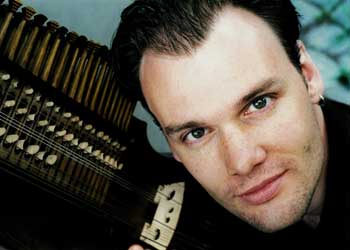 JOHAN HEDIN
Dan Lundberg offers a brief overview of the music of the innovative Swedish folk musician
Johan Hedin was twelve when he was gripped by nyckelharpa fever once and for all. His own diaries from the time make, as he himself confesses, alarming reading. He played constantly: in the evenings, in the morning, before breakfast, on the train, at the bus stop – at any, in fact, spare moment of the day. He even got up especially early to play before school.
"But it was the best thing in the world for me, so it was no sacrifice," he recalls. It was also possibly the right age to develop an obsession. Some children learn makes of car by heart, others collect football cards; Johan Hedin's great passion was the nyckelharpa. And while cars and footballers eventually fade in other collectors' minds, the nyckelharpa stayed alive for Hedin; and not only that, he has gone on to become one of the most important innovators of nyckelharpa musicianship in the world. Now when Swedish folk music, in particular nyckelharpa music, is winning ever greater international popularity, Johan Hedin is one of its cardinal practitioners. His innovativeness rests, however, on a bed of rock. He was born and bred in the folk music forests of Småland, echoes of which can be heard in his music; in the background of his bold innovations and musical voyages of discovery lies a strong local tradition of ornate baroque-inspired polskas.

The nyckelharpa has "cultural significance" and "a good story", as Robert Simonds, owner of North Side Records in Minneapolis put it in an interview a few years back. The uniqueness of the instrument makes it conspicuous – a necessity in today's jungle of world music offerings. In 1990, the nyckelharpa stepped onto the world stage, and its music became part of the world music scene. The instrument itself and its techniques spread, so that it is now played around Europe and as far afield as North America, Australia and Japan, and is reckoned amongst a collection of "global folk instruments" alongside the sitar, djembe, mbira, didgeridoo, balalaika, and bouzouki. Even to Swedes the nyckelharpa is exotic and with its rasping bourdon tones belongs to the music of the Middle Ages. The greatest icon of the 20th Century was Eric Sahlström, who, characteristically, took the instrument down paths as yet untrod. He wrote music the like of which had never been heard from the nyckelharpa, and helped to develop it into a modern instrument.

The same inquisitiveness and courage are what makes Johan Hedin so special. To obtain the sounds he wants from the instrument he has had new models constructed: the tenor nyckelharpa is pitched a fourth lower than a normal one, and has four rows of keys and slightly slacker strings to create a softer sound; the lute-nyckelharpa was designed from a church painting. But new instrument combinations also lend further dimension to the music. One of my favourite recordings is Låtar, on which Hedin is joined by organist Gunnar Idenstam; the bridled power of the former and the roughness of the latter create a priceless blend of baroque music and Swedish summers.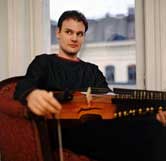 Johan Hedin belongs to the small clique of world class Swedish folk musicians who, over the past few decades, have given a whole new dimension to the nation's folk music. His collaboration with Ale Möller and Jonas Knutsson in the Stockholm Folk Big Band was groundbreaking in more ways than one. In the trio Bazar Blå he teams up with bassist Björn Meyer and percussionist Fredrik Gille, and in Luftstråk with Maria Kalaniemi and Sven Ahlbäck. However, it could be said that Johan Hedin comes well and truly into his own in the really small musical contexts: in duos and trios and, not least, as a soloist. Innersta Polskan is a collection of his own compositions from 2004 centred around the polska, and is in a way a follow-up to his first solo album, Angel Archipelago, from 1998. Many of the pieces are idiosyncratic and possess a genuine intimacy. "I sometimes torture my nyckelharpa," he admits. "At times so much that I fear the strings will snap."
---
Dan Lundberg is a musician and writer, Head of the Centre for Swedish Folk Music and Jazz Research and Professor of Music at the University of Gävle
English translation by Neil Betteridge
Photos courtesy of the artist: www.johanhedin.com
CDs by Johan Hedin are available from cdRoots
This article is ©2005 STIM/Svensk Musik, and used with their permission