Marty Lipp talks with Wade Schuman about living in the band of unwanted instruments
Hazmat Modine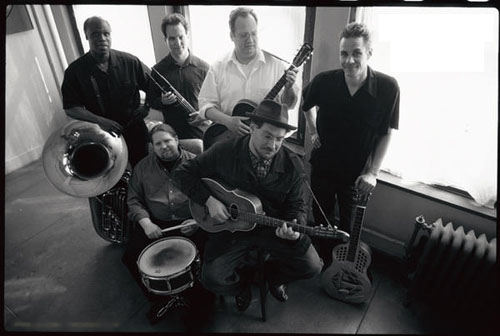 First, the name. A "modine" is a large commercial heater, appropriate for a band that, as founder Wade Schuman points out, blows a lot of hot air, what with two harmonicas, a tuba and the occasional baritone saxophone. And yes, "Hazmat" refers to hazardous materials, but while the sound is unique, it is also oddly familiar. At times it conjurs up the crackle of an old Allan Lomax recording, but there are subtle differences that make it something other than a purist's nostalgic remembrance.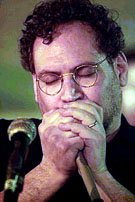 Wade Schuman

The band is rooted in traditional American music, particularly the harmonica bands of the 1920s and 1930s, but it pulls in influences from everywhere. There is, for example, the group's unlikely, informal partnership with Huun-Huur-Tu, the throat-singing Tuvans from the Russian area near Mongolia. Schuman says they are kindred spirits of the band in that they "are very very dedicated to their culture, but they're not precious with it," adding, "this is what makes a living music."

If you haven't heard Hazmat Modine, it's hard to describe what they do. The problem is if you have heard Hazmat Modine, it's hard to describe what they do.

Schuman met the Tuvans several years ago, then developed a friendship with them during their subsequent tours of the U.S. For Hazmat Modine's debut album, he decided to write some tunes with their unearthly singing in mind. The result is music from regions across the planet from each other sounding strangely harmonious. Could this really be one world?

The title cut is a good example of the unpredictable but natural-feeling partnerships. Schuman points out the calypsonian rhythms in the first section, the next section's Romanian influences, then the vamp behind the middle spoken section, based on the music of blues belter Big Maybelle. The spoken part itself comes from Arabic mythology about a huge creature that carries the universe on its back. "And people hear it and they say, that's klezmer," jokes Schuman.

Schuman proudly notes that the musicians of Hazmat Modine are not strict traditionalists. "I abhor mindless orthodoxy. I think it's misguided."

"The whole point of American music is this phenomenon of cross-cultural pollination," he says. "That's what the genius of American culture has been, really."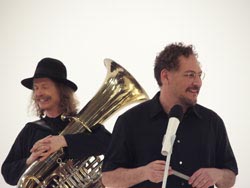 Dave and Wade in Russia

On the other hand, he notes, there's often "a problem with world music mixtures - they're pastichey or kitschy. I like to think that didn't happen."

Though the band is about seven years old, Bahamut is their first album. "For me, it's like a full meal," Schuman says.

Part of the menu is a kind of amuse-bouche: recorded sounds – Sri Lankan crickets, odd monologues, dogs from Bali barking through the night to accompany Schuman's solo piece on lute guitar.

"I like a lot of different textures and sounds," said Schuman, whose day job is head of the painting department at the New York Academy of Art, as well as being a painter of note himself. "It reflects to me the kind of richness of life."
The contra-bass saxophone

It's a celebration of various American regional styles, occasionally paired or seen through a lens of another culture. With his deep, sometimes playful delivery, Schuman can bring to mind Leon Redbone, but Hazmat Modine is not as consistently campy.

"We're a band of unwanted instruments," says Schuman, noting that the members play obscure instruments such as the cimbalom, the claviola and the sarrusaphone.

"I'm happiest when everyone in the band can do what they do really well," says Schuman. The band's versatile players include jazz horn player Scott Robinson; tuba player Joseph Daley, who has played with Taj Mahal and Charlie Haden; drummer Richard Huntley, who has played Afro-Cuban and klezmer; and Schuman's harmonica foil Randy Weinstein, who has played blues and jazz.

So Hazmat Modine's blast from an alternately recreated past arrives, painstakingly built up, but easy going down; thoroughly American, which is to say, influenced by a good chunk of the rest of the world. Yes, it's hard to deconstruct what they do, but it's only because they've constructed it so well. - Marty Lipp
---
Find out more about the band on their
web site

Buy their CD at cdRoots or CD Baby
Audio and images © 2006 Hazmat Modine/Geckophonic; Used by permission.
Please do not distribute or copy without permission!
You can see Wade Schuman's paintings online at Forum Gallery