Groupa holds traditional Nordic folk music in high regard, but they are not afraid of breaking down boundaries and re-creating well established songs in their own way. The trio has been combining the traditional with a curiosity for the experimental for over 30 years. This often means using instruments that are out of the ordinary, including wood, stone and bells. RootsWorld's Maria Ezzitouni talked with violinist Mats Edén about what makes Groupa successful, and about the criticism they have faced by striving forward on their own path.
| | | |
| --- | --- | --- |
| | | "Slengpolskor" |
Groupa started off with five members and Mats Edén is the only original member still involved with the ensemble today. The Groupa project came about while travelling around Värmland (a Swedish county) and Norway in the mid-seventies. He researched, collected and recorded tradition bearers and their music with two of the original band members, Leif and Inger Stinnerbom. Edén says, "Leif and I were studying musicology in Gothenburg at the time and after a while we felt that we needed to create our own music."
Anders Rosén's and Roland Keijser's 1975 recording "Forsens låt" was the ensemble's greatest inspiration. Its harmonies between the violin and the saxophone were unheard of at the time. Edén says it took a while for them to find their own sound, not knowing exactly which direction they were taking. They tried various settings at different times, but he feels that Groupa is musically at its most successful today, with Jonas Simonsson, Terje Isungset and Edén bringing together the sounds of the flutes, percussion and strings. Their latest album Kind of folk - vol. 1 Sweden concentrates on their interpretation of traditional Swedish melodies, complemented with just a few of their own tracks.
| | |
| --- | --- |
| | "Groupa moves Nordic music forward by digging in to the archives of tradition, but they are not afraid of reinventing those melodies in a very different light." Read Maria Ezzitouni's review of Kind of folk - vol. 1 Sweden, and hear more of the music. |
"We work a lot with finding room for the predetermined but even more so on what is not yet determined. We also try to rest in the simplicity of tone and melody. We have learned how to find harmonies by using our different talents," Edén says.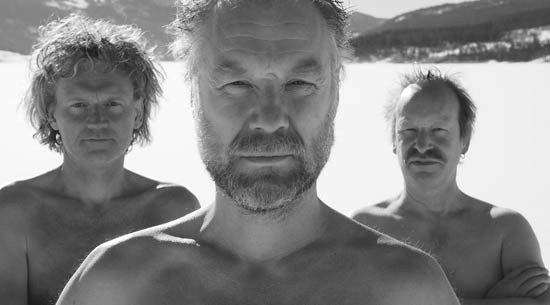 Isungset, Simonsson and Edén
He also stresses the importance of a good sound technician who understands the essence of how they think, musically. "We have been working with Tor Mange Halibakken who knows how we are thinking, without good sound technique the music easily falls flat."
However, when changing and experimenting with the old and traditional, you are likely to come across those who are less approving. "People have stopped talking to me, fellow folk musicians have screamed at me and the tip of the iceberg was a letter to the editor of a Swedish folk music trade magazine with the title; 'Groupa - grave diggers of folk music,'" he says.
But for many others, Groupa are keeping Nordic folk music alive with their unique versions of traditional melodies. They are two-time Grammy winners, their 10th album was released in 2016. Concerts are booked in Sweden and Norway, and further afield in Germany and Belgium. I ask Edén what kind of response they usually get internationally, as the audience may have different expectations of Nordic folk music than the Scandinavians.
"In my opinion most people are open-minded and curious about our music. We have met people that are really moved by the music, and a few others who have listened to our old albums and are a bit disappointed that we don't sound the same anymore. On the whole, we get a very positive response," he says.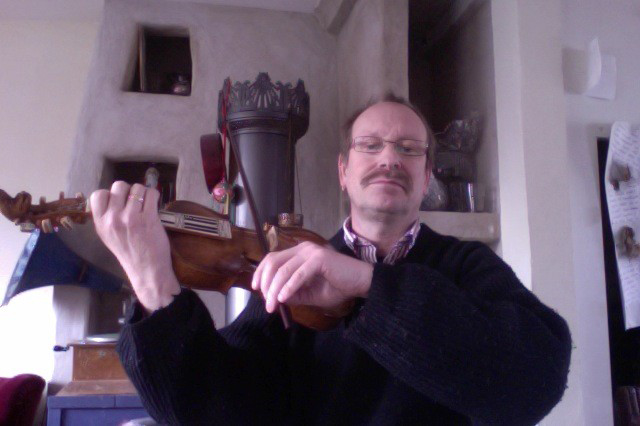 Mats Edén
It was actually Edén's stepfather who introduced him to folk music and inspired him to start playing the violin. Sven Edén was a fiddler and the chairman of Värmland's fiddlers association for many years. He may have been a bit uncertain of his stepson's venture in the beginning but once he listened to the music and realized they knew what they were doing, he thought it was all okay. Mats Edén quoted his stepfather as saying "Some of my friends, of my generation, are a bit conservative; the problem is that they do not listen to your music."
Edén plays various string instruments, such as hardanger fiddle, viola d'amore and a viola with octave strings, which means it is in the same position as the cello. He also writes most of their own composed material, based on studies of traditional folk music. I mention that images of the Scandinavian nature appear in my mind as I listen to their album and ask him if he experiences similar pictures when he composes.
"I am not much of a picture or a color person," says Edén. "I am more of a concrete creator of melodies, looking at the music's own possibilities."
Groupa's interpretation of Nordic folk music is unique and also gives the listener the possibility to further interpret the music. Next time around they are planning to put their stamp on the music tradition of another country or area. As always, looking forward…
Find Groupa online: www.groupa.se
Further adventures:
Maria Ezzitouni's review of Kind of folk - vol. 1 Sweden
Lee Blackstone's review of Groupa's 2014 release, Silent Folk
Mats Edén's Kitchen Concert
Groupa's Kind of folk - vol.1 Sweden is available from cdRoots
© 2016 RootsWorld. No reproduction of any part of this page or its associated files is permitted without express written permission.