"It's good to come at the gatekeepers with a label you've made up yourself, because otherwise they will find one for you..."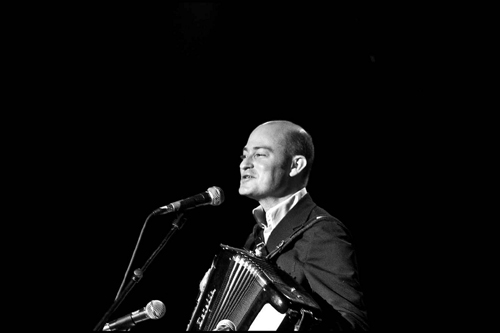 Greg Harness talks with Vancouver accordionist Geoff Berner.
Photos by Sebastian Löder
Victory Party from Vancouver-based accordionist Geoff Berner is full of great lyrics, wonderful arrangements, and some mind-bending juxtapositions. Klezmer and Eastern European folk music is interpreted through a punk lens. Happy party music underlies stories of harsh times and difficult lives.
I'd heard other recordings from Berner, but this was the first time I'd been struck so viscerally and so deeply. The songs here make me want to dance. And sometimes they make me want to fight. Often they make me want to do both at exactly the same time.
Beyond Victory Party, I also liked his recent "Official Theme Song for the 2010 Vancouver Olympic Games," a protest song for one of the government offices that was closed to help pay for the event. It's yet another song that pulls me as a listener in multiple emotional directions, which is an artistic skill I admire and respect.
Through an email interview, I was able to ask a few questions about this music, and I started as I often do by asking Geoff Berner if there was anything he wished audiences knew about him before they put on a CD or attended a show. "Nope," Berner stated. "I like to just sort of hit them with it." For those who do like to find out more about an artist, Berner's music is often labeled as klezmer or punk. I asked him if he put a label on his music or if that was something that only promoters and reviewers do. "I tend to call what I do 'kind of fucked-up klezmer music.' It's good to come at the gatekeepers with a label you've made up yourself, because otherwise they will find one for you and you may not like it."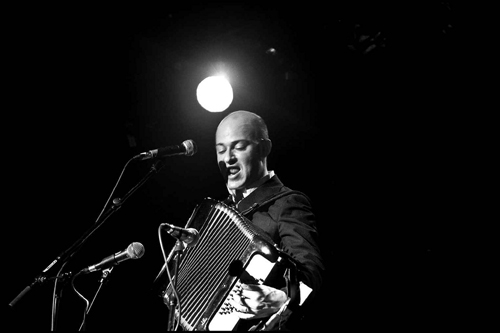 My introduction to Geoff Berner came through Canadian folk musicians. His song "Light Enough to Travel" has been covered by The Be Good Tanyas and Corb Lund among others. I asked if Berner found a difference in audiences who came from the folk or klezmer side and those who know about him from his punk band days. "The people who like my work tend to be odd, bookish people who like to drink. I find those people all get along pretty well, whether they discovered punk or folk first."
Following this theme, I noted that most of the people I know mix genres on their iPods and do a lot of shuffling. While it's good to see people listening to lots of music, I wondered how much the album matters to artists. Berner said, "I would hope that once or twice, somebody might listen to the album in the running order we set up, just to experience it as an album." That said, he does like the idea of listeners who enjoy good music regardless of genre. "Somebody like Corb Lund is an Alberta punk rocker who grew up on a ranch, and can get into Stravinsky or Cuban jazz or what have you. The idea of my song hanging around with Stravinsky or a master of Cuban jazz, how can I complain?"
When asked which song from the new record he'd like to see become a big radio hit, his response was filled with delight. "Heh heh heh. 'Dalloy Polizei,' of course!" That song comes from the Jewish radical community of Russia in the early 20th century, and the title translates loosely to "Down With The Police." Berner wrote his own lyrics, and the second verse is a true, recent story from Prince George of a man who died "mysteriously" in police custody. In a newsletter to his fans, Berner wrote, "I suggest that if you cover this song, you insert your own rhyming story of police murder, from your own region of the world."
The arrangement on Victory Party are very well done, and I wondered if Berner wrote the arrangements for the songs he wrote or if it was a more organic process between the musicians. I also wondered how much influence came from the producer, Josh Dolgin, who is known for his own recordings that mash up hip hop with klezmer and other folk music styles. "I came to the sessions with bare-bones arrangements that the other musicians filled in," said Berner. "Then Josh Dolgin changed them all around. His arrangements were always better."
I love the way this record combines so many disparate elements. And listening to this music always makes me want to act, always wants to make me do something. In the song "I Kind of Hate Songs With Ambiguous Lyrics," the singer asks, "Don't you have something you love enough that you wanna clearly defend?" Most listeners will come away from Geoff Berner's music with a clear answer to that question.
Article by Greg Harness
Photos taken by Sebastian Löder at the Jiddische Musik- und Theaterwoche 2010, Dresden.
CDs available at cdroots.com
Read our review of one of Geoff's earlier recordings, Light Enough to Travel
More about Geoff can be found on his website: geoffberner.com