It's been an instrument of love and an instrument of war; and while the flute is known for the pristine sound it brings to classical music, three recent releases show its ability to get down and funky.
According to Ardal Powell, author of "The Flute," the transverse flute, which is played horizontally, came to Germany about 900 years ago from the Byzantine Empire. There is speculation about its earlier ancestry, which points to India or China, but the true origins go back before recorded history. Powell even noted that archeologists have unearthed hollowed-out bones that could have been ancestors of the flute.
In the late 15th century, the flute spread across Europe after Swiss mercenaries used it with drums to signal troops in battle. Through the centuries, the flute began popping up in small Renaissance consorts, and eventually took its place in opera, chamber and symphonic music.
The flute is a mainstay in Cuban charanga, Brazilian choro and various Asian genres. Powell said the flute's attraction as a folk instrument comes from its "association with mythology and simplicity," as well as a "natural sound that people love." Compared with other instruments, he said, the flute seems "dead simple -- it's just a stick with holes in it."
In truth, the modern keyed flute is precisely crafted. To maintain this idea of the instrument's primitive nature, Powell said, he has seen Irish players refuse to use the keys on their flutes, take them off entirely or even wrap them in electrical tape.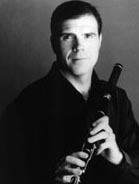 Kevin Crawford of the Irish group Lunasa traces his personal history with the flute to a family vacation in County Clare when he was nine. By chance he heard a noted local player during a jam session and he was struck by the sound of his flute.
"It just seemed to soar over the other instruments," Crawford said. "It had a sinewy sound that pulled [the music] all together."
"I drove my parents crazy for the next few years trying to get them to buy me a flute," he said. Unfortunately, good flutes were expensive, so his family couldn't afford one. He eventually got one that could only play in the key of F, which limited his ability to play with others. Nevertheless, Crawford would hole up in his room after school for hours and play by himself.
"I just wanted to play the flute," he said. "Nothing else mattered."
While Crawford often plays straight melodies in the traditional way, he said the improvisational style of Lunasa is "a whole new ballgame." As can be heard on their recent Redwood (Green Linnet), he might play a countermelody or harmony along with the band's other soloists; or he might even play percussively to drive the rhythm.
The British-Irish group Flook has a similar take on Irish music, reinvigorating its tradition as dance music with the free-form spontaneity of jazz. On the group's Rubai (World Village), the group teams two flautists with a powerful rhythm section consisting of acoustic guitar and bodhran.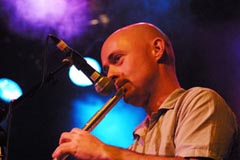 Flook's Brian Finnegan said he plays a small, non-keyed, six-hole bamboo flute, so he has to devise alternative fingerings and go in for "weird and wonderful keys" to make a tune work. Since his counterpart Sarah Allen plays a larger, silver alto flute, their constantly entertaining musical exchanges contrast their instruments' different tones and timbres.
When Finnegan is playing a high-pitched melody, he said, Allen "instinctively knows how to bass it out and bring it alive."
The Danish roots band Instinkt often features the flute playing of multi-instrumentalist Martin Seeberg.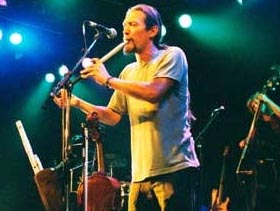 "We don't play strictly Danish-sounding music... we call our music Nordic folk-beat," he said, adding that the "the flute, unfortunately, is barely used in Danish folk music... My grandfather had an old wooden flute hanging on the wall from his childhood... He didn't remember where it came from, but somebody must have been playing it about 100 years ago."
"I think wind instruments express feelings in a special way," Seeberg said, "Maybe it is because it is connected with your breathing so much. It has a connection to the soul of the player, as with singing."
"In terms of self-expression," Lunasa's Crawford said, "the flute is the best instrument in Irish music for really kind of shaping the tune and shaping the tone."
"You're giving everything to make the note," he continued. "When it's all going well -- you get on top of the difficulties involved in getting your breathing up to scratch, working the embouchure -- [the flute] gives you so much more back."
Article by Marty Lipp
Lunasa's Redwood available from Green Linnet: www.greenlinnet.com
Available from cdRoots:
Instint's Hur
Flook's Rubai
---