"...what I am offering with my music is hopefully a place where people can see themselves."
Georgianne Nienaber talks with songwriter Ellis.
Minneapolis singer and songwriter Ellis Delaney is an elegant presence. As a self-described "clunky" person she might be surprised to read this. On an afternoon in late September, when the leaves were struggling to retain their summer green hue, we took a stroll through her Powderhorn Park neighborhood in Minneapolis to the Mayday Café, an anchor of the local community. Ellis led the way, but not before insisting that she carry the camera bag, not because it was particularly heavy, but because it was the correct, polite, and generous thing to do.
Sunflowers, partially devoured by migrating birds, draped over the sidewalk as we walked the several blocks from the home she shares with a new baby daughter and her partner. The lake glowed with late season algae, and a few Canadian geese plowed pathways through the moss-like surface.
We lingered a few times, and when Ellis pauses to talk she communicates volumes through her blue eyes, standing ramrod straight, hands folded humbly in front. It is a pose of serenity, of confidence, and one of listening. She can turn an interview on a dime, sincerely interested in questioning the questioner. There is no artifice, no hint of self-absorption in this young woman. It's no wonder that audiences consider her performances to be part dharma teaching. Reading through public comments on her webpage it is obvious Ellis has a profound effect on the hearts and minds of her audiences.
This is hardly a "clunky" or clumsy affect. But that is Ellis's assessment of her personal journey through public and private life— her truth—and her openness about sharing these insecurities is what endears her to audiences.
Who is Ellis? She is hardly a household name, but a well-known presence in the grassroots independent singer/songwriter community.
As an independent roots artist, Ellis has sold more than 35,000 copies of her CDs and is the winner of several awards including the 2009 Just Plain Folks Best Female Singer Songwriter CD for Break the Spell (2008). She has been voted the "most wanted to return" performer at both the Falcon Ridge and Sisters Folk Festivals; and received top recognitions at the Telluride Troubadour Song and Rocky Mountain Folks Festival Contests. Minnesota Women's Press and Lavendar Magazine readers give her top honors as "Best Local Musician."
Her latest CD, Right On Time (2010), signals a subtle shift towards more self-assurance, but does not abandon the themes of love, longing, and letting go which have endeared this songwriter to a solid and growing fan base across the United States.
Not surprisingly, the Mayday Café staff had a hearty hello, not for Ellis the performing songwriter, but for Ellis the neighbor. This is a tight-knit Midwestern urban community and the residents love their own. Two giant glasses of fresh-squeezed orange juice would provide the fuel for the discussion to follow.
With the recorder turned on, we settled in at a well-worn wooden table, cleared away pages from the Minneapolis Star Tribune, and organized thoughts while sipping our glasses of juice. Ellis literally leaned into the first question. She consumed it.
Who or what is the essential Ellis? I casually tried to slide the opening question into the conversation, and it elicited the "trademark" Ellis laugh, which floated through the noisy café, turning heads and getting more attention than we wanted. You have to hear that laugh to truly understand how infectious it is. A broad smile spread from ear to ear and punctuated what Ellis's blue eyes were already communicating.
"No pressure! That is an interesting and big question!"
This was going to be a lighthearted conversation at the same time that it would reflect the insecurities of truth. Ellis the songwriter is also a seeker and student of meditation. Crystal Sarakas of WSKG Public Radio, with coverage in New York and Pennsylvania, says, "Ellis takes all the elements of life (joy, grief, hope, love and more) and distills them into introspective songs that embrace our complicated human existence. How does it feel? Amazing."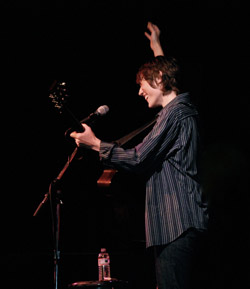 Ellis approaches the universal with a personal Zeitgeist, heavily grounded in Buddhist mediation and introspection.
"I think more than anything what I am offering with my music is hopefully a place where people can see themselves. When I am performing and really sharing my songs in an open way with my audience and really connecting, it is a conversation. So in a way the show is not so much me performing as it is me offering one person's reflection on life--just one person's perspective."
When asked how many years she had been writing, Ellis responded with a solidly Midwestern "Oh gosh." For a woman born in Texas and with family ties in Louisiana, Ellis has made the Midwestern "gosh," "golly" and "geez" part of her conversational lexicon. She moved to Minneapolis from Texas when she was 16 and went on to attend
St. Olaf College in nearby Northfield. Grounded in the Lutheran religion, St. Olaf is known worldwide for its stellar music program and a liberal arts curriculum steeped in global awareness and personal development. While at St. Olaf she was the singer in a rock band, Bobby Llama. Bobby Llama formed the fall of 1994 and had a strong loyal following in southern Minnesota, winning Sam Goody/Musicland's "Best Unsigned Band in America" competition in 2000, disbanding when Ellis left to follow a solo career.
"I made my first solo record in '96 and I was writing songs a couple of years before that. It has really been a natural way for me to process my life. It is the art form that has spoken to me most vividly. When I first got started writing music I saw it as a survival thing. I saw it as 'I need this to be able to live, — to be able to survive.'"
In 2009, Ellis released a retrospective DVD, Scrapbook, that includes a look back at the first 12 years of her career, as well as a live concert and an MP3 CD with the songs from her first five albums, including the first Bobby Llama CD. It sells well at concerts.
Ellis is an incredibly happy, cheerful person. Audiences giggle through most of her sets because the woman is very, very, funny, unassuming, and can tell a joke about herself. One has to wonder about this survival instinct. What was the urgency, the survival component all about?
"I grew up in an environment where I really believed I had to be a good person, so there was this idea of the 'good' person—this person who had to overcome the 'bad' person.
"At that time it seemed all very urgent, but now maybe the songs don't have the same urgency, and instead there is more of a striving for clarity. What am I really trying to get at? What is the truth? How do I really sink down to the core of what I am trying to understand and express it in a song?"
Ellis's website offers the option for fans to offer comments and just say "hello." Many times, Ellis will directly answer. Reading a years' worth of comments, it is obvious that fans think of Ellis as a kind, good person. We asked why Ellis had such worry and concern about that aspect of her life?
"It can be really painful when I am caught up in trying to figure out what being a 'good' person is. I want to have skillful actions, and I want to be kind, but at the same time I want to loosen my attachment to being a 'good' person. Otherwise, this idea can creep up and when I have done something that is unskillful or thoughtless, then I am 'bad'. I think there are so many little life catches like that.
"How do I be happy? How do I make peace with the clunkiness." Ellis laughed, and more heads turned in the Mayday Café.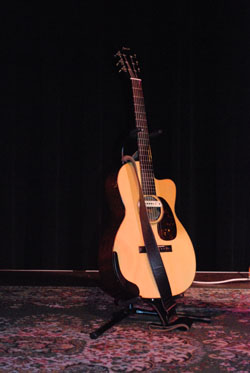 The "clunky" reference surfaced again as Ellis rested her arms on the table, while the fingers of her left hand unconsciously moved as if she were playing the frets of her guitar. Does Ellis instinctively prefer to tell her story in song? The words to "Everybody Wants To Belong" from the new CD Right On Time came to mind. Is this the "Essential Ellis?"
Everybody wants to be loved
Everbody wants to be cool
Everybody wants to belong, to belong
Everybody wants a happy life
Everybody wants to be free. 

I was nervous about asking an intrusive question. Interviews lose their flow if you make the mistake of invading personal space. I elected to move on, only to find Ellis offering an answer to the unasked question about insecurity. She surprises. I wondered if she was also a mind reader before realizing that this artist is simply sincerely engaged in conversation—whether it is one-on-one or with an audience.
"I see it as my job to just be myself and be the awkward person that I am and to really expose my defenses.
"It is part of my personal work to be more undefended because I really believe that is the path to being more at ease and having more space to enjoy my life."
Ellis shifted around in her chair, adjusted a navy blue baseball cap and leaned across the table, calling the interviewer my name. This hardly ever happens during interviews and momentarily disarmed me. The conversation began as a dance of anticipation, a search for the truth, and easily morphed into just two woman, sharing glasses of orange juice at the Mayday Café. Ellis makes the potentially complicated discussion surprisingly simple.
"Georgianne, I really want to figure out how to be more undefended, not only for myself personally, but also as a performer and songwriter, and hopefully it can help people who hear my music and see my shows to really know that it is possible for them, too.
"I think that it is my job to not hide away the parts of myself that are, you know, silly or sometimes heartbroken or sometimes not cool. I think sometimes just standing up there with just me and my guitar is a perfect way to be undefended."
The Shambhala teachings of Pema Chödrön have influenced the songwriting. I first caught Ellis in concert almost by accident at Eddie's Attic in Decatur, Georgia, in April of 2009, and I remembered her talking about Chödrön in terms of a teaching called "Tigers Above, Tigers Below."
Chödrön discusses the predicament a woman faces as she is running from tigers. Her only escape is to grab a vine and scramble down a cliff, only to realize there are also tigers below. To make matters worse, a mouse starts gnawing on the vine. The hapless woman also notices a perfect strawberry growing nearby. She eats it, savoring every bite, enjoying the moment for just what it is. "Tigers Above, Tigers Below" was released on the album of the same name in 2003.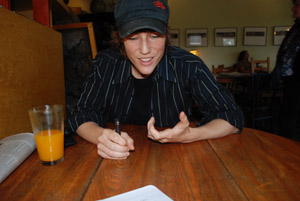 So, is Ellis the performer really able to let go of all of that uncertainty, that clunkiness that she describes about herself? Can she let go of that vine of security and savor those moments onstage? Now, the word "undefended" has become an important part of the conversation. It sounds like might be a bit lonely up there on stage with her guitar, and I offered that observation.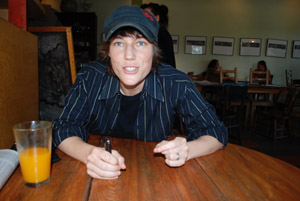 "Yeah. That is part of the tension and then it becomes fun," she says with a laugh. "It's like I am getting away with something. I'm getting away with not having to be somebody, and ohmygosh at those moments I see that this is where we all get caught up, when we are trying to accomplish something that is so evasive. At those times, I remember that it is okay to just be human, to not try to be bigger than myself."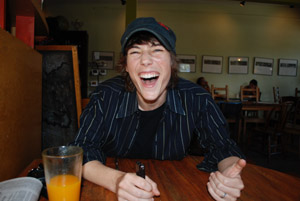 Audiences have been known to say that Ellis's performances are like a lesson in Buddhism. Something is touching them on a level that goes deeper than entertainment. I ask her if that is her intent.
"I think that the dance between striving and trying to be undefended can be entertaining for people to witness, and I also think there is something really connective about seeing that tension and getting to watch someone struggle to figure it out.
"What I want people to get from my performances is to be inspired to do what they like to do. Feel safe in being who they are because who they are is unique and beautiful-- because if we hold back in expressing our own voice we get tripped up."
Ellis forgot the lyrics of the "Coffee Song" at her CD release show at the Minneapolis Cedar Cultural Center the previous week. The audience loved it and someone even brought her the lyric insert to bail her out. I reminded her of that moment and asked what it felt like.
She laughs as she continues, "When I am up there on stage I have my set list and I have this idea of how things are going to unfold, but sometimes it doesn't work out like I planned. Sometimes I get caught wanting to impress the people who came here to see the show. They paid to come see my show. And then I have moments in the show where I think I don't want to impress you; I just want to connect with you. When I mess up, it is usually right after I am thinking I want to impress the audience. So then it becomes so funny and I feel kind of grateful because I was feeling all tight doing that thing again where I try to meet huge expectations that I set up for myself.
"The moment I mess up on stage there is such an immense feeling of relief. I remember that I'd rather connect than impress. I want everyone to recognize that there is a way to make your life what you want it to be by accepting what it is already, and by having a more lighthearted relationship with the clunkiness and with the missteps."
No less than Performing Songwriter Magazine (June 2008) tapped into the essential unaffected Ellis.
"Ellis effectively conveys songs filled with love and the longing for it, baring her soul and demonstrating a vulnerability that makes Break the Spell easily her most compelling attempt yet."
"I don't ever want to have a record where there is a lot of production going on just for the sake of it. I really want everything we add to say something. So my intention with the new record, Right on Time, and Break the Spell was to emotionally create the effect that I seem to have in a live performance by using other instrumentation in the record format. My intent was that someone could never see me live, but hear this music and totally get it emotionally."
Ellis produced two versions of Break the Spell. One is an acoustic remix, Undefended Heart, which replicates the live performance with Ellis accompanied only by her guitar.
"With Right on Time, I asked my fans what they wanted to hear and the overwhelming feedback was more intimacy. So I decided to make the record without drums or percussion, without background vocals, and with just a little bass, dobro, pedal steel, Whirlitzer, and piano in the mix here and there."
The singer/songwriter field is a very crowded bus these days, and the blossoming of the Internet has helped more and more independent songwriters to establish fan bases. That is the upside. The downside might be trying to get noticed. Yet there are still the standouts, the artists whom everyone knows. I asked whom Ellis admires. Who inspires her?
"In terms of the songwriting world I want to be like John Prine or Leonard Cohen or like Dolly Parton or like Patty Griffin. I can name a whole bunch of people who move me with their songwriting. I can look at them and say I want to be like them.
"And then in the spiritual world I can look to the Dalai Lama and think 'oh wait, I want to be like the Dalai Lama, and oh I want to be like Mother Theresa too.
"There is a lot of striving to become someone whom I perceive has figured out the path to happiness and figured out the way to navigate all the pain that comes up in life. How did I ever come up with the idea that I can do that? That seems very arrogant!, " she says, laughing. "What if I can't do that?"
"Then, There are times when I get fooled into thinking, 'oh I need to be something else.'"
Is this the insecurity again?
"Well there are traps I get caught in like, 'oh I am just a girl with a guitar, ohmygosh, I need to be more than that.' I think I need to have a rock band behind me, or I need to choose just one genre. Maybe because I grew up in Texas listening to country music, sometimes I think that I need to be more of a country artist, but then 'oh but I'm queer I can't really be a queer country artist.' And so on."
I offered that there are more and more gay country artists coming out in Nashville these days, complete with cover stories in entertainment and gossip magazines. Ellis didn't miss a beat, laughed and quipped, "Maybe I should reevaluate."
The issue did not go any further during the interview at the Mayday Café, but several weeks later I caught up with Ellis in central Minnesota at a Brainerd Lakes Area Grassroots Concert Series event. The venue was a church, with sofas, loveseats, and comfy overstuffed chairs taking the place of pews. The first set was vintage, engaging, funny, self-effacing Ellis and the audience loved her first visit to the lakes region. Concertgoers fully embraced the second set also, but something happened that was sobering for all involved. Midway, Ellis said she was abandoning her set list to talk about bullying, which was solidly in the news cycle, along with gay student suicides. You could have heard a pin drop, and then came the shouts of approval and applause. The moment was both agonizing and beautiful.
"As artists we may not always know where we are hiding in our art. My goal is to not be hiding; to be truthful; to get down to the root about what is absolutely true about whatever I am singing about. I want that not only for myself, but also for my partner and our daughter. We are really blessed in so many ways."
What many do not know is that Ellis and her partner of thirteen years welcomed a baby girl to the family in April. In fact, the title track to Right On Time is a wish for her newborn daughter to trust she is on her own timeline in a difficult culture that encourages speed.
I wish for you to be free from doubt
When you feel left behind or left out
When the world seems brighter everywhere else
And your mind is lost inside a wishing well


"Right On Time"
That undefended heart concept ebbs and flows like an unpredictable ocean tide in "No More Running," one of the tracks on Right On Time.
I want to live undefended
Hearts cannot be broken even when they fall apart
But I must not really believe that
Because I still defend myself


"No More Running"
What in the world could motivate Ellis, an artist beloved by audiences and critics alike, to put all that energy into worry? Who or what does Ellis have to defend herself against?
"From self criticism. There is still this idea that I need to improve myself. To become that 'good' person. However, I once heard a wise teacher say, this is just me paraphrasing, that we are not good or bad. There are skillful actions and actions that are less skillful.
"What we plant in our life's garden is what we get. And if we are not weeding, then there are more weeds hanging around.
"In my life I can really see the truth in that and I have a preference for a beautiful garden. So I have to be willing to take a good look at what is there and some of it is not pretty. It's not all roses. It's the human condition."
Connecting with audiences through shared experience is an obvious way to build a fan base, but how does an independent artist on an independent label (RubberneckRecords) gauge success beyond the number of units sold and dates on the touring calendar? It turned out that was absolutely the wrong question to ask Ellis, who is grounded in the intangibles that life has to offer.
"I know I am successful when I get an email from someone who says my music saved their life."
Has this happened?
"Yes, but I don't want to discuss the details to respect people's privacy.
"I know I am successful when people laugh and cry during my show. I know I am successful when I sell 20-30 CDs when there are 50 people in the audience. I know I am successful when the sound guy comes up to me afterwards and says, 'I totally need to have your record. I just love it and want to play it before shows.' I know I am successful when an artist I admire says 'I totally love what you are doing'. I know I am successful when my partner, who has heard my songs so often, still loves to come to shows and is still moved and excited. I know I am successful when I have people repeat show after show after show and travel hundreds of miles just to get their 'Ellis fix,' that is success!"
I wondered if the monetary aspects were at all important. Ellis is helping to support a family now. Where does a successful career fall in her hierarchy of what is important in life? We had been talking for several hours, and not once had she mentioned that.
"I suppose that's because I don't know how my career will unfold. I am just a singer songwriter doing my thing and living my life and doing my best to put my whole heart into my performances. My happiness is definitely tied to making music, and I would love for more people to know about my music, I really would. However, if my career doesn't fit the mainstream idea of success, that's okay with me.
"In many ways, I'm already successful by those definitions too. I do tour quite a bit and play a lot of the same places. I have a really strong core fan base who like what I do and spread the word. I am doing more and more festivals and that is a really great way to introduce myself to new folks too."
The day was getting longer and things had quieted down in the May Day Café. Ellis's partner had to get to work, and was time for Ellis to watch the baby. True to form, Ellis bussed the table and brought the now-empty orange juice glasses to the main counter.
Is part of the "Essential Ellis" her new daughter?
"I think definitely having a family has changed everything. It's too early to tell how, though. As I go through different life stages I think of myself as a writer who is documenting what is happening.
"I want it all to come from a grounded place. It's like being in a climbing gym where you have to ring the bell once you get to the top. I don't believe there is a bell at the top of my career. Instead, I'm trying to see and appreciate the 'bells' along the way."
Ellis shouldered the camera bag once again, and as we retraced our steps past the urban flower gardens of Powderhorn Park, the neighborhood mailman stopped us in our tracks. It turns out he was at the CD release party for Right On Time and wanted to offer hearty congratulations.
As we said goodbye in the entryway of her building, I noticed a poster for last week's concert at the Cedar Cultural Center. It was posted next to the mailboxes. There was a handwritten note on it from Ellis.
"Neighbors, please come. We love you."
---
Find out more about Ellis on her web site: www.ellis-music.com
Story and all photos by Georgianne Nienaber