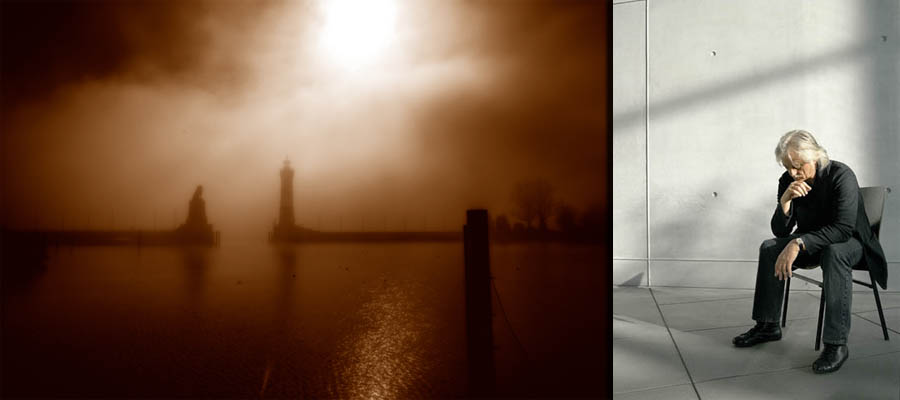 Manfred Eicher | Forty Years of ECM
by Michael Stone
Photos by Mark Vogel (portraits) and Wolfgang Breuss (landscapes)
In 1969, Munich producer Manfred Eicher founded ECM Records (Editions of Contemporary Music), long noted for a distinctive sonic angle that has defied the categories of "jazz" and "classical" while being conversant in both — and much more. Yet ECM has managed to document some of the most enduring figures of contemporary global jazz, among them Keith Jarrett, Charlie Haden, Paul Bley, Steve Swallow, Gary Burton, Pat Metheny, Chick Corea, Paul Motian, Jan Garbarek, Ralph Towner, and Paolo Fresu.
Downbeat marked ECM's 40th anniversary by conferring its Jazz Label of the Year award, while ECM's New Series (founded in 1984) garnered Classical Label of the Year status from Gramophone. The CUNY Graduate Center's Jazz Legacies series offered a chance to hear Eicher reflect on the label's remarkable trajectory, in a conversation with critic Gary Giddens on November 19, 2009.
Giddens introduced Eicher as "a great student of film" and "an auteur of recording." Indeed, ECM's aesthetics have expressed a strong visual sensibility from the start. Consider Sleeves of Desire (Lars Müller, 1996), which features ECM's cover art (a follow-up volume is in the works), and a history of ECM, Horizons Touched (Steve Lake and Paul Griffiths, Granta, 2007).
Parenthetically, ECM has released the soundtracks of Jean-Luc Godard's Nouvelle Vague and Histoire(s) du Cinéma, Godard's short films on DVD, and Eleni Karaindrou's music for film. With Heinz Butler, Eicher directed Holozän (1992, Suhrkamp Verlag re-release, 2009), based on Zurich writer and architect Max Frisch's novella Man in the Holocene (which made use of a quirky visual collage technique). Also in 2009, after five years' work, Swiss filmmakers Norbert Wiedmer and Peter Guyer issued Sounds and Silence, their documentary on Eicher.
Eicher's visual orientation finds expression in his longstanding preference to record in Oslo, whose qualities of "light, and the atmosphere inspired by its light," he says, keep him returning. His biography also hints at the inspiration he finds in the visual. He grew up in the shadow of the Alps, on the eastern end of Lake Konstanz (known in German as the Bodensee), in Lindau, the island city and former Roman settlement where the borders of present-day Germany, Austria, and Switzerland converge. Artists and writers (e.g., Otto Dix, Hermann Hesse, Norbert Jacques, Helen Meier, W.G. Sebald, Johanna Walser, Martin Walser, Robert Walser) have found inspiration in the region, known for its sweeping Alpine horizons and ever-shifting patterns of sunlight, clouds, and water.
Noting that many ECM recordings draw on artistic and literary references, I asked Eicher about a relationship between writing and graphic arts and the ECM look, feel, and sound. He responded, "I like to read, and quotes often inspire me. I read in airports, traveling, and I like to browse through bookstores. Often, a text provides a basis for what we are doing in the studio."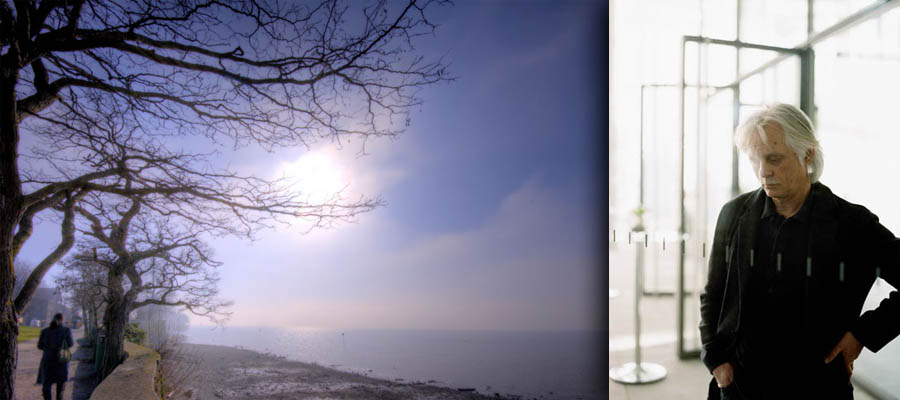 Growing up, Eicher describes himself as "looking to the mountains, looking around the Bodensee, listening to the birds, the sound of waves." Eicher also admits a certain Bauhaus leaning in terms of look and graphic design, "yet the most important thing is the music." Eicher was a student of classical violin and bass, and "my mother was a singer, so we heard Schubert, Schumann, Beethoven and the like. But I was also always into jazz." (Paul Chambers was a particular influence.) Although Eicher played with the Berlin Philharmonic for a time, he gave it up because, as he says, "The classical orchestra was not my way."
Instead, with a loan of 16,000 German Marks (then about US$4,000), Eicher made the first four ECM recordings in 1969. "I just kept making records, without a plan or anything. I found out that I was a good listener, or so people told me. And that's how I became a record producer."
As Eicher told Giddens, "Sound is about organizing emotions in time—that is music. I never impose a sound on music. Rather, music requires a particular sound. In this sense, music has no location; it is a product of artistic inspiration and poetic expression."
From the first, the quality of the artistry, production, sound engineering, and graphic sensibilities of ECM were patent, elements that have marked the label into the present. Eicher notes that in music's long, long history, recording technology came very late. As a producer, he sees preparation as paramount, working with the musicians themselves, reading the scores (if there are any), and thinking through phrasing, timbre, color, and other aesthetic choices, while also setting a mood in the recording studio. Hence, Eicher sees himself first as a listener, well before the music is ever recorded.
Not everyone appreciates the ECM aesthetic, but to his critics Eicher says, "What you hear is the sound that we like. Some critics—none of whom have attended a session—don't realize that we work with the performers as partners all the way through the mixing and editing process. Recording is teamwork."
How does Eicher find the artists who record for ECM? "Many were not known at the beginning. People send me audition disks but I don't listen to them anymore. There's simply not enough time. I listen to the radio at night, driving in the car. I go to festivals. ECM recordings often come together by accident. I find music or I don't. You know it when you hear it, in a certain milieu that you are drawn to."
For example, Eicher spoke with Mal Waldron at a Munich performance, and "Free at Last," Waldron's first ECM trio recording, resulted. He relates, "I first heard Jan Garbarek with George Russell and Terje Rypdal, maybe in 1969. Jan and I talked, and about a year later we made a record. I sent a test pressing to Keith Jarrett when I proposed to record him. Keith liked it, and that's how we started. In fact, Keith used to study Jan's phrasing in performance."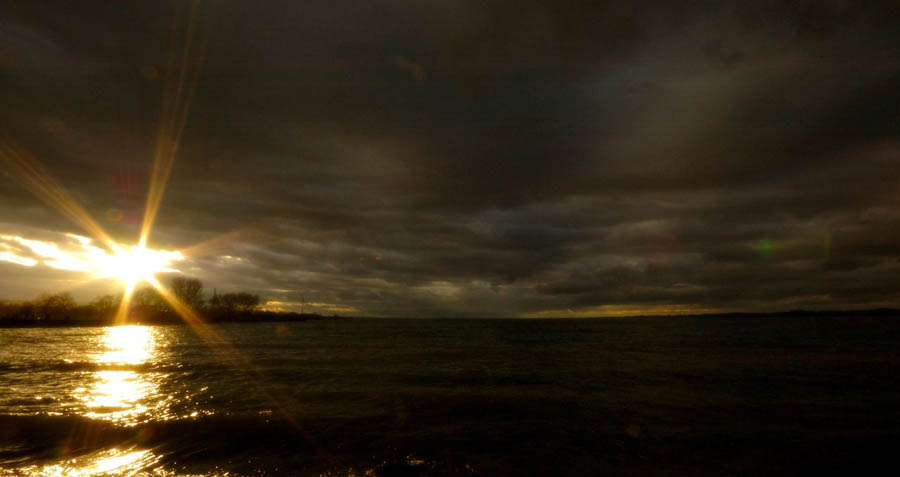 In Eicher's view, other important early releases were Keith Jarrett's "Facing You" and "Solo Concerts: Bremen, Lausanne." Chick Corea and Gary Burton also came across his radar. "I thought a combination of piano and vibraphone would be good, and Chick decided to try it." "Return to Forever" and "Crystal Silence" resulted, both recorded in Oslo in the early 1970s.
What about working with Jarrett? "With Keith there is no need to do many takes. As he says, 'There are no mistakes for me.' By the time of the first recordings, he was already headed in the direction of solo performance. His 'Solo Concerts: Bremen, Lausanne' [1973] was very important for his career, and 'The Köln Concert' was a million seller."
How about contracting musicians? Says Eicher, "For ECM, there is no exclusivity, just an agreement for the specific recording in question. The best contract is not exclusive; rather, it's one based on mutual confidence and respect." It should be no surprise that, 40 years on, many of the artists who first recorded with ECM remain with the label.
What is Eicher's view toward MP3s and downloading? "Spending so much time in the studio to make compelling sound, it pains me that music is being reduced to low-fidelity jumping from track to track on a little player. We hope listeners will approach our music as meaningful sound, and not rely on these little toys and toy sounds. In the same way, I prefer to see a film in the theater rather than on DVD. It's not what we meant when we did the work. All those little nuances of sound mean something, and it shouldn't be diminished by being reduced to MP3 tracks. Still, I'm optimistic about the future of music."
An overview of a number of recent and upcoming releases gives some idea why Eicher feels this way, and why he keeps making recordings. (All titles ECM unless otherwise indicated)
Jon Balke and Amina Alaoui
Siwan (listen)
Composer Balke and singer Alaoui electrify a nominally baroque ensemble (strings, theorboe, archlute, harpsichord, clavichord, recorder, trumpet, hand percussion, electronics) versed in early music, jazz, and other improvisatory musics, in an enthralling synthesis inspired by Christian, Sufi, and Arab Andalusian poetry and mystic texts.
Carla Bley
Carla's Christmas Carols
Watt, distributed by ECM
Recorded at La Buissonne Studios in the south of France, "Christmas Carols" is Bley's scoring for piano, bass (Steve Swallow, naturally), and Germany's Partyka Brass Quintet. Therein, Bley teases out revelatory sonorities from the blandest of popular holiday chestnuts, and debuts her own "Hell's Bells," among other canon-busting new compositions. Incidentally, Bley snagged the German Jazz Trophy for her life's work in November 2009 at the Gustav-Siegle-Haus, Stuttgart.
Stefano Bollani
Stone in the Water (listen)
Joined by Jesper Bodilsen (double bass) and Morten Lund (drums), the inimitable Italian pianist premieres some new compositions, along with numbers by Bodilsen ("Orvieto," "Edith"), Francis Poulenc ("Improvisation 13 en mineur"), Caetano Veloso ("Dom de iludir"), and Antonio Carlos Jobim ("Brigas nunca mais"). Read our full review
Anouar Brahem
The Astounding Eyes of Rita (listen)
With Klaus Gesing (bass clarinet), Björn Meyer (bass), and Khaled Yassine (darbouka, bendir), and in honor of Palestinian poet Mahmoud Darwish (from whose work the title derives), Brahem's oud mastery strikes a captivating balance between rooted Tunisian tradition and rootless, ecumenical modernity, in a singular and memorable work.
Read our full review
Jan Garbarek Group
Dresden: In Concert
On a career-first live concert recording, and his first release in six years, Garbarek (soprano and tenor sax) is joined by Rainer Brüninghaus (piano, keyboards), Yuri Daniel (bass), and Manu Katché (drums) in a two-CD essay of standard Garbarek (e.g., "Paper Nut") and new material.
Tord Gustavsen
Restored, Returned
In his fourth ECM release, backed by Mats Eilertsen (bass), Tore Brunborg (sax), Jarle Vespestad (drums), and Kristin Asbjørnsen, a startling singer, the Norwegian pianist expands upon his singular rhythmic and melodic melding of gospel, blues, jazz, and classical veins. "Restored, Returned" features Gustavsen's distinctive settings of W.H. Auden's poetry, and reveals an artist whose enormous talent promises much yet to come. Listen
Arve Henriksen
Cartography
Weaving trumpet, guitar, bass, synthesizer, voices, live sampling, field recordings, pre-recorded samples (voice, choir, organ), beats, programming, bass line, Dictaphone, drums, percussion and more, trumpeter Henriksen teams with co-producer Jan Bang to craft an ambient, shape-shifting sonic terrain that combines live concert and studio sounds—music for rootless cosmopolitans.
Keith Jarrett
Paris/London: Testament (listen)
Jarrett returns—triumphantly—to his trademark solo improvisation concert roots with twin late–2008 live performances at Paris's Salle Pleyel and London's Royal Festival Hall, on this three-CD set.
Louis Sclavis
Lost on the Way
Sclavis (clarinets, soprano saxophone) taps Matthias Metzger (soprano and alto sax), Maxime Delpierre (guitar), Olivier Lété (bass), and François Merville (drums) to reimagine the voyage of Ulysses and conjure up the music of the Sirens along the way, as on "De Charybde en Scylla," "Bain d'or," "L'heure des songes," "Un vent noir," and "L'absence."
Trygve Seim and Frode Haltli
Yeraz
Norwegian duo Seim (soprano and tenor saxophones) and Haltli (accordion) craft a reedy aural triangulation somewhere between Bob Marley ("Redemption Song"), jazz, waltz, medieval, and Armenian folk traditions.
Tomasz Stanko
Dark Eyes
Polish trumpeter Stanko is backed by Alexi Tuomarila (piano), Jakob Bro (guitar), Anders Christensen (bass), and Olavi Louhivuori (drums). He blends his own moody Miles-inflected compositions (e.g., "So Nice," "Terminal 7," "The Dark Eyes Of Martha Hirsch"—a nod to the Oskar Kokoschka painting that gave the album its name) with Krzysztof Komeda's "Dirge for Europe" and "Etiuda baletowa No. 3" (the deceased jazz pianist composed the score for Polanski's "Rosemary's Baby," and was a major figure in defining a distinctive continental jazz).
John Surman
Brewster's Rooster
Surman (baritone and soprano sax) recruits guitarist John Abercrombie, bassist Drew Gress and drummer Jack DeJohnette for a program of mostly Surman originals (check the title track and "Hilltop Dancer"), along with fresh reads on John Warren's "Slanted Sky" and Billy Strayhorn's "Chelsea Bridge."
Ralph Towner and Paolo Fresu
Chiaroscuro
Towner (classical, 12–string, and baritone guitars) and Fresu (trumpet, flugelhorn) explore an airy series of Towner originals, along with the Bill Evans-Miles Davis classic "Blue in Green," well chosen to highlight the Sardinian's unique yet Davis-allusive style.
Vassilis Tsabropoulos, Anja Lechner, and U.T. Gandhi
Melos
Greek pianist Tsabropoulos teams with cellist Anja Lechner (their previous "Hymns, Chants, and Dances" is a remarkable resetting of the little-known composition of G.I. Gurdjieff), and percussionist U.T. Gandhi, on a program of primarily Tsabropoulos originals whose improvisatory swing is as subtle and elegiac as it is profound.
Christian Wallumrød Ensemble
Fabula Suite Lugano
In his sixth ECM release, Wallumrød (piano, harmonium, toy piano) heads a jazz-rooted sextet rounded out by trumpet, glockenspiel, Hardanger fiddle, violin, viola, cello, baroque harp, drums, and percussion. Neither jazz nor classical, neither baroque nor Norwegian folk, "Fabula Suite Lugano" weaves all these strains in a brilliant contemporary recital.
---
See more scenes from Bodensee by Wolfgang Breuss

Photos @copy2009 Mark Vogel/ECM (portraits) and Wolfgang Breuss (landscapes)
Text ©2010 Michael Stone and FNI Multimedia Publishing.
---
For more on ECM's 40th anniversary, and audio samples of many of the CDs, visit www.ecmrecords.com.