"What I really believe about Cajun music is that it is the most American music there is. We play music that people feel like they've heard before, like it brings up memories they didn't know they had."
Bill Nevins talks with
Michael Doucet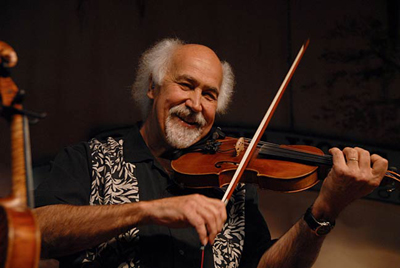 "Cajun music is broader in scope than most people think," comments Michael Doucet of BeauSoleil. 2006 was BeauSoleil's thirtieth anniversary year, and their leader, Michael Doucet was recently honored with a National Heritage Award, but they don't rest on laurels. Fittingly, Doucet is speaking by cellphone from BeauSoleil's tour van as it rolls along the Massachusetts Turnpike. Doucet notes with a chuckle that inside the boolet of their CD, Gitane Cajun, is a photo of a much younger version of himself, dressed in sash, headscarf and "vagabond" finery worthy of Rudolph Valentino. It is "a Mardi Gras shot," that he included on the package as much for its nostalgic humor as for its symbolism.
Turning serious, the former university musicologist turned world-roving fiddler expounds, "We Cajuns really are the Gypsies of America. The Acadiennes, or Cajuns, came to the New World from France in 1604. We settled the land of what is now called Nova Scotia, we called it L'Acadie, and built peaceful, friendly relationships with the native Mic Mac people. That's why the British Empire grabbed our rich farmlands after the French and Indian Wars and drove our ancestors out. In 1755, fifteen thousand Acadians were expelled, and at least seven thousand died on the long journey which brought most of them to a new home in Louisiana. We got moved around a lot! Because of that we Cajuns have a Gypsy consciousness. The family stays together no matter what! And we also kept our music despite all our being shoved about and uprooted. "
This history of harsh displacement and proud cultural survival is honored in the classic Robbie Robertson (The Band) song, "Acadian Driftwood" and in many songs by Michael Doucet and by his third cousin, Zachary Richard and other Louisiana stars included in Gitane Cajun. Even Hank Williams, Sr. wrote songs about Cajun pride, recalls "Professor" Doucet, adding with a laugh, "Even Elvis really was a Cajun! He lived in Shreveport and he starred on Louisiana Hayride just before he hit the bigtime. You can look that up!"

"About ninety-eight percent of BeauSoleil's music is sung in French," Doucet continues, "But it's not the music that you'd hear in France. The Cajuns mixed it up socially and musically with all sorts of folks along their journeys and after they dug in down in Louisiana. There's a strong Spanish influence in there--Spain used to own Louisiana--and there are Irish and Scottish and German and very important African-American and Caribbean flavors and styles blended into our music. What I really believe about Cajun music is that is the most American music there is. We play music that people feel like they've heard before, like it brings up memories they didn't know they had."

Such poetic explications are not unexpected from Michael Doucet, who has been nicknamed "the Mystic Cajun" and whose Zen-like grasp of the depths of blues, jazzy swing, and "old time" musical sensibilities give BeauSoleil their special appeal, whether starring on Prairie Home Companion or literally entrancing audiences in concerts and dance venues worldwide. Doucet recounts how he started out as a disgruntled graduate student in Louisiana bent on refuting a professor's curt dismissal of Cajun music as "just chanky-chanky and second-rate country and western". Mike's academic research, eventually funded by foundation grants, led him to meet and learn from the great elders of Louisiana music--Dewey Balfa, Dennis McGee, Clifton Chenier and Canray Fontenot, among others.
Doucet put what he learned into practice, not only dispelling academic snobbery but actively crusading to turn the world itself on to the richness of Louisiana's Cajun-Creole cultural heritage. He explains how in 1973 he went to France and formed an "exotic" duo act there with his cousin, now known worldwide as Zachary Richard. ("He was Ralph Richard back then," sniffs Mike, good-naturedly. ) Branching out on his own, Doucet returned to America and founded, first, a sort of "Cajun Grateful Dead" swamp-rock band, then, in 1976, with his guitarist brother, David Doucet, he formed BeauSoleil. The rest is music history.
BeauSoleil has gone through some personnel changes over the years, appeared in films and on soundtracks, and morphed in musical styles from a calypso-flavor to a rock-edge driven by the likes of guest recording pals like Richard Thompson, Sonny Landreth and Augie Meyers. But the band has always kept its sound Cajun heartbeat, even when that heart pounds fast to a zydeco beat, as it often does. "The line between zydeco and Cajun music is really pretty blurred these days," Doucet explains, "Really, people just want to have fun and they dance to what feels good. I really like it when bands play who they are and what they really are. "

BeauSoleil at Lousisiana Crossroads
The present-day BeauSoleil avec Michael Doucet is a band of seasoned virtuosos firmly adhering to their Cajun folk roots, most often acoustically expressed, though this does not rule out experimentation and innovation. And Doucet's songwriting has, if anything, grown more complex and universal with the benefit of decades "on the road. " Doucet acknowledges this evident growth, and the vital role in its development played by live performance, especially at outdoor festivals like Thirsty Ear. "There really can't be any imposed parameters on this music," Doucet opines, "You need to do what you want to do, and what we gain from our audiences is at least as much as whatever we give to them. It's all about touching people and being touched by people. My two favorite venues are festivals and somebody's kitchen!"
Asked about the future of Cajun music and younger bands coming up, Doucet waxes enthusiastic in praising such rising stars as Joel Savoy, the Redstick Ramblers and The Bluerunners, who are all "keeping it alive and kicking," he said. "Bruce Springsteen and Bono have come up to us after shows lately and they are way into this music," he declares with pride. He also notes that he himself continues to play in Joel Savoy's parents' very traditional Cajun ensemble, the Savoy-Doucet Band, when he is off-duty from BeauSoleil.
Doucet notes that he is working on a Cajun musical history book project with his wife, Sharon. Asked if he might consider withdrawing from the tour road after three decades and settling back into the literary-academic life, he busts out with a big Lousiana guffaw and says, "We're old fashioned. We don't retire. We re-treads. That's what we are, re-treads!" The other members of BeauSoleil can be heard chuckling along with their front man as the endless tour van rolls on and we say, "Merci Beaucoups" to Michael Doucet. - Bill Nevins
Photos by David Simpson, LSU at Eunice
Audio - © 2007 Michael Doucet and Beausoleil; used by permission of author and publisher
"L'Ouragon (The Hurricane)" by Micheal Doucet, from the CD Live in Louisiana, Way Down in Louisiana
CDs available from cdRoots