"Children all over the world invent little secret languages of their own.
I love imaginary languages because they fly away from the triviality of the immediate sense."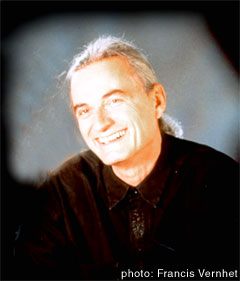 Hughes de Courson is one of the most adventurous and influential musician/producers now active in France or anywhere else. He first came to prominence during the seventies, when he produced such legendary folk rock groups as Malicorne and Kolinda. After the folk movement began to wind down, de Courson composed scores for modern dance and film soundtracks, and embarked upon a fascinating series of inter-cultural collisions. The most successful of these was "Lambarena," where he and the Gabonese singer-composer Pierre Akendengue mixed traditional African sources with the music of JS Bach.
In 1992, he won the Leonardo da Vinci prize, which permitted him to spend three years studying music in Egypt, Israel, Syria, Yemen, Turkey, Bulgaria, Greece, Albania, and Macedonia. Among his typically polyglot and diverse recent projects are a theme for the Mediterranian Olympic Games, a cycle of dialogues between childrens' voices and assorted ethnicities called "Songs Of Innocence" (co-produced and composed with Tomas Gubitsch), and a chart-topping album by the Finnish female supergroup, Värttinä.
This e-mail Q&A between Hughes de Courson and RootsWorld's Christina Roden took place in the summer of 2000
---
What was your childhood like? How were you first attracted to music? Were your parents supportive or against your pursuing music as a profession?
My childhood was happy, in Madrid with four sisters. My parents had me taking flamenco guitar lessons with the famous Perico el del Lunar, but were against me being a musician. In my father's family, everybody has been in the army since the fourth crusade! And, in my mother's family (de Hautecloque), it was the same; one of my uncles being on top of everything a national hero of the last war (Marechal Leclerc de Hautecloque)! I studied Sociology and political sciences, at the same time writing some songs for Françoise Hardy, and Regine & Hughes Auffrey with my schoolmate Patrick Modiano, who became later a famous novelist.
When and how did you decide to make music your career?
I decided at 18, when my songs got radio airplay. It seemed so easy to write songs. I also played in rock bands, which was the best way to seduce young girls!
You work interchangeably with classical and world music. How and when did you become aware of each of these styles and when did it occur to you to mix them?
As a self taught musician, I was not an expert in classical music at all. I specialised in French folk music, then in what is now called "world music." I started to listen to classical music at about 45, when I started to use it mixed into my compositions for contemporary ballet ( Specially for Karine Saporta). I used a classical orchestra for "Yam," a composition for Palestinian and Jewish musicians in Nazareth and Jerusalem in 1992. Then came "Lambarena" and "Mozart in Egypt," for which I listened to absolutely every piece Bach and Mozart wrote. Bach is still my favorite composer.
How did you meet Gabriel Yacoub and how did your production agreement with Malicorne come about?
I met Gabriel Yacoub in the army. We were both trying to escape by pretending to be mentally ill. We really did became mad and also very good friends. Once we were set free (to despair of my heroic families!), I produced my first album "Pierre de Grenoble," and then we created Malicorne.
Malicorne's "Almanach" won a "Grand Prix." What year was that? Who distributes the Malicorne, Kolinda, and other French folk records you produced during the seventies and eighties?
Almanach won several "Grand Prix" awards and sold more than 300.000 copies. I don't remember the year. The first 4 Malicorne albums, the 3 first "La Bamboche," the 2 first Dan Ar Bras, and the 3 best Kolinda , all produced by me, are still with Hexagone records. The rest of Malicorne is with Boucherie Productions distributed by "Play It Again Sam." In April I will produce Gabriel Yacoub's next album, working together again after a 20 year interruption!
How did you meet Ivan Lantos, now known as Ivan Lantos Leiberman, and how did the Hungarian folk-rock group Kolinda evolve?
Ivan is like my brother. We met at a little Kolinda gig and we were in a studio doing their first album 2 days after. His father was a famous ping pong champion (table tennis). Just to stay on the national team, he was obliged to change his Jewish name (Lieberman) to Lantos (more Magyar!). Ivan discovered that quite recently and is doing administrative work to change his name back to Lieberman. In "Songs Of Innocence," I surprised him by using his father's name on the sleeve. He was very pleased. There is another group called Kolinda in Hungary now, good but not so interesting as the first one. Ivan tried to reform his Kolinda 2 years ago, but it didn't last very long.
What other groups have you produced and what new recordings are coming out?
I've produced almost a hundred groups! Among them are La Bamboche, Pierre Akendengue, Kolinda, Dan ar Bras, Françoise Hardy, La Chifonie, Sapho, Manu Dibango, T.S. Krishnan ( Karnatic music), and etc. My latest productions, apart from my own records, are: Lagrimas de Cera (el Lebrijano), released through EMI Spain, Djeli Moussa Diawara (soon to be released by Celluloïd/Melodie), and Värttinä's "Ilmatar."
What was the folk and folk-rock scene like in France during the seventies and eighties? I've always assumed that it was not unlike the equivalent movements in the US, UK and Ireland, but there must have been differences as well.
It was great! During a 10 year period between 1972-1985, French Folk, in France, was not a marginal field but a main musical stream like, for example, Rap is nowadays. Every record I produced was selling between 30.000 and 300.000 copies! I was young, handsome, rich, and famous! It was paradise!
How important was musical nationalism in France, provincial and otherwise, during this period?
Provincial nationalism was never as strong in France as it is in Spain or Ireland. Musical regionalism was strong, but I never produced politically separatist group, apart from Dan ar Bras. On the contrary, Malicorne, La Bamboche, La Chifonie, etc. were singing in French, the language of the oppressor!! I feel more like a citizen of the world, but musically, I'm very interested in people who maintain their local traditions.
You are also a soundtrack composer. Please describe your personal highlights.
I did not compose so many soundtracks. I wish I could meet a director with whom I could start a long collaboration (like Kusturica and Dravovic, for example). I've done 22 pieces for contemporary choreographers and I loved the musical freedom of doing it.

How did the "Lambarena" project with Pierre Akendengue come about? Who made what decisions - personnel, musical choices, etc.? How did Nana Vasconcuelos end up on the record along with Sammy Ateba? How do you feel about the finished product and where does it stand in your career?
"Lambarena" is a very important turn in my career. It came by chance: I was doing the music for the Mediterranean Olympic games, when the phone rang in the organisers' offices. It was Mariella Bertheas, who wanted to organise a piece of music around Dr. Albert Schweitzer. I knew he was a Bach specialist, and I had already produced an album with Pierre Akendengue ("Mando" which is unfortunately impossible to find!). We were into this crazy thing of creating a meeting between the sacred music from Gabon and Bach's Passions. We loved it, but in the beginning, WEA, Virgin, and Sony all refused to release it! Unsellable, they said! Then Melodie released it and it was a hit, so much so that they were too small and resold it to Sony, who liked it by this time! All decisions were made by Pierre and me, with total freedom.Vasconcellos was a friend we had in common and we were happy to work again with this genius. I love the finished product. It gave me a lot of ideas for the future. Last, but not least, it followed a long period, 15 years, without making a high selling record. it gave me the chance to approach big companies, who suddenly started to love me again after I sold 150.000 copies, about my new projects!

You also worked with Pierre on his next recording, the brilliant "Maladalite." Please describe what it is like to work with him.
It is fascinating to work with Pierre. He is so precise and a perfectionist! He is not always easy to work with, because he is very stubborn when he wants something, and if I think I want to change it, there are hours of discussions.The most amazing thing is his way of composing for girls' voices - it is unique! I would like to make an album of a capella women's voices singing Akendengué compositions.
I also have heard the "Palestrina/Bulgaria" and "Mozart/Egypt" CDs. I found both to be thought-provoking and entertaining. Reconciling the differences between how the ethnic (for lack of a better word) musicians approach pitch, as compared to the classical sources (especially the relentlessly tonal Mozart!) must have been challenging, to say the least. Comments?
It was thought-provoking. We are educated in the idea that European Classical music is superior to all others. It was good to try to prove that any type of good music, if played by good musicians, can exist together.

Now we come to "Songs Of Innocence." What was the genesis of this recording? Whose idea was it? Who did what?

I had the idea but immediately phoned Tomàs and shared it. We both did a lot, but Tomàs is more of a specialist in symphony orchestras and I in folk musicians. I have used children's voices on many records before and it gives such a different emotion.

As with "Lambarena," assembling your team must have been a massive and complicated undertaking. How did you go about this?

I knew most of the Egyptian musicians from when I stayed for a year in Cairo in 1991. It was the 3d time I've worked with the Sofia orchestra. However, it is always very difficult in the beginning. You need a lot of diplomacy, because it always starts a little bit like a competition between the different musicians. But every time, the end is fantastic. They become friends and respect each other.

What was it like working with untrained (musically speaking) child musicians?

Our friend, the ethnologist Corpataux, gave us a good method. We did not try to "correct" any "mistakes" from the children but adapted ourselves to their creativity. Some of them were really incredible singers while others sang a little out of tune ... We wanted to hear real children, not little machines.

How did you approach the naive/innocent viewpoints and sounds of the children as compared the more worldly adult professional musicians? Did the children end up having more of an influence on the adults, or was it the other way around?

I think the children were the kings of this record, every moment. They had a lot of fun, and we did too.

What countries were the children from?

We had minorities from China (Miao, Gelao) England, India, France, Algeria, Spain, Gabon (nephews of Akendengué), Senegal, etc... But the majority were Bulgarians (they learned very quickly to sing in any language, including the imaginary ones).

Why did you decide to use the Bulgarian orchestra and choir?

I am a fan of Bulgarian musicians. I go to Bulgaria twice a year and my wife is Bulgarian. I love the musicality and enthusiasm of these musicians, which is more difficult to find in our "blasé" countries.

With all the different cultures represented, why were made-up languages used at times?

Because the aim was not to represent any culture in particular but the "children's" culture. Children all over the world invent little secret languages of their own. I love imaginary languages because they fly away from the triviality of the immediate sense. Hear my record "Spondo" (my group with Ivan Lantos, Paddy Bush, & Valérie Joly) released by Melodie, and read "The Empire Of Signs" by Roland Barthes.

Ideally, what personal message would you like "Songs Of Innocence" to relate to the listener?

Of course, that children are the salt of the earth! Every child is enthusiastic and sings a lot. Only 1% of the adults manage to keep this way of being. Why?

Short samples of Songs of Innocence are online at EMI France

Available at cdroots.com:
Lambarena
Songs Of Innocence
Maladalite (out of stock)
V&aumlrtinnä's Ilmatar