Kaapana & Pahinui

"There's magic in there."

Jamie O'Brien talks with Cyril Pahinui and Led Kaapana

about

kihoalu

and the music of Hawaii
Hawaiian musicians Cyril Pahinui and Ledward Kaapana spent most of summer 2001 on a tour which took them across the mainland of the United States and over to Europe and back. Although curiosity may have attracted many to their shows, they left behind a trail of converts not just to their own talents, but also to the style they perform so well.
"In the early 1800s, the Spaniards brought the guitar over to Hawaii and the local boys, the cowboys, we call them paniola, they tuned the guitars to their ways of playing it, (a chord based on) a note. That's probably where it all started off," says Pahinui, who is one of a handful of musicians currently bringing the music to a wider audience.
"Kiho means the key, alu means slack or loose," he says. "So we put it together: kihoalu - that's in Hawaiian, and in English, it's slack key." At one time, there may have been hundreds of different tunings, each associated with a particular player, family or village. But over the years, many tunings have fallen by the wayside. "I don't play standard," says Pahinui. "If I played standard, I'd probably get lost."

The old music of Hawaii revolved around chants, usually a capella, sometimes accompanied by percussion. In the years which followed the guitar's introduction, two other instruments were added to the tradition, both of which became more closely associated with the Islands: the steel guitar and the ukulele. Guitar took on the role of accompaniment behind steel, uke or vocals. Musicians like Kaapana and Pahinui are attracting attention with their solo guitar work.

In addition to the unique tunings, the finger style is distinctive in slack key guitar. The thumbed bass lines on first and third beats of each measure, the slides, the cascades of notes, the sensitive use of harmonics, and pulling off and hammering on of strings make it unique.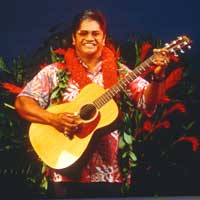 Both Cyril Pahinui and Led Kaapana come from long lines of musicians. They are influenced by two of the finest players in recent times; Pahinui by his father, Gabby Pahinui, and Kaapana by his uncle, Fred Punahoa.

Pahinui recalls his younger days on Oahu: "The families (used to) get together - backyard jam and party! Invite family and friends and start creating music." In this way, the youngsters could look on and listen to the old hands and learn almost by osmosis.

"But today, it's kind of different," according to Kaapana, who comes from the Big Island of Hawaii. "It's not like when we grew up and could jam every day. Life is different for the young ones. They never have the opportunities that we had. … I know my family today, they all enjoy music, but they're not into it like me because they never had that time with the Legends."

In his younger days, Pahinui mixed freely with the Legends, learning first hand from them as a member of his father's band. He is featured on the Gabby Pahinui Hawaiian Band album, a project involving Ry Cooder, which also presented the playing of Atta Isaacs and Sonny Chillingworth. "I'm glad I lived to see my father and all his peers, all these famous guitar players. If it wasn't for them," he says, "I don't think we would be right here today."

Pahinui and Kaapana are now the trailblazers. Pahinui is known for his particularly soulful singing and strong slack key playing; Kaapana is a fine singer, too, also adept in the falsetto style sometimes performed in the islands, but is perhaps best noted for his innovative guitar and ukulele playing.

The music has traveled far from its origins in chants. It is still image-laden, musically recreating scenes of the Islands: waves lapping on the shoreline, tumbling waterfalls, rippling rivers and swaying trees. But over time, without changing character, the music seems to have absorbed influences from far and wide - chord progressions from jazz, slides and runs from the blues, even pop and surf music seem to have made their mark.

"Way back in (the early days), they didn't like that. They said it was kind of ruining the songs," says Pahinui. "But to me, music is adding. There are relatives in music. You play a C - before you reach F, there's something in between."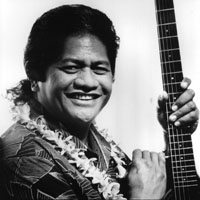 "It's just adding, like Pahinui says. From the C to the F, there's a lot of things you can do. I feel all this, and I start playing it," says Kaapana. "Because of the feeling of the music, I hear these nice different things. I just keep adding to songs. It just flows right into the instrument."
Neither musician reads music, both having learned from practice, observation and experiment. As a result, each time they play a piece, they have no idea where it will lead. No tune is ever played the same way twice. "It comes from within," says Kaapana. "We don't read notes, we play with feelings. It's all feelings coming through with this music. That's why it captures everybody."
"Yes, the same song, but always different," says Pahinui. "All different feelings. So we try not to fight before we play! We don't rehearse, either. We get on stage and see how we feel. This is like our dads and our uncles played. We start smiling on stage - we're laughing and giggling and people think, 'These guys are having fun.' And we are. We complement each other."
But times have changed according to Pahinui. "In Hawaii now, some of the people take (the music) for granted there." The islands are comparatively small and travel is easier today. But it is not easy for musicians to find work. "People on the mainland, they travel from state to state to see us. They travel from New York to Virginia to hear our music. We travel all over the world and I'm so impressed that Hawaiian music is (appreciated everywhere) - in Japan, in Europe, everywhere. But in Hawaii, some people take it for granted.
"And nowadays (in Hawaii), people kind of stay away from the nightclubs. And not only that, sometimes the nightclubs don't want to take a chance. I know before, my dad used to play every week. Not one night a week - seven days a week, you know, for months and months. Today, you're lucky to get one day out a week. Once a week. It's rough. And some places are so high class - local guys like to stay local. They want to be relaxed. But it's getting too westernized in Hawaii."
"A lot of changes, a lot of changes," laments Kaapana.
But with musicians the caliber of Led Kaapana and Cyril Pahinui leading the way, the music still lives on, gaining new fans at each performance. Both musicians perform regularly in the Islands, on the mainland and beyond. In 2002, Kaapana, returns to the mainland with singer, slack key and steel guitarist Owana Salazar.
"You know," Kaapana says, "it's what keeps us going. We never play the same thing over and over. It's spontaneous - always creating, creating, creating."
"Our music is not loud," says Pahinui. "It's calm and smooth."
Kaapana nods in agreement: "There's magic in there."
---
Some resources:
More about Cyril Pahinui
More about Led Kaapana

And four albums to introduce you to the music, selected by Jamie O'Brien:

Audio and photos are courtesy of Dancing Cat Records