Artist to Artist
"To find people equal and compatible is a great fortune...
I have found people with whom it's beautiful to collaborate"
Luisa Cottifogli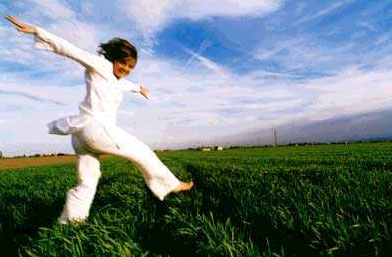 Amy Denio talks with singer and composer Luisa Cottifogli


Amy: Where were you born?

Luisa: I was born in the Alps, in a beautiful little village in the middle of the mountains in Northern Italy; my parents moved, ending up on the Adriatic coast, in a region called Romagna. While I was living in Ravenna, an historical city where centuries ago there were Byzantine Emperors, I did all my studies, first studying classical voice. When I was 15, I was in a chorus, singing polyphonic music (from ca. 1500 - 1600 A.D.), and there I found how beautiful it is to sing with others. I have always sung; but in those years, every time I sang, I felt more committed, more zeal for music. I was also singing spirituals in that chorus, then the maestro of the chorus invited me to sing as a soloist. And there I discovered that as a soloist, I really enjoyed singing, to jump outside with my voice; to be pushed towards a more "professional" mode. I went to Bologna, where, instead of finishing my university studies, I continued developing this life-long passion to sing. I took classes at the Music Conservatory, at the Communal Theater, at Bologna Opera, and I began studying "musica lyrica" because this is the standard required by Italian music conservatories. However, at that age, I began to search for music beyond the limits of the state requirements.

Then, through the contemporary music scene, as well as the jazz and modern music scenes, I discovered great jazz musicians in Bologna, and we became good friends. Thanks to them, I began to grow, in this social, artistic and musical brotherhood. I started to listen to Ella Fitzgerald, Saragh Vaughan, Billie Holiday, the classic voices of jazz. To learn one needs to listen well. But I realized jazz wasn't my culture; I'm Italian, and to imitate a culture didn't seem right. Slowly I began to personalize my jazz. I began to understand the possibility to improvise, to make my music, taken from my own roots.

One cannot limit oneself to play only classical music (which has passed!), and neither can one stop or get stuck in classic jazz; but instead one can work within one own's time and culture, not to limit oneself to an historic genre.

Is your family musical?

No, I'm the first to make music a profession. But, you know, my mother was a great singer, and my father had a fantastic sense of harmony. When I was little, I'd sing songs of the mountains, and my father would harmonize.

On guitar or piano forte?

No, on voice. Really intuitively; we sang vocal duets. For me I always could hear the second voice, when I heard the radio, or whatever music. Just that my parents never developed their music too far.

After I started studing music - and realizing how beautiful it was to make music. Then I infected my parents with my passion My mother had a beautiful soprano voice, my father tenor, and they entered a polyphonic choir. But music was something no one else in my family did professionally. At first, my parents were opposing my path towards music. I didn't want to contradict my parents, but I simply felt I wanted to take an artistic road. However, my parents wanted me to be practical. What are you going to do as an artist? How can you survive? What about "real" work?!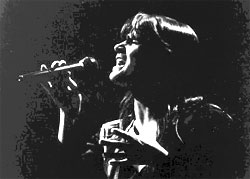 When did you start to compose?

Recently. We say that I sing music inspired by jazz and improvisation; I have always loved improvising, creating new melodies. For a certain period I wrote arrangements for a women's a capella sextet, and I started to learn in the field, directly, how to arrange. Aside from that, Jazz India Vocal Institute (www.jazzindia.com) sponsored my studies in North Indian vocal techniques for 2 months in Bombay, India. I have also studied vocal styles of other cultures. It's very interesting to me; to study the vocal styles of other cultures, how do they vocalize in India, how do they sing in North Africa.

In Italy, in every region, they speak in a unique dialect of Italian. Sometimes it's totally different than "common" Italian, and each dialect is very particular to each small region. There are many many dialects in Italy. I never learned the local dialect at home, because my mother was from near the Italian border to Jugoslavia, my father from Marche (Central/South Italy), and clearly they had to speak (common) Italian, to be able to communicate together! But I can't say that I've been able to sit in a dialect. Then we lived in other regions, and it was difficult for me, because I never had the sense of linguistic or cultural roots. Because of this lack, I've been exploring roots of other cultures. Missing my own dialect, ultimately, was hard, because I want to hear my cultural and linguistic roots. This need has pushed me to explore and discover other cultures and dialects.

While I was in India, I received a phone call from Austria (strange days, but real!), and they asked me to prepare a audio/visual performance for ORF (Austrian National Radio). I said "sure, sure, I'll do it, how beautiful" - you know, they found me in India - how great it was to receive an invitation like that. I hung up, and said "oh no! What am I going to do now?!". But I continued on my voyage to learn more from other cultures, and to go to see what I could possibly contribute, as an Italian. In India I started working with Italian regional melodies which were well known - from choruses, or known by ethnomusicologists. I returned to Italy, and did some more research on melodies and dialects, from records and books. I took aim to create my own music, my own songs, coming from these roots which are not mine, but which became mine. I started working with these melodies, with their own colours and aromas which were very inspiring, and I began to compose my own pieces. And I was amazed, because when I came home, I wrote for a month; I had lots of things to say, to give, after such a rich experience in India; I was like a volcano when I came home.

I recorded a multi-media disc and performed this audio-visual work live shortly thereafter, and I began to realize my need to write my own music and arrangements. I would like to say some pieces are just melodies, some are melodies and words, but the words sometimes are distantly political, which speak to the people real, important things for me. But I search to speak of these things without thinking too much, or with heavy thoughts. Music is a beautiful half, to make people understand the things of life. You must stay appetizing, edible (laughter), and accessible. When it becomes too heavy, I don't enjoy it; it's not my expression, it must be just the music.

Do you enjoy collaborating with other musicians?

Very much. I find that one brain could be explosive, two brains even more explosive, more brains even more so. In fact, I've seen it happen. (Laughter). No, aside from the jokes, clearly you have to find people with whom you're equal; hopefully you'll have friends with whom you can work, with whom you have an understanding.

To find people equal and compatible is a great fortune, to share that understanding with them; otherwise it doesn't work, because musicians have strong egos, which is partly beautiful, but if we are going in a different river, or road, then it doesn't work. I have found people with whom it's beautiful to collaborate, humanistically and musically.

I find that collaborating with others on new things every day makes a great starting point for creative projects.

I have really enjoyed collaborating not only with other musicians but also with visual artists. Gian Luca Beccari is a visual artist who works with computer & video. It's very stimulating to combine his images with my music.

Meetings between artists are more than just that I play, you paint, I play, you speak poetry. I see that there is much more to be done - in a more profound sense, to find the force to put together the spectacle, to amaze the audience. We bring together diverse languages. I work very often Gabriele Bombardini, the guitarist; we have collaborated on this CD, but also previously on another CD edited by Il Manifesto, an Italian newspaper. It's a mix of Oriental and Occidental styles. He knows alot about computers and electronic music. I do use the computer, but I'm a little allergic to them. I recommend using them for communicating - they work very well for that. But now I have a new computer, with a good recording system. I know I must learn more, but since I'm allergic to them, it's going slowly. Gabriele is fantastic, as is the tabla player Matteo Scaioli, who really seems to be Indian, it's incredible; he captures the essence of Indian Music - he's a reincarnation of an Indian master. Also the accordion player, Simone Zanchini, the cello player Enrico Guerzoni and the poly-instrumentalist Fabio Tricomi are great musicians.

Above all, now I'm touring a performance in a trio with Gabriele (guitarist) and Matteo (tabla), with images by Gian Luca. I have found the most important thing is not to become fossilized or stuck in collaborations, which is easy - oh our work is so beautiful, let's just keep it like this, and stay like this! It's also important to create, to grow together, to create new experiences; to know and work with new people. Anyway, it's not only individual contributions from each artist, but how we work together which is the most important.

Visit Luisa Cottifogli's web site
Read the RootsWorld review of Aiò Nenè

The CD Aiò Nenè is available from cdRoots

Interview conducted in Italian and translated to English by Amy Denio in Seattle, Washington. (July, 2002)