| | |
| --- | --- |
| | "I think of the story of Jackie Daly's father," recounts accordionist Jim Coogan."He was approached by a stranger who says 'So are you Jackie's dad, isn't it grand that you passed the music down to your son?' To which Mr. Daly replied 'Arrah, I think in this case, 'twas him who passed it up to me!" Jim tells this story in praise of his daughter Mary Coogan, (guitars, banjo and mandolin) of the New York based Cherish the Ladies (CTL). CTL celebrated the release of The Girls Won't Leave the Boys Alone (Windham Hill) with a rousing three-hour celebration at New York's Symphony Space on April 19th, complete with talented fathers and brothers, celebrated musical guests and some world–class dancers. |
Along with Mary, Joanie Madden (low and high whistles, flute, alto flute and harmony vocals), Mary Rafferty (accordion, concertina, low whistle), Liz Knowles (fiddle), Dierdre Connolly (vocals and whistles) and Donna Long (piano, synthesizers and harmony vocals) comprise the group's current line-up. The brainstorm of folklorist and musician Mick Moloney and New York's Ethnic Folk Arts Center, CTL formed in 1983 to play a series of concerts showcasing what was seen as a rarity: women in traditional Irish music. An immediate success, the group became a fixture on the Irish American music scene." They've never made a big deal about their role in traditional Irish music," Mick Moloney commented from the stage," but it was a totally male scene when they started and just look at it now!"

"They've never made a big deal about their role in traditional Irish music," Mick Moloney commented from the stage," but it was a totally male scene when they started and just look at it now!"

Reprising their spots from the album, the evening included appearances by Liam Clancy, Paddy Reilly, Brian Kennedy, Mick Moloney, Billy McComiskey, Donal Clancy, Eric Weissberg, Tom Chapin, Phil Bowler (bass), Arto Tuncboyaciyan (percussion) and Marie and Martin Reilly as well as ex–band members Siobhan Eagan and Aoife Clancy and the girls' fathers: Joe Madden, Mike Rafferty, Mattie Connolly and Jim Coogan. Byron Long was not at the event but appeared on the album along with Donna's son Jesse Smith of Dane. Additional guests included the Donny Golden dancers, Colin Dunne of Dancing on Dangerous Ground and step dancer John Jennings.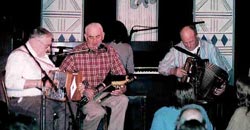 Some of the dads

Jim Coogan, Mattie Connolly, Joe Madden

Performing with players of this caliber is awe-inspiring enough, but what if the one sitting next to you is also your father?" Anytime I play with him it's nerve-wracking," exclaims Deirdre whose father, singer and piper Mattie Connolly, joined the group for "The Queen of Connemara" his recording debut. On the plus side, there is something to be said for playing music with someone you've listened to all your life." When my father's playing," explains Mary Coogan, "I'll always have an innate sense of when he's going to change tunes and what tunes he's going to play without any indication from him at all. It has seeped into my subconscious."

Donna is quick to agree that her connection to music makes her relationship with her father special. "On the other hand," she points out, "my father and brothers go whale watching and hiking together and that makes their relationship different. Nothing in life is meant to be exactly the same and that is what makes it exciting."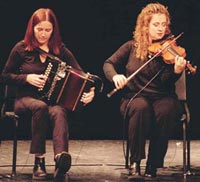 Mary Rafferty also agrees that her musical relationship with her father holds exceptional meaning even if it brings some additional pressure. "If Joe Madden, Joanie's father, is there then he and my dad are holding the reins back. I know that if her father is in the audience the next day he's going to call my father to give the report. Or if my father's there, he'll call Joe and say 'they were playing too damned fast,' "she explains." I'm more nervous if my father's there rather than say, a few thousand people."
Joanie, the groups' founder echoes this. "They're so critical. They passed this music on to us. It's their legacy and they want to make sure that we're treating the culture and the music with respect."
On this night, CTL didn't have reason to be concerned, as Joe Madden was suitably impressed. "Liam Clancy and Paddy Reilly…all these famous musicians," he exclaims! "To think that these guys would even go to the trouble of hooking up with a group like that. It takes a lot of courage. But they all had a lot of fun together and they can really relate to one another. The music's been in all the families for years anyway."
Perhaps because of the sense of family that pervades the group, Cherish has thrived even in the midst of the most recent line-up changes: singer Deirdre Connolly replacing Aoife Clancy and Liz Knowles taking over from Siobhan Egan on fiddle." Each player brings their own touch to a band," says Deirdre, "and when Siobhan left, something was lost, but another thing gained in Liz, another masterful player! I was a little nervous though, especially replacing Aoife. But all of the girls made me feel very welcome."
Liz laughs at being the odd Lady out in this family-oriented atmosphere. "When we do gigs, I'm the butt of all jokes, in a good way, because everybody's father has played an integral part in their music-making. My father races horses and works around thoroughbreds so I don't think he's ever touched a musical instrument in his whole life. "Irish music was a late edition to Liz's repertoire. She studied as a classical violinist but fell in love with Irish music when she heard it, thinking, "I've got to do this."
Growing up around New York's diversity had a profound impact on the way CTL viewed their families' legacy of music."I didn't grow up around any kind of Irish or Irish-American families, "explains Mary Rafferty from nearby New Jersey. "It was a big Italian town. Nobody knew that I played music. One day my friend came over and my mother said "she's practicing" and my friend was like "practicing what?" It wasn't that I was ashamed or anything but I never had that in common with anybody. And an accordion!" Mary Coogan too admits that there was a time when she rebelled against the music in embarrassment. "Playing music was not a 'hip' thing in those days," she explains.
Although the Ladies spend a great deal of time touring out of town, they've made their mark on the growing New York City music scene and the scene on them. "I think there's a lot of people that hope that the traditions stay exactly as they were even 50 years ago," says Liz, "but its human nature that its going to change and be influenced by other things. People are living in different places and getting the music through different means. The good thing about groups like Cherish the Ladies is that the music is still being handed down within families and it's really important to people that it stays that way. I've been embraced by a community of people even though I didn't have it in my family. There's a very generous community-sense to the music and how it's translated and that's one of the things I absolutely adore about it and that's kept me doing it."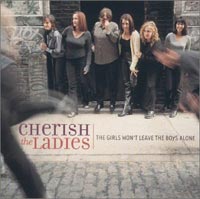 The current pervasiveness of traditional music in New York City is something that Jim Coogan experienced firsthand at a recent session that he and Mary played on a Monday night. "There were, I think, 16 musicians there - all pretty capable with the one common thread of really enjoying playing the music," he says. "That speaks volumes of the state of the music in the City. This is Monday night when people have to get up and go to work on a Tuesday morning and yet they are willing to stay until midnight to play tunes -some of them with over an hour's trip to get home."
"It's unbelievable because I remember the time when nobody would even play Irish music anyplace," recalls Joe Madden. "In the early 60's nobody wanted to hear anything. There were always a few good musicians around, great musicians actually - like the great Larry Redican, Jack Coen who is still playing, Paddy O'Brien, all these famous Irish musicians, but there was no place to play, no real interest in Irish music in those days. But now, I'm glad to see it's alive and well with all these great young musicians coming up."
Mary Coogan says "Irish music in New York City seems to be flourishing with several sessions a week and lots of fine musicians here. I'd like to think Cherish draws from New York as its heart and soul, and though we may not be present visibly here all the time, our playing stems from the great music and teachers that this city was, and is, home to, and we'll carry that wherever we go."
When all is said and done, though," CTL pushes the envelope as far as we can within the traditional vein," explains Joanie, "but we always aim to respect it. This music survived hundreds of years before we got a hold of it, we just keep playing the tunes that our fathers played and are hopefully doing justice to the tradition of Irish music in America." And to their fathers. - Helene Northway
Photos courtesy of Cherish The Ladies (visit their web site for more)
Their latest CD is The Girls Won't Leave the Boys Alone (Windham Hill)