"We have lights even at midnight. We can see everything but we can't see the sky. So we basically are estranged from contact with natural time." - Mauro Durante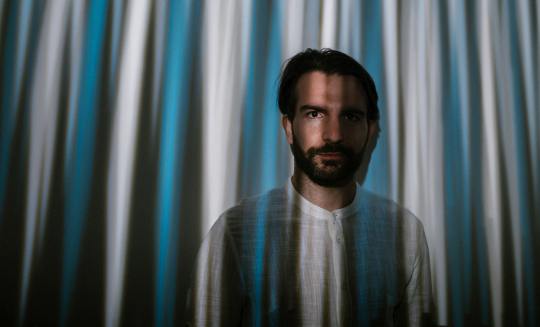 While Meridiana from Italy's Canzoniere Grecanico Salentino is not a "pandemic album," its creation was affected by the quarantining, and its central theme - our relationship with time - certainly resonates with the introspective time with which we all have been confronted.

Months before the Covid-19 virus hit Italy, the group members had decided their next album would explore time from different perspectives. Then they decided Meridiana, the Italian word for a sundial, should be the title and organizing principal of the album with 12 songs—one for each hour on the clock's face.

"The sundial uses light and shadow to measure time," said Mauro Durante, the band's leader. "So for us meridiana is a symbol for a reflection about time, about our relationship with time."

"We are dealing with music that comes from the past, but we are translating those traditions for today, for contemporary audiences," Durante said. "[We] are not farmers or belong to the same background that produced those folk songs. So already we are playing with time, even by playing our old kind of music. So that was the first initial spark, we were basically questioning our relationship with our own music. We're dealing with music that sometimes is centuries old, or decades, [but] we are doing it our own way, where we want to be relevant today. We're not doing some museum operation."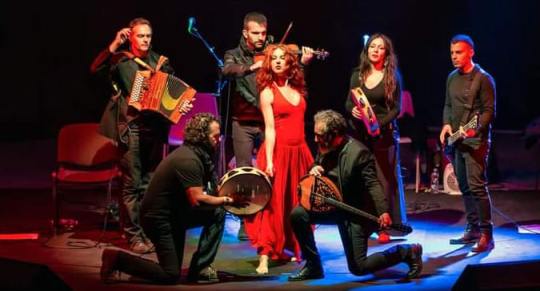 The band formed more than 40 years ago by journalist and activist Rina Durante, Mauro's cousin, who wanted to celebrate the traditional folk music of Salento in southern Italy. After attending a conservatory, Mauro Durante joined the band and became its leader in 2007, experimenting with musicians until the current lineup was solidified. This latest incarnation of the band incorporates contemporary influences, such as electronics, and cross-pollinates the music with other genres, earning the neo-traditionalist band places on stages and in festivals around the world.
After they had decided on a theme for the album, Durante and the group began to do research about time, looking at the fields of physics, philosophy and mythology, but also thinking about their own relationship with time.
"Nowadays we are losing contact with the natural passage of time," he said. "We're not any more connected with the actual cycle of the sun or the seasons. If you actually have a sundial, if you look when it's truthfully midday, sometimes that doesn't get along with the clock…because we are living this convention where time is not natural anymore. And especially with [modern] lighting systems. We have lights even at midnight. We can see everything but we can't see the sky. We have no stars anymore especially in big cities – they are impossible to spot because of what is called light pollution. So we basically are estranged from the contact with natural time. I don't even remember which vegetable and fruits I should eat now. I need to check Google to see which are the seasonal fruits and vegetables. I think it is a little scary."
When the covid-19 virus hit Italy in early 2020, the band had already launched into the creation of the album, Durante said, "But then the pandemic kind of amplified the intensity of the speculation about time because we were living in some sort of suspended moments."
"It got hard psychologically to keep the same momentum, the same energy and commitment," he continued. "But then we found a way to work together remotely and move things on."
The band worked remotely or in small groupings, including collaborating with the New York-based Red Baraat for one song and British guitarist Justin Adams, who produced the album. The band was able to finally come together in December to play in the studio for about a week before quarantine restrictions were put in place again. During the assembling of Meridiana, Durante and Adams—who has played with Robert Plant's Sensational Space Shifters and Guinean traditional musician Juldeh Camara—also collaborated on an album that just features the two of them, Still Moving, which will be released in September.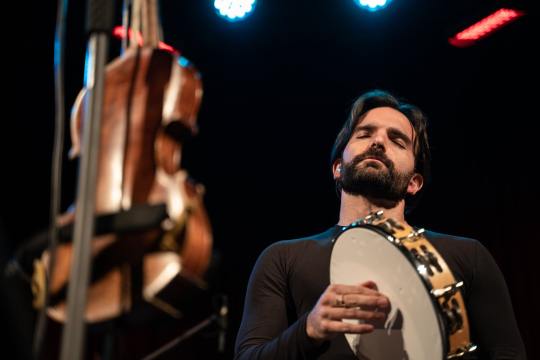 "The moment [CGS] could actually be together in person was really significant," Durante remembered. "We were all committed because we knew we had to make the moments relevant, because they were short. So that's another way also to experience time and work. Like the moment is now--now things have to work because there might not be another chance…. It was incredible, intense. The most moving moments were at lunch and dinner, to be able to eat together, to breathe together, to be a band."
"It was a huge effort, even pre- and post-production was really, really challenging," Durante continued. "And I think that Meridiana carries that will, that strong will to be together, to make music together, to set an example in a way; to give the sign that we are alive and we want to share."
Because they had explored time from all different perspectives, Mauro said, "I thought a standard booklet wasn't enough….I thought that some kind of multidisciplinary, immersive experience would be a little bit more apt to describe the creation process. That's why we decided to create an online portal."
So the album launched on the group's website accompanied by perspectives on time from other artists as well as scholars speaking on educational videos.
The album opens with "Balla Nina," co-written by Durante's wife, Silvia Perrone, who dances with the band during its performances. The impressionistic lyrics are about an old man nearing death and a woman about to give birth. Durante said the eponymous "Nina is a symbol of each one of us dancing in this life…bending time through generations and the love which is going to be passed down from generation to generation." The song starts with a big beat from a frame drum than bolstered by a bass played through a synthesizer to create a sound that unites soulful tradition with the increasingly boundaryless modern.
The band invited Naple's Enzo Avitabile to sing on the powerful rhythms of "Tic e Tac (Tick Tock)," which combines elements of Neopolitan and Salentino styles of music. Durante explained that the song's powerful and ineluctable percussion-driven pace was part of its message. "We are driven by deadlines," he said. "We are always kind of late because we set sort of impossible rhythm and goals. It's like we are always a little bit behind our own expectations. We live like we are always late. This is also toxic….The speed of life gets you far from being human because you are so into your own everyday issues and problems, you forget how to be empathetic."
| | | |
| --- | --- | --- |
| | | "Tic E Tac" (excerpt) |
One of the more overtly political songs on the album is the accordion-driven, playfully bouncing "Stornella del Memoria," done in the traditional stornella della Romana style. "The main point is that we always forget things," Durante observed. "We forget when politicians do very bad things and then they pretend like nothing happened. We don't even think about children dying, refugees crossing [the Mediterranean] and dying every day. We forget, forget, forget…It's a very sad and bitter irony."
Though it is sung by the husky, passionate voice of percussionist Giancarlo Paglialunga, the whirlwind "Vulia (I Wish)" was written by Durante as a message to his young son.
| | | |
| --- | --- | --- |
| | | "Vulia" (excerpt) |
"It's like I'm talking to my son and then saying I wish I could leave you a land to be proud of," he said, "because Salento, in postcards, it's some sort of dream land. And it is—with the monuments, the villages, the seaside, the food, the climate. Everything is so beautiful, but then it's also true that we have one of the highest cancer rates in all of Europe…Our beautiful farms and fields are poisoned by garbage that's been buried. The olive trees are dying. You can't even eat without being afraid, you can't breathe without being afraid. I also say to my son that I'm aware, I'm going to do everything I can to change things, to make a difference, to leave you a land to be proud of—I wish."
| | | |
| --- | --- | --- |
| | | "Ronda" (excerpt) |
The album's only instrumental, "Ronda (Circle)," is a pizzica, the traditional ecstatic dance that in folk mythology was able to exorcise the venom of the spider that bit women and put them into depressive states. The fierce tune is built on the battering of several frame drums with an overlay of sustained melodies of a zampogna bagpipe and eventually a growling bass. Durante explained that the "magical circle" of the ronda formed by musicians could be seen as the round belly of a pregnant woman, a source of life for dancers inside the circle.
| | | |
| --- | --- | --- |
| | | "Meridiana" |
The album ends with the beautiful title song, "Meridiana," with a spare arrangement, principally of guitar and the voice of Alessia Tondo, singing in Italian, rather than the band's usual use of the Salentino dialect.
The very personal song, Durante said, is a "synthesis" after running listeners through all the other eleven perspectives on time and a reminder of the desire to spend time connected with others.
"It is the time I need to get to you, that importance of time that we share with the people we truly love and who love us back," Durante said. "Your singing within me that is something that can't be measured, the feel of my hug on your skin."

While the band is firmly rooted in the traditions of Salento and other Italian folk styles, Durante is clear that the members see the past and present clearly for good and bad.
"I don't think the past was any better," Durante said. "Yeah, that's not the point. I am not nostalgic. I think that modernity has brought something that is not entirely natural for our lifestyles. In smaller villages there was a sense of community, of people being together. In Italy we have the main square…where people would go and meet people just because they were walking there. And time was marked by the passage of the seasons. Now we are more alone, isolated. So this is what we always have been doing with Canzoniere: delivering a message of the dance, dancing together as a way to exorcise our own demons, the demons of today. So basically, we have always been saying, with our art, we should be together as people, as community."
Read Chris Nickson's review of Meridiana

Further adventures:
Greek Musical Traditions in Southern Italy
Linguamadre - Il Canzoniere di Pasolini
Antonis Antoniou - Kkisméttin (Cyprus)
Amparanoia and Himnopsis Colectiva - Mi Génetica (Spain)
CGS online.
Meridiana is our July 2021 pick for Music of the Month. Subscribe now or get a single CD when it is released in July.

© 2021 RootsWorld. No reproduction of any part of this page or its associated files is permitted without express written permission.