I'm a pie eater. I always want more
Sophe Parkes talks with Eliza Carthy about new music and little furry things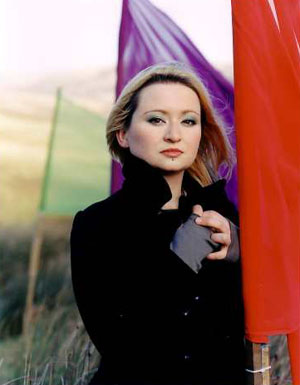 Although her main instrument was initially the piano, it is for fiddle and voice that Eliza Carthy has become widely acknowledged. But being daughter of folk legends, Norma Waterson and Martin Carthy, of course it doesn't stop there. On her albums, two of which having been nominated for the prestigious Mercury Music Prize, double album Red Rice and traditional Angelicana, Eliza plays accordion, bagpipes, djembe, octave and five-string fiddles - in fact anything, it seems, she can get her hands on. Each album becomes a feast of sound with an array of multi-instrumental musicians guesting, and well-known names, Jon Boden, John Spiers and Ben Ivitsky, as the current Eliza Carthy Band.
"I've seen my Dad tour the world completely on his own and I wouldn't want that; it's something to do with growing up on a farm with eight kids and lots of adults," she states, "In the Eliza Carthy Band, I'm boss, but it's all about band personality. When I'm playing in Waterson:Carthy, I'm certainly not." But of course, there's more to why she's keen for many musicians to lend their talents to Eliza's projects. Part of Eliza's unique sound is the manner in which she can produce folk music that is derivative of other styles, but at the same time staying true to the tradition.
"I don't believe in reproduction. Modern day players cannot reproduce music of a hundred years ago, as authenticity doesn't exist. I mean the guitar, for example, features in much music of the scene today, but back then was a classical instrument." And it is for this reason that Eliza goes out of her way to meet musicians associated with other genres to weave them into her own music. "I'll look for bass players playing reggae, guitarists playing reggae, DJs. I grew up on the folk scene and want to make different noises trad., music on different instruments." This is certainly apparent in her music where a dance track complete with samples and synthesisers which wouldn't seem out of place on the mainstream dance chart gives way to a song with a clear influence from Eastern European gypsy styles. "I'm a pie eater," she laughs, "I always want more."
So with such a mass of musical traditions appearing on each album, it would seem difficult to pinpoint Eliza's own fiddle style. But no, she knows exactly what she wants to accomplish. She has developed her style through years of research and listening. "I had five years of classical training through lessons at school which I just hated. I have to be expressive to get anything out of the instrument but violin lessons were just mechanical. They don't play you any Balkan gypsy music, Stephane Grappelli. I became quite cold towards the violin." Needless to say, Eliza gave up lessons and the violin. However, at the age of fifteen, Eliza's grandfather died, leaving a violin and Norma encouraged Eliza to take it up again. By then, Eliza had begun playing with Nancy Kerr, fiddler of Northumbrian and Shetland disciplines, and Eliza saw herself quickly progressing, much faster than she had in lessons, because she was playing the music she loved and had found the challenge she needed. "I find the violin an argumentative instrument; I take one thing and it'll take another back. It gave me a hard time and it wasn't always enjoyable."
But it isn't just her music creating rifts in the folk world. Martin Carthy has just released a new album, 'Waiting for Angels,' which she produced. It's not her first venture into the technical side of making music, having produced her own albums before being signed to the Warner label and also her mother's, 'Bright Shining Morning,' but it seems this one could cause quite a stir. Described by Mel McClellan from the BBC as a 'percussive barrage of clanks [and] bangs,' one track saw Eliza assemble a miniature orchestra of clockwork toys, another mimicking the noises of a ship in a storm. So was Dad fearful in letting you take over? "No, not at all. He said 'I absolutely trust you,' and we didn't actually go as far as he wanted, he wanted an entirely electronica album with guitar, samples and programming. Sometimes I had to say 'I have to run this by you.'"
Producing has allowed Eliza to observe how a session and arrangement works, and naturally, has taken this back to her own music. Her band are currently in the process of incorporating tempo changes within a song, stopping and pulling back for words as traditional music would have done due to the lack of accompaniment.
"Red Rice was more about serving the beat, but I want the band to explore the violin as a 'bendy' instrument so arrangement becomes an organic and less contrived experience. Too many people are concentrating on classical arrangement, 'You come in here and play that,' but I'm more into pots and pans territory."
Eliza and her band are currently recording a new trad. album, and as all members of the band are multi-instrumentalists, there is no doubt that the full sound of a session will be apparent throughout the album. Trombones, double basses, accordions and concertinas, hurdy-gurdies can all be chosen to feature, but the main focus will be the three fiddles. "They want to call it The Cat Stranglers!" Eliza laughs "But I'm not so sure about that. There'll be lots of singing. I'm particularly interested in call and response and harmony singing," inevitably from her days on the road as a thirteen year old unaccompanied singer.
Eliza notices her voice may have overtaken her use of the fiddle in the last few years, and she is scheduled to release a songwriting album at the end of next year. "I'm listening to a lot of Nick Dave, Bob Dylan, Tom Waits, to get back into the songwriting." She feels that her ambition often exceeds her ability, too, and intends to attend Limerick University to study musical theory, technology and traditional music at their excellent world music centre.
And it seems Eliza is becoming a bit of a media personality. Alongside her Mercury Music Prize nominations, she has received many accolades from the Radio 2 Folk Awards including, last year, folksinger of the year. She has featured live in concert on BBC 4, has narrated BBC 4 documentaries on Martin Carthy and the Sidmouth Folk Festival, a Radio 2 series on the British folk revival and on ITV South West, a three-part series on the centenary of Cecil Sharp collecting his first folk song.
Eliza also presented an award at the last Young Folk Awards, which is not surprising considering she made the decision to become a professional folk musician at the age of eighteen. "I know everyone says it, but each generation is always better than their predecessors. The young people at the Young Folk Awards are already better than me!" But it is obvious that Eliza, with her dyed hair and piercings, has become a role model for the young. What advice were you given when younger? "Erm... I always have to tell people this, it was the only piece of advice mum and dad gave me... Don't shag the band!" Oh, right, well, as good advice as any, I suppose. But what about being young and a folk musician? " My time in the folk brat-pack is nearly over, as there are a new set every generation. Each generation should be heralded and welcomed rather than scorned, but there is much suspicion that new performers on the scene are just using folk as a springboard. Of course they're not, they love traditional music and just want to do something different with it. Surely the point is to have musicians on the scene that have a grounding in traditional music and encourage it, even if you don't like what they're doing. I make it my business to buy the CDs of a new performer and listen to what they get from the folk tradition."
But folk music is not always associated with young people, and you must have met some blank expressions as a teenager? "Sometimes I just had to keep my mouth shut, but more often than not, friends from school were impressed that my Dad had even made records! People fear folk music from what they've been told, the stereotypes. Most don't have a problem with the good stuff. I've found that a party in Edinburgh means that half the people come with records and the other half acoustic instruments, and the trad. stuff gets mangled and passed on. That's folk music in its purest form. Folk music is just old pop music, like soul and Motown."
Eliza is a great believer in carrying on traditional music as it would have been done hundreds of years ago, taking a narrative and adding to it, passing it on. "If you're British, it's likely you're related to someone who wrote this, or it was part of your ancestors' life. It speaks the past. We're lucky as we even have evidence in recordings from 1903. I mean, who wouldn't want to listen to that? I know I would."
So, the inevitable question: what influences you? "Well, you're influenced by what you are. I'm as much influenced by Aqua, who I can't say I like, and The Wombles, who I do very much!"
So the question is not how long will Eliza Carthy be around, but what will she do next? And drafting in those creatures from Wimbledon looks high on the agenda. - Sophie Parkes
Read a review of a 2005 concert by Eliza Carthy and Sharon Shannon
Originally published in the British magazine Fiddle On.
Visit the artist's web site