Tab Benoit
When a Cajun Man Gets the Blues
by Georgianne Nienaber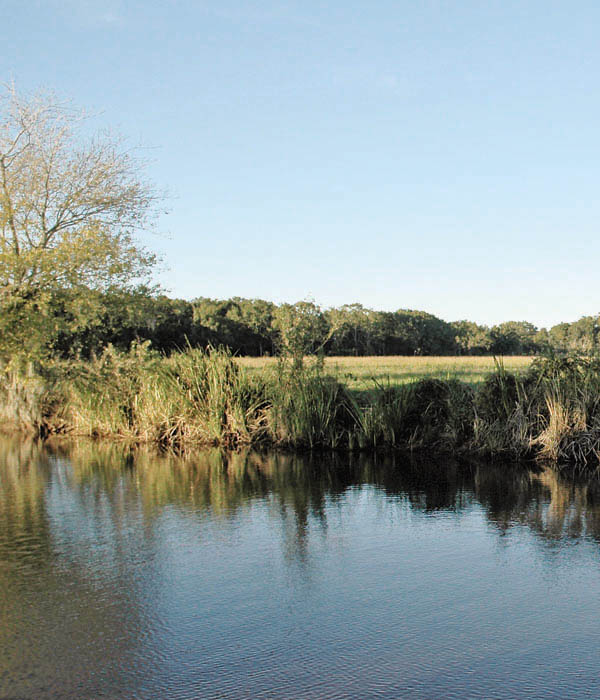 This article was originally intended for publication in the March/April 2010 issue of Dirty Linen. Since that issue was cancelled, the author requested to have it appear here.
When "Voice of the Wetlands" had its annual gathering last October, there was a sense of hope and renewal, even in the face of the problems plaguing the Mississippi Delta. Pressure was on big oil to mitigate the loss of precious delta land caused by dredging. The Delta's marshlands not only offer protection from hurricanes, but are also nurseries for new marine life. An entire culture and lifestyle depends upon the health of this ecosystem. No one could imagine a disaster of the scale and magnitude of the explosion of British Petroleum's Transocean/DeepwaterHorizon's wellhead on April 20, the loss of eleven lives, and the subsequent "river" of oil which is now poisoning shrimp, oysters, bottlenose dolphins and sea turtles, as well as human livelihoods. The Louisiana Delta, shorelines and marine sanctuaries from Grand Isle to the Florida Keys are in peril, but the men and women profiled in this article are not giving up. New roots singers have joined with their voices. Sadly, this account will not be "outdated" for decades to come. - the author
Looming black and blue on the western horizon, the menacing squall line recalled memories of the one-two punches of hurricanes past as it stalked Southdown Plantation in Houma, Louisiana. A little over a year ago, storm surges from Ike and Gustav almost washed away Terrebonne Parish. Multi-award winning Grammy nominee and Delta bluesman Tab Benoit took the mic in defiance as whisps of wind snaked through the scrim draping the backside of the stage. Friday's early evening crowd stayed put as Benoit offered reassurance that this, the sixth annual Voice of the Wetlands Festival, would continue come hell or high water. "The bands are booked, the food is cooked, and this festival is going on no matter what," Benoit drawled to hoots of approval. "This is our rally. This is our cry for help."
With one acre of Louisiana vanishing into the Gulf of Mexico every hour, help — and lots of it — is sorely needed if this part of America, which looks, smells, and feels like a foreign land, is to endure. Benoit used the metaphor of Atlantis and called out the malfeasance of oil companies whose man-made canals to the great rigs opened saltwater pathways that killed plants and root systems, destroying the anchors of the life-giving soil. But engineers also bear responsibility, as far as Benoit is concerned. The needs of shipping interests required channels and levee systems that now suffocate the natural flow of the Mississippi. A delta is built by flowing water that deposits silt and forms protective marshlands. "You need the flow." Benoit was warming up, like a preacher preparing a final admonition.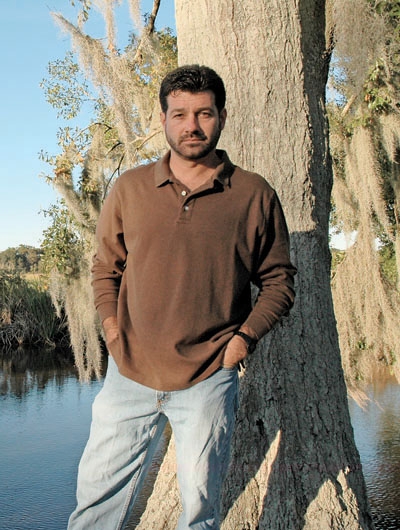 "If you look at the Atchafalaya River just west of here, you will see what can happen when the water flows naturally. Hurricane Andrew busted through the levees 17 years ago, and the water is flowing again. The land is green. You're gonna have to go take a look for yourselves. Google Earth is not up to date. The Atchafalaya is living, it is healthy, and it is building land. It's time to get moving; it's time to do something. Make a decision. If you see the problem, you will have to fight. If you don't, then you're gonna have to move. It's gonna take all of us fighting to stay here. That's the bottom line. I'm not making this up; this is real."

It was an audience of the faithful, and many in the crowd had come from across North America, bearing checks and goodwill for the man who personifies the Voice of the Wetlands and the future of the bayou music culture. Benoit vowed that he would talk to each and every member of the audience until his voice gave out. He meant it. As the live oaks began to bend and capitulate to the gathering October storm, there were whispers in the crowd that Benoit should run for public office.

The annual three-day event, which is free, had barely started, and Benoit looked whipped. He had been hauling barricades, hoisting banners, and supervising every detail of the music festival and family picnic for the past two days. A late-season southern heat spell charged with humidity plastered his shirt to his back, leaving blue jeans hanging on a lanky frame. There is a languid quality to the man, and one half expected to see him on a horse as he made his way across the grounds of the former plantation. Instead, he drove a red mule utility vehicle from one end of the parking area to the stage, jumping off the cart and putting the final tie-downs on a banner that stretched across the stage: "Save Our Wetlands."

Benoit had planted his flag. He wasn't leaving. The winds whipped stronger and the opening acts, Freddie and the Freeloaders and Treater, cut their sets short as coolers were closed, chairs folded, and the crowd made its way to the safety of the covered pavilion. Plan B was already in operation, and the outdoor stage was soon abandoned. Round one went to Mother Nature, but Benoit remained determined. It was personal.

"You have to pull it off no matter what. That's why I do this thing. It's like this is a metaphor for what we are doing with the coast. We are just trying to pull off saving what's left, and if that takes everything I have, I am dedicated to it. I have to be. This is personal. This is a man-made problem. You know, I am losing my entire history because men screwed stuff up.

"Imagine anyone living anywhere in the world, and some guy shows up to your house with a giant excavator and starts digging your land out and dumping it out into the middle of the ocean. That's what this feels like. The oil companies came in here with machinery and messed with Mother Nature, and that is why we are losing our property and our musical culture."

Tab Benoit was born in 1967 in Baton Rouge and grew up in Houma as a devout Cajun Catholic son of the oil fields. His family was heavily invested in oil infrastructure for companies that pumped the liquid black gold, building a nation that to this day seems to view Louisiana as not quite American — a distant relative that is fun to visit, but not part of the inner family. The Delta is certainly a different entity from "the Old South," steeped as it is in jazz, blues, and mysterious Creole and Cajun musical influences. The Choctaw and Chitimacha Indians were there first, long before the descendants of the West African slaves, dispossessed French Acadians, Spanish, Irish, Italians, and wanderers from Appalachia. The music, the voices, and this peculiar gumbo of a culture surrounded Benoit as a kid. He said he can't really remember how old he was when he first picked up the guitar, but he learned the first three chords from a book and then "threw away the book."

What he does remember is learning to fly a plane when he was 14, getting his license at 17, and improving his skills until he was hired to fly patrol on the pipelines. It was from the vantage point of the eagle that Benoit saw something unfolding that would forever change his life and provide a direction and a purpose he never dreamed of. "I flew patrols where you would go out in an airplane and fly pipelines to the marshes. You come to these oil hubs, and your line may come off of that hub and come in another direction, and it's just like spider webs out there. All of these canals were dug to bring these pipelines in and to do drilling."

His Cessna offered a unique vantage point. The land was vanishing. The shoreline was receding, and he was watching it happen. Benoit began to be filled with a discontent and sense that life offered a "bigger challenge than sitting back and watching the Delta disappear.

"The only reason I got into music is because I knew it was the one talent that I had that I could help others with. It was a bigger, more universal way to help. I don't just play music to try to sell records or to try to be cool or try to be famous; I would rather not to tell you the truth. I'd rather just be a regular old guy."

For an artist who plays upwards of 250 dates a year to SRO crowds in stadiums, local clubs, and dance halls like New Orleans' iconic Rock 'n' Bowl — a man possessing a face so striking that it appears flawless on the towering screens of the IMAX presentation "Hurricane on the Bayou" — Benoit was indeed just a "regular guy" at his festival. It was obvious. Men felt he was one of them; women were drawn to his ruggedly handsome face and said so out loud. Through it all he engaged in earnest conversation about his passion for the sights and sounds of the Mississippi Delta. It's a tough act, being accessible and keeping to one's self. Benoit is at heart a private guy and a devoted family man. Now, with a 17-year-plus discography firmly behind him, Benoit remains true to the blues and his Cajun heritage despite early admonitions from the music industry to take his instincts in a rock direction. The critically acclaimed 2002 Wetlands stamped the Cajun blues firmly onto his musical resume. "When a Cajun Man Gets the Blues" is admittedly autobiographical, and his bluesy, throaty take on Otis Redding's version of "These Arms of Mine" is a Benoit signature.

2006 produced a Grammy nomination for Best Traditional Blues Album: Brother to the Blues was a collaboration with Louisiana's LeRoux. LeRoux later joined Benoit on Power of the Pontchartrain and the live Night Train to Nashville, which charted on Billboard. But it is Power of the Ponchartrain that is Benoit's love song to his Louisiana home. "Sac-Au-Lait Fishing" is the only original song on this effort, and it is solidly Cajun all the way. If "I'm Guilty of Lovin' You," does not make grown men and women cry, then there is something seriously wrong. His take on the Dave Williams and Mick Parker song is simply soul stirring:

It's over now
It's in the past
And we've said our goodbyes
What went wrong I'll never know
I guess we had some good times…
When the night closes in
And the heartache begins
Just remember
I'm only guilty of loving you

In 2007, Benoit won Contemporary Blues Male Artist of the Year and the B.B. King Entertainer of the Year at the Blues Music Awards (formerly the W.C. Handy Awards) in Memphis. The BMA award is one of the highest honors a blues musician can receive. True to himself and his calling, Benoit accepted the awards while telling the audience he was thankful because the recognition "helps me to bring attention to the wetlands of south Louisiana and to explain to more and more people that we need everyone's help to save our land and culture."

Unlike self-proclaimed roots troubadours of the Southland who tout ties to Louisiana but have abandoned the oaks and bald cypress for the urban landscape of Nashville, Benoit finds comfort and a creative muse in his beloved swamps. It is there he goes to write, to think, to recharge. His songs are no watered-down musical pablum; they are like thick, steaming, aromatic pots of gumbo — ripe with nourishment for the heart and rich with sustenance for the soul. The rhythms rise from the heartbreaking history of the Delta, infused with the musical heritage of the sons of slaves, the daughters of the great Indian chiefs of the Houma nations, the Spanish, the wandering Acadians, the Portuguese, and the French. Louisiana invented cultural diversity.

The sweltering Delta bayous are worlds unto themselves — primordial natural realms steeped in perpetual motion and sound. Mullet with ethereal wings ply the channels, water moccasins slither in search of prey, hounds bay in the distance, gators with opaque, marbled eyes the size of ping pong balls stalk the marshes, and bald cypress dripping with dew seem to cry into the backwaters. Clouds languish overhead, and somewhere in the distance the notes of the blues drift on the heavy air. Tab Benoit knows this territory, a land shaped by nature and the hurricane's fury. He has lived it to his bones, the sweetness of burning cane on the breeze mixing with the odor of saltwater and sweat, while the ghosts of slaves and all those who have gone before march to their own second line through the cities of the dead.

It is indefinable, and it is home. Benoit, a Cajun man who sings the blues, relies upon the universal truth of a sense of place and mourns its loss.

Now when I'm feeling the pain, the bayou's calling my name
And that's an offer I can't refuse
I say it's hard to miss you Louisiana
Lord when a Cajun man gets the blues.

"The artists of the world are the voices of the future and the recorders of the past," he said. "We are still learning about ancient civilizations from cave drawings. Nobody knows what King Tut was about, but they know what he looked like because of the artist who designed the mask that was on him. You think about how important artists were and still are, and you understand music is an art form that speaks straight to the heart through sounds. You know, the way to communicate with people is to go past the head, past the rhetoric, and straight to the heart. Music has a way to cut to the bone."

On Saturday afternoon, day two of Benoit's call to arms for the wetlands, a quiet conversation played out behind the pavilion stage. The outdoor venue had been permanently abandoned to the rain and wind. Benoit stood shoulder to shoulder with 60s pop princess Susan Cowsill, who brought her New Orleans band and brothers Bob and Paul to support Benoit. Cowsill lost her bother Barry in Katrina, and her presence symbolizes loyalty to home for many residents of the Crescent City.

Cowsill said that Benoit is "fighting the good fight for hurricane survivors" and that music is the perfect medium. Once again a sense of place defined the conversation. "I think that it is wonderful and important that Tab is doing what he does for the wetlands," she explained. "His music is heartfelt and totally indigenous to our state. He is also a very sweet man who cares deeply about what goes on here, and I am actually very proud to be associated with him."

After what she has been through, losing home, family, and possessions to Katrina's floodwaters, Cowsill spoke with authority. Like Benoit, she's not leaving.

But what is this "indigenous" music that Cowsill mentions? Is it definable, or is it as elusive as the glowing orbs of swamp gas that float across the marshes? Writer, producer, photographer, and songstress Ann Savoy is a fierce advocate of Cajun music and Louisiana in general. Familiar to mainstream audiences because of her appearance in the movie Divine Secrets of the Ya Ya Sisterhood, Savoy also collaborated with Linda Ronstadt on the critically acclaimed CD Adieu False Heart [Vanguard].

Savoy joined Benoit at the G-20 summit on climate change in Pittsburgh last September and performed at the Andy Warhol Museum. Over 600 guests attended the party hosted by Teresa Heinz and Senator John Kerry. Quint Davis, producer and director of the New Orleans Jazz and Heritage Festival, introduced some of Louisiana's musical powerhouses to the young environmentalists. The Savoy-Doucet Cajun Band, Allen Toussaint, Trombone Shorty, and Benoit joined forces to tell the story of Louisiana. Savoy says first of all that she admires "Tab's work in preserving this world." Is there such a thing as a melding of the blues with traditional Cajun music?

Savoy devoured the question. "Melding of blues and Cajun? In the deep South there is just a deep melding resonance of working people sweating and struggling together — together, or in fierce competition," Savoy explained. "The feelings literally ooze out of all the truly felt music from down here; like it or not, you need those chromatic notes, and notes between the normal scales, to get those feelings across. Notice how black artists quickly went from diatonic accordions to two rows of buttons and piano keys. They wanted to wail a little more."

It was the accordion that changed Cajun music forever, and in her definitive book, Cajun Music: A Reflection of a People, Savoy writes that some of the traditional melodies could not be translated into the new style, which carried just fine across the dance halls, but did not match the tuning of the old-style fiddles. Originally, zydeco bands would often have a fiddle, accordion, and frottoir (rubboard). It wasn't until the 40s that rhythm and blues entered the mix, and the fiddle lost favor to a more electric sound. But trying to pin down a purity of sound in terms of definitions is best left to the musicologists; it's as frustrating as trying to simplify Creole heritage as Spanish, African, and Catholic. Benoit's guitar often sounds eerily similar to an accordion or fiddle — no special effects needed.

Houma native Waylon Thibodeaux, "Louisiana's Rockin' Fiddler," is a childhood friend of Benoit and a permanent member of the Voice of the Wetlands All Star Band, along with Dr. John, Cyril Neville, Anders Osborne, George Porter Jr., Johnny Vidacovich, Big Chief Monk Boudreaux, and "Jumpin" Johnny Sansone. Thibodeaux has played from Canada to South America and is recognized for his high-energy blend of Cajun and zydeco music. Like Savoy, he knows you cannot separate the music from the history of the land. If the land goes, the musical heritage will drown along with it.

It is more about "a sense of place, history and shared community," Thibodeaux said. "Well, the music is very important here. This is how we communicate with all our friends and our fans and our people from down here. And when we bring the music here to Southdown, they all show up because they want to have a good time at the party. But when we bring up the issues of the wetlands, they realize that is why we are all here. The wetlands are wonderful. They are beautiful to look at; they protect all of our cities from the storm surges. We need to rebuild them for us and the music that holds us together."

Asked if there is a way to characterize Benoit's particular brand of blues guitar, Thibodeaux grinned, laughed loudly, and obliged with a name: "Swamp rock blues, baby."

Hearing that description, Cyril Neville, youngest member of the Neville Brothers, offered his own take, which has nothing to do with esoteric descriptions of Benoit's 12-bar chord progressions. He's more interested in the sounds Benoit cranks out from his 1972 Fender Telecaster thin line — all those long blue notes wrapping around the strings. "The thing I like most about doing this is I get to play drums behind Tab — the zydeco and the other stuff that he does — and I love the way that he blends all of the things from this part of Louisiana. I call them 'Tab-isms.' It is like, he does things with the guitar that other cats use pedals to do. He does it with just the guitar. At any minute during a song, another tune might just pop out of him, and there we go.

"It's a metaphor for how we live down here. At any given time the weather might change, your mind might change about something — what you want to cook that evening — and all of that is wrapped up in the music that we play. We are constantly creating new ways of musically transmitting the message that the wetlands are not only important to New Orleans, but they are important to the United States, maybe even the world."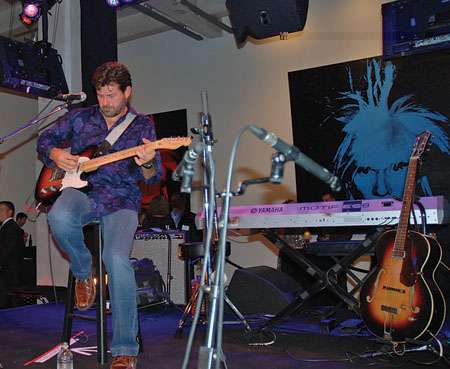 It was evening three, the closer, and Neville was schmoozing with the band and Benoit before they took the stage under the hot pavilion lights. Mud and water saturated the makeshift straw and cardboard walkways, and those who dared step out onto the grass had fire ants crawling onto arms and legs in a heartbeat. Approximately 2,500 people crowded under the low roof while pots of steaming gumbo and shrimp ้touff้e simmered nearby.
The iconic Dr. John, besides being admittedly heartbroken over the state of the wetlands, said he realizes the importance of speaking truth to power. "Mac," as he is known to his buddies, the All Stars (and just about every musician in New Orleans), signed a petition asking President Obama to make the wetlands a priority. "Musicians can make a statement and tell the world about the importance of survival of the wetlands and musical culture," he said. "We (the Voice of the Wetlands) have all been involved in telling it like it is."
Benoit beamed when asked about the VOW All Star Band. "This band wasn't put together by a corporation that wants a great band that's gonna do great benefit concerts. We all got together because we all love this place; that's what this festival and this band is all about."
Neville pounded the congas behind Benoit's wailing, battered Telecaster as the All Stars opened with the VOW anthem "Louisiana Sunrise," a song Neville wrote with Rusty Kershaw, and recorded during the first week of January 2005. Katrina hit on August 29, 2005. The crowd erupted when the first notes played out. This was their song. They were waiting for it. They knew the history.
An hour later, the band had played it all out and Benoit's prediction that he would use up "every little bit of voice I have" came true. He kept pleading for the sound guy to turn up his mic as the set wound down. It was over. A year of planning would begin all over again once the last of the trash was swept up and equipment loaded into vans.
In the end, Benoit sat alone, slumped against the concrete wall that marked the perimeter of the outdoor green room. This was no fancy spread. Musicians shared fruit, water, a few beers, and an indescribable combination of trail mix and chickpeas. Mardi Gras Indian Chief Monk Boudreaux's green and yellow headdress was propped against the bathroom door. The Cajun man's eyelids were at half-mast, head bowed, the booming Voice of the Wetlands a whisper now. He had fulfilled his promise to talk until there was no voice remaining. A woman approached him with a copy of the VOW All Stars CD to autograph. He smiled, he signed the disc and thanked her for coming. She must have brought it with her, because his CDs were not on sale at any of the T-shirt or souvenir tables.
Water bottles littered the stage. In a place where there is always too much water and the rains had come for days, rivulets of purified bottled water flowed in tiny streams, seeking the lowest place on the plywood platform. Someone picked up Chief Monk's feathers and moved the headdress to the safety of a small card table.
So who won? Tab Benoit or Mother Nature?
"Well first of all, I'm just whipped," Benoit whispered. "This is what it means about giving everything you have. I'm not afraid to do that. If it's just Mother Nature, I don't have a problem with that. As radical as people think Mother Nature can be, she has been doing this forever on this planet. This is a delta ecology, and I can't believe that I am having to do this to save it, but that's the way it is. I accept it, and if anything I hope I can inspire people to do the same thing.
 Is he thinking about running for public office?
"I am not doing it until its fair, and by fair I mean I will not kiss ass and beg for money to self-promote my ideals. I cannot bring myself to do that. I am sorry, but I figure I will gladly do it if it would really make a difference. Of course I would step out of my career for a chance to really make a difference. But I'm not gonna take free, borrowed money to promote what I'm about. I'm gonna go out there as a volunteer for no money and show people what I'm about."
Benoit performed at both the Democratic and Republican conventions last year. He has testified about the wetlands before Congress and hung out with dignitaries at the G-20 climate conference. The experiences were not all that positive, but he won't say it in so many words.
"Playing music and being on the road most of the year is hard work, and so is politics. It should be hard work to do what is best for the majority and what is best for the world, if you want to look at it that way. I have not seen any long-term decisions for sustainability, and we will not survive this way. Public servants should listen to the people. When is the last time you heard a politician say they listened to the people? I have not heard that in my life. Democracy does not work unless the people's voices are heard."
Benoit reflected on the sense of place that defines south Louisiana. In the end, it will be all about saving the culture and the music that binds it all together. "Here, especially, we have this musical root that's coming from other roots that all blended together to make something special. You know, man, there would be no Beatles without New Orleans. This place changed the world."
Selected Discography
Night Train to Nashville - Telarc (2008)
Power of the Pontchartrain - Telarc (2007)
Brother to the Blues Telarc - (2006)
Voice of the Wetlands - Rykodisc (2005)
Fever for the Bayou - Telarc (2005)
Whiskey Store Live - Telarc (2004)
Sea Saint Session - Telarc (2003)
Wetlands - Telarc (2002)
Whiskey Store - Telarc (2002)
Homesick for the Road - Telarc (1999)
These Blues Are All Mine -   Vanguard (1999)
Live: Swampland Jam - Ace (1997)
Standing On the Bank - Ace (1995)
What I Live For Vanguard (1994 )
Nice and Warm Justice Records (1992)
CDs are available from cdroots.com
Artists web site: www.tabbenoit.com
Find out more about Voice of the Wetlands
Photos by Georgianne Nienaber
This article was originally slated for publication in the late, great Dirty Linen Magazine.
What happened to Dirty Linen?
---