Diving Deep Into the Blues
Bill Nevins talks with Joan Armatrading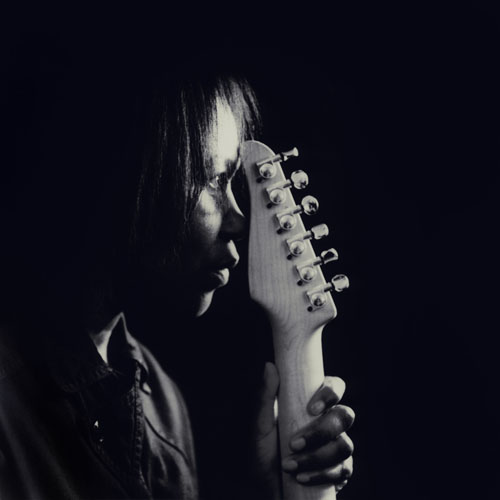 A list of great woman blues guitarists is a short but glorious one: Memphis Minnie, Rosetta Tharpe, Jessie Mae Hemphill, Etta Baker, Ruthie Foster, Rory Block, Bonnie Raitt, and now, perhaps, Joan Armatrading. That's right, with the release of her self-produced, Grammy-nominated, Billboard blues #1 charting album Into the Blues (429 Records), and her current performance tour, the great British pop-rock-reggae singer-songwriter Joan Armatrading unquestionably enters that exclusive and distinguished sorority of female fretboard blues masters.
Into the Blues is such a fresh, original work ­ one on which Armatrading wrote all the songs, delivers all the vocals and plays all the instruments except the drums, herself ­ that it would draw much-deserved critical praise even if it had been released by an obscure new artist.
Armatrading points out in recent interviews that this blues collection is not so much a departure as a long-simmering artistic progression for her. Indeed, as veteran Armatrading fans well know, this strikingly beautiful Black musician with an unmistakably deep-reaching voice has changed her vocal and instrumental styles several times over the decades of her fame. From contemplative near-jazzy observation-songs like "Love and Affection" and "Down to Zero" to full-bore loud soul-pop masterpieces like "Drop the Pilot" and "Me Myself I" and teasing, loping reggae-rockers like "Rosie". Yet under the surface there was always a rumble, a rootsy, joyful but sometimes menacing depth of feeling that really is historically associated with that quintessential music of the world wide African diaspora, the blues.
Joan Armatrading has received an MBE from the Queen, the key to the city of Sydney, been nominated many times for Grammys and the parallel Brit Awards and she won the Ivor Novello Award for Contemporary Song. She's performed her own tribute song "The Messenger" for Nelson Mandela. She is a well known patron of arts and educational programs in Europe and South Africa. And she has hosted several BBC radio music-history series.
Yet, her enthusiasm for the sheer joy of making Into the Blues and performing its songs live seems to shine for her above all her many honors and accomplishments. "Recording it has given me so much pleasure, and playing blues guitar… I adore it," she says in a recent press release.
In a late May 2008 phone interview from her home in Surrey, England, Joan Armatrading confirmed her pure enjoyment of this creative pleasure. Her rich, British-accented speaking voice­not quite as low-pitched as I imagined it would be-- seemed delightedly playful as she chatted about the origins of the varied songs­all blues but among them touching upon distinctly varied strains of that multifaceted genre­on this album.
The jazzy title cut, "Into the Blues" slyly name-checks Muddy Waters, and Armatrading is proud to call herself a life long fan of the great Chicago bluesman. She recalls how her first guitar was purchased only after her dad forbade her to touch his - he wanted her to concentrate on piano - and she pestered the heck out of her patient mother to buy her a pawnshop axe. Joan was already writing songs as a toddler, and quit school at 16 to work odd jobs and practice her musical craft. She had a recording contract at age 21 and fame and best selling records just a few years later, when she signed with A&M world wide. Musical history ensued as Joan Armatrading filled stadiums with legendarily powerful shows. Still, all down the years she kept honing her chops, especially by listening to the blues, both old-time rootsy blues and more new-fangled styles.
When I point out that her song "Deep Down," which consists of a hypnotically repeated mantra of catchy riffs and the same two-word lyrics reminds me of the classic Mississippi hill country style of R. L. Burnside, Junior Kimborough and Jessie Mae Hemphill, Armatrading laughs, "I really don't know all those names, but yes, that song does have that deep down feeling, doesn't it?" She goes on to explain that the song came from listening closely to "a chap who was telling me about his fiancee and how he really, really loved her­a wonderful thing to say."
Ironically, that sense of celebration, of love, of life's ups and downs, of music, of sheer survival, comes through on this blues album as clearly as it does on Joan Armatrading's many bittersweet pop-rock records. This is not a weary stereotype of blues moaning, it is straight up testifying, not unlike the spiritual testimony of gospel shouts cast in the framework of the blues.
The album opens with "A Woman In Love," a song that Armatrading says is "a poppy bit," and then glides into the joyous "Play the Blues" in which a lover's favorite sort of music gets a good work out.
While Armatrading is famously reluctant to display her personal life for fans and media, and often describes her songs as based on observation of others, her new song "Mama Papa" is obviously autobiographical, offering up detailed description of how her parents and their little child Joan emigrated from the island of St. Kitts to England a few years after her birth in 1950. While the tale is one of righteous hard-working poverty, it is spiced and elevated by expressions of faith and memories of uncontrollable laughter. "That was my parents' home," recalls Armatrading, "You could never be in their house without laughing. They had love and songs and they always encouraged me. They told me that whatever you want to do, you can do it. Never say you can't."
Asked if she is hopeful, Armatrading says, "Yes, I'm an optimistic person. You can make things work if you try hard enough. My parents taught me that and I have always believed it."
Belief and the cultural importance of true spirituality are at the core of the touching cut "Secular Songs." Armatrading comments that the song was inspired by her visit to "a beautiful old church in Oxford; it looked wonderful, with stained glass and polished benches. But it felt very cold, with no sense of any kind of spirituality, just fine worldly French music and no mention of God." She goes on to explain that when she was working on her BBC radio series on Caribbean music, she visited an old island church that had "plain white walls and nondescript pews, but with a preacher who was just full of joyful religion. That church was very, very spiritual, in my opinion, and I always prefer that kind of place."
While her social awareness is evidenced by her charitable and educational work and by the wry commentaries contained in her music, the songs have never been bluntly propagandistic or tub thumping. Yet when asked about the fiercely phrased vision of poverty and its social consequences on the powerful "Somethin's Gotta Blow," Armatrading, with typical succinctness, comments, "That's just the way I see it, and I think that is just the way it is. We need to do more for people who are under economic and social pressure that is not their fault and not of their own choice. There is much to be done."