Since arriving in New York in 1998, Tel-Aviv native, Israeli Air Force Band alum, and Berklee College of Music grad Anat Cohen (clarinet, saxes) has been one of the busiest musicians in town. She has played with the Waverly Seven (Anat, Avishai Cohen, Joel Frahm, Manuel Valera, Barak Mori, Jason Lindner, Daniel Freedman, and guest guitarist Vic Juris), the Anzic Orchestra, David Ostwald's Gully Low Jazz Band, the Jason Lindner Big Band, trombonist Rafi Malkiels, the Choro Ensemble, Cyro Baptista's Beat the Donkey, Duduka Da Fonseca's New York Samba Jazz, Brazooca, and with her brothers (Avishai, trumpet, and Yuval, alto sax and woodwinds) as The Three Cohens. She remarks ironically, "Once you get to the gig, you just have to remember which one it is!" She is also a mainstay of Sherrie Maricle's Diva Jazz Orchestra. "I never knew I was a 'woman in jazz' until I came to the United States," she says. "It's about marketing, definitions, and categories."
All About Jazz named Cohen's first outing, Place and Time, as one of the best debut albums of 2005. In June 2007, shortly after her two latest recordings appeared (Noir and Poetica), I spoke with Cohen at Cuppa Joe, in her Washington Square neighborhood.
Cohen's new titles are distinctive yet complementary, a measure of her musical breadth, but only partial indication of the busy schedule of one of New York's most promising young composers and performers. On Noir, Cohen enlists arranger-conductor Oded Lev-Ari and the 18-strong Anzic Orchestra to explore the intersection of Brazilian and Latin American music with big-band jazz. She opens with an affectionate nod to Cuban composer Ernesto Lecuona (a lyrical "La comparsa," which ebbs, swells, and recedes like a tender Caribbean breeze) and Nat King Cole's "No Moon at All." NPR listeners will recognize these two pieces, which have been sampled as sonic bridges this summer; she was featured recently on Weekend Edition, Public Radio International's The World, and WNYC's Soundcheck.
"Cry Me a River" is a splendid vehicle for Cohen's fluidly expressive clarinet, while the Sun Ra ballad "You Never Told Me That You Care" brings new resonance to the saxophone oeuvre. Hermeto Pascoal's "Bebê" leads with a striking cello solo, sliding into an upbeat set of changes, chasing Cohen's rapidly phrasing tenor. Other high notes include an astute revision of "Carnaval de São Vicente," and an inventive fusion of Luiz Bonfa's "Samba de Orfeu" and Louis Armstrong's "Struttin' with Some Barbecue." Cohen closes sweetly on clarinet with Pixinguinha's expressive choro "Ingênuo," a stately coda to a superb ensemble recording with beautifully original arrangements.

"The Purple Piece"

Poetica is more intimate, with Cohen's clarinet backed by pianist Jason Lindner, bassist Omer Avital, and drummer Daniel Freedman, and guest strings and percussion. Cohen essays several pensive Israeli songs (check out the popular "Hofim"), Jacques Brel's "La Chanson des Vieux Amants," Nelson Cavaquinho's lovely ballad "Quando eu me chamar saudade," an illuminating interpretation of John Coltrane's "Lonnie's Lament" (with a sublime string quartet), and two of her own compositions, "The Purple Piece" and "La casa del llano," the latter a swaying, sprightly 5/8 Venezuelan merengue (not to be confused the Dominican genre) that reflects upon a trip she made there.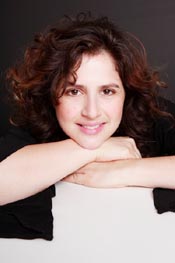 I asked Cohen to comment on Chucho Valdés's assertion that in jazz today, creativity is most manifest in Latin jazz. She responded, "The world is getting smaller; 'jazz' is now such a broad term. I understand what Valdés means, but it's wider than that - jazz is becoming world music. There is so much access to information and music from all over, and things are becoming a big blend, with sampling, mixing, and diverse rhythms, colors, instrumentation, and sounds. I don't know if it's good or bad, but it's all about crossover."
Regarding the U.S. jazz canon as curated by Lincoln Center or the Smithsonian, she remarks, "Playing jazz - from the 1930s, or the 1960s, or any other time - is really a choice, a matter of what you dedicate yourself to. What's important is to be true to what inspires you. A problem arises when people cannot define their tastes. Taste is more than just about music. Many people cannot decide for themselves; they want someone else to tell them what is 'good'. The few who appreciate quality choose for themselves."
How does she define musical 'quality'? "For me it means to play something the way I hear it, true to what I hear, not to imitate, to use sources as an inspiration rather than a mold, to get at the spirit of the song."
A fine example is her reworking of "Lonnie's Lament." Asked about it, she replies, "Coltrane, what a strong influence! When you hear a sax player, you know they've been checking out John Coltrane, one of the deepest musicians ever, like Pharaoh Sanders. Compare them to players who are merely technical masters (there are many!), and you can hear the difference. On the clarinet, I just play the melody for the first half of the song, and then I make it my own, giving it a 6/8-feel with African percussion. His sound must have touched everyone who has ever played tenor; it goes straight to the heart. Even now, sometimes I just want to take the sax and play it like Coltrane. That's all I wanted when I went to Berklee, which fortunately opened me to world music, starting with South America."
Who were her most memorable teachers? She immediately mentions Brooklyn-born saxophonist Arnie Lawrence (1938–2005), co-founder of the New School for Jazz and Contemporary Music (1986), and creator of the International Center for Creative Music in Jerusalem (1997), where as a teacher he sought to bring Arabs and Jews together through music. "Arnie came to Israel when I was in the army, and he had a weekly music gathering in Jerusalem. Whoever showed up could play. It was always deep. It was about looking for the beauty, a feeling that has stayed with me. Arnie was one of the most beautiful souls. With my brothers it was always, 'Let's go to Arnie!' He was a very strong influence, the first and the last," she observes with evident feeling.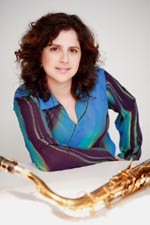 "I also had some passionate teachers at Berklee, musicians who are true to what they do. I'm in awe of people with great technique, but those who really touch me are the ones who are genuine. You hear them play and you immediately get a sense of who they are. Yuval (alto sax and woodwinds), my older brother, went there first. I started on clarinet, and my brother Avishai took up the trumpet. In Israel I studied at the conservatory, went to the high school for the arts. Berklee sends reps to audition all over the world. I got a scholarship, as did my brothers."
"I come from a musical family. My parents both love and appreciate music. My mother taught music in kindergarten, while my father listened to the radio and knew all the classical composers. He also knew the American songbook, having lived in the United States in the 1960s. I didn't grow up on jazz - except for swing, it's not particularly popular in Israel. Brazilian and other musics were what I heard. My father has natural talent, and can pick up an instrument and play it, although he was never trained."
"We were totally immersed in music in school and after school. There was never any question but that my brothers and I would all do music. I never heard the question, 'When will you get a real profession?' I have to thank my parents for always driving us around to our lessons. They both retired last year and are still in Israel. It helped me immensely to be in a musical family. They never questioned music as a vocation. All the hours they waited for us in private lessons..."
How did she come to choro? "After Berklee, my first professional encounter was via bassist Brazilian Leonardo Cioglia. I moved to New York shortly after he did. I lived in Astoria, and Leonardo came one day on his bicycle into my living room and gave me three songs. 'Learn this!' he said. I'd sit in with him and his band here and there, expanding my repertoire. If people don't hear you in New York, you're nowhere! It changed my musical life, being part of the choro ensemble. We used Brazilian popular music, played instrumentally, people like Milton Nascimento, Ivan Lins, Toninho Horta, and João Bosco, rather than samba or bossa nova per se. MPB has a more complex form and harmony."
"During the 1998 World Cup I was going to a lot of parties, hanging out with Brazilians. It's the people, the food, the language. They became my close circle of friends. I just felt at home in Brazilian culture. I'm very happy to be part of the choro world; I even thought about living in Brazil. I fell in love with Rio."
"Getting started was difficult. No one played seven-string guitar in town, but eventually we found people and made a choro ensemble. Our first gig was at Jules Bistro in 2000, every Sunday. Word began to spread. Some people came to sit in, but rarely would they learn the songs; instead, they just played solos. I started to learn about the different rhythms and explore the Brazilian songbook, including songs that were translated from Portuguese into Hebrew - growing up, I thought they were Israeli! This is how I came back to the clarinet. Choro is very virtuoso, technical, expressive stuff. I got my chops back by playing this music, and it has been the mainstay of my clarinet playing."
"It is a challenge to work with the various rhythms of Brazil. When we started to play the music, I fell in love with it, and it immediately rekindled my desire to play clarinet. Choro employs classical European harmonic progressions and demands a classical approach to technique on the instrument. It offers the alegria (happiness) of the samba, the Brazilian sense of saudade (nostalgia, longing), groove, and high energy. It requires constant interaction, and calls for improvisation. It has all the important elements I think great music should have, and requires true dedication to learn to play it well."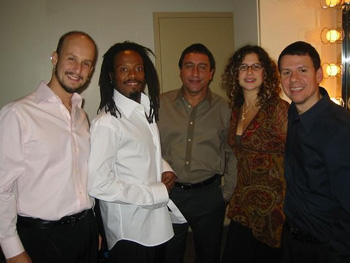 The Choro Ensemble includes Cohen (clarinet), co-founder Pedro Ramos (cavaquinho, tenor guitar), Gustavo Dantas (guitar), Carlos Almeida (seven-string guitar) and Ze Mauricio (pandeiro). "Nosso Tempo, our second CD, is about to come out, and we have a regular gig at the Zinc Bar (Houston and La Guardia), the early set on Sunday. We have had two Brazilian tours already, and have performed at Carnegie Hall and Lincoln Center. I wish there were a club here in New York where choro musicians could play regularly. There's a new jazz club, Cachaça, so something might happen."
What's already happening is pretty remarkable. She's garnered critical praise from the New York Times, Washington Post, and Village Voice, and recently went home the first-ever double winner of the Jazz Journalists Association Awards, racking up "Clarinetist of the Year" and "Up-and-Coming Musician of the Year." Her weeklong Village Vanguard run in early July made her the first female horn player, and first Israeli, to headline there. Her sets mostly sold out, and not just because she was joined by guests like Paquito D'Rivera on sax and clarinet, and brothers Avishai and Yuval. Downbeat (August 2007) announces Cohen's selection as "Rising Star Clarinetist of the Year," where she also made the final cut in four other "rising star" categories: up-and-coming musician, composer, tenor sax, and soprano sax.
What's on the horizon for this thoughtful, articulate, and expressive artist? Apart from ongoing guest appearances, upcoming gigs include the Blue Note (with the Waverly Seven), Joe's Pub and the Zinc Bar (with the Choro Ensemble), and (with her quartet) the Lotus World Music and Arts Festival (Bloomington, IN), the jazz festival circuit (Saratoga, Newport, Chicago, San Francisco), and club appearances in Washington, DC, Arlington, VA, and Cambridge, MA. "My agent is IMN, the best! Everything is happening so fast. I'm very busy with quality music and fun projects, and am very fortunate to be able to make music and continue to grow." Anyone within striking distance of New York might want to audition Cohen's inspired, soulful sound, as she steadily establishes herself as a leading contemporary voice of internationally conversant jazz. - Michael Stone, August, 2007
---
Audio and video courtesy of the artist, Anzic Records and International Music Network
www.anatcohen.com (the artist's web site)
www.imnworld.com/anatcohen (IMN)
www.choroensemble.com (The Choro Ensemble)
www.waverlyseven.com (The Waverly Seven)