BIG BOX MAN
Ian Anderson shoots the squeeze breeze with Regis Gizavo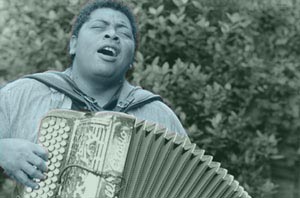 Probably to all but a few in the crowd he was an unknown quantity, but the man who had the honour of kicking off London's recent squeezeboxfeast in a packed Purcell Room was a musical giant from the big red island, Madagascar's exceptional Regis Gizavo.
Half dwarfed by a heavyweight button accordeon, and accompanied only by David Mirandon - one of the subtlest percussionists to ever grace a drum kit - Regis proved to be the man for whom the old cliché about lightning fingers might have been invented. Fast - very fast! - dynamic, fluid, complex and inventive, even the most committed accordeonophobe should be won over by such playing, and his singing's really impressive too. The house was duly brought down.
But this UK debut was a long way from Gizavo's tentative squeezings in the south west of Madagascar, where he was one of a family of 13. The six-year old's early encounters with his father's Hohner D/G melodeon were to treat it as a pleasurable toy. His constant playing angered the man - a teacher who thought the boy should be concentrating on school - to the point where the father smashed the instrument! But Regis persevered, soaking up both the traditional accordeon players in his mother's village, and all the different kinds of music on the radio - not just what could be found on local Malagasy stations but also Portuguese and Southern African sounds floating across on the airwaves from Mozambique.
The regional accordeon style that Regis demonstrated in our kitchen the day after the concert not only sounded uncannily like the virtuoso marovany (box zither) playing associated with the same area around Tulear (the remarkable Madame Masy, for example) but also strongly reflected the modern tsapiky music played by southern Malagasy electric bands like Tirike. The accordeon, he explained, was probably the link. The instrument has been in the region since the French invaded the country in 1896. It was there, so people just used it, adapting the music they already played on traditional instruments onto the new device (apparently the only difference was that while marovany players also sang, accordeonists just played instrumental dance music). Later, when Madagascar declined economically and became cut off from the rest of the world, accordeons slowly fell to bits as spare parts became unobtainable, and the music was adapted again by bands with electric instruments.
Although he had a clear musical talent - his album sleeve notes tell a spooky story of him being summoned at the age of 12 to play a woman out of terrifying trance - the father's educational thrust won through and Regis pursued a university education. The music was to keep equal importance in his life, though. Constantly playing in various amateur bands, he met and mixed with all kinds of musicians when travelling the country, and by the late '80s could be found backing pop singers like Landy or in a group with guitarist D'Gary. All the while, his inspired, original mix of the local and international, the old and the new, was taking shape on borrowed and hired accordeons.
On moving to Paris in 1990, he initially joined up with jazz group Bohe Combo. Completely lost over what to play, he turned to famed jazz/musette accordeonist Richard Galliano for advice and lessons, but Galliano refused, telling Regis to stick with his roots and unique talent which was just as impressively bewildering in its own way. Good man!
At the time, Regis thought Galliano very rude, but now appreciates the gesture. Forced by relative poverty and a lack of compatible musicians, he began to work alone on developing his style, particularly his now-impressive left-hand (bass buttons) work which he'd hardly begun on when leaving Madagascar. (He'd won the annual RFI Decouvertes competition in 1990, which gave him a sufficient cash prize to buy an accordeon of his own for the first time, and introduced him to France).
Slowly, with a smattering of good luck involved, his reputation spread.
Occasional sessions and gigs with people like Manu Dibango, Ray Lema and Les Têtes Brulées followed, and eventually in 1993 he joined the Corsican group I Muvrini who are enormous in France.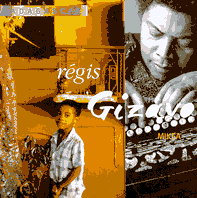 Meanwhile, back home, his reputation was fearsome. At least as far back as when I first heard of him around 1990, anybody you asked said he was the best Malagasy accordeon player. But he was away, and musicians there do just love to spread stories about their absent rivals. He was never going to make a record, the tale went, because he'd invented all this music that he didn't want anybody else to able to steal. The truth was more prosaic: he was getting to grips with this strange country and culture, busy making ends meet, gigging, working on his music, and nobody was offering him a deal. The chance finally came after guesting on one of his old friend D'Gary's albums, and the French label Indigo/Label Bleu signed him for the splendid Mikea. The world finally got the chance to hear that the rumours about this Malagasy accordeon genius really were true.

Plans? No big programme, but he'd like to find an Anglophone agent/manager to help him do more things internationally (his UK debut, and a brief trip this past summer to North America more than whetted his appetite). So far all this work has come about from personal contacts, but he knows things could be better coordinated. And whilst the first album was spur-of-the-moment, relatively unplanned and basic - just a good opportunity to get his name established and showcase the accordeon - he doesn't expect to do another in the same way. He'll still work with I Muvrini from time to time, but from here on it's Regis Gizavo first.

And you'll be hearing a lot more!

- Ian A. Anderson
---
Indigo/Label Bleu are distributed in the UK by New Note. Thanks to Hanitra Rasoanaivo for translating.
Mikea is available in the US on Shanachie Records. Read the RootsWorld review.

---
This article was contributed to the Free Reed Festival by Folk Roots, one of the largest and most respected roots music magazines in the world.
Top photo by Ian A. Anderson.