Yann-Fañch Perroches
Mixing a Diatonic Cocktail

"Don't sit pushing and pulling alone in your corner! Unity creates strength, the little streams to the great rivers, and the more, the more of us there will be!"

Kay Hickman talks with a Breton diatonic master
"I did not choose to play the accordion. The accordion chose me," says Breton musician Yann-Fañch Perroches. While he tried guitar and piano as a young man, he did not find his true instrument until a chance encounter with a musician on the street. "I don't remember how well he played, probably not very well, but it was just such a shock to discover this small instrument that I had ignored before!"
Just a few months earlier, Perroches had discovered traditional music from listening to Alan Stivell's music on the radio. He also attended his first fest-noz (night dance) around that same time. Perroches had moved to Brittany with his family when he was 13 years old from central France, and grew up without the Breton culture in his home, since his family was not Breton. There was also little music in his life while he was growing up, as his family did not have even a stereo.
Listen!



An informal session with fiddler Fañch Landreau

"Le mauvais père"
"Gavottes"
"An dro"
"La grosse valse à Dudule"
"Ronds de St Vincent"

all trad or comp. Y-F P.
©2000

Perroches has been playing diatonic accordion now for 25 years, playing traditional music from Brittany (a Celtic country in Western France), and his own compositions. "My playing is highly influenced by traditional Breton accordionists both diatonic and chromatic, especially Jean Coateval and Yves Gac, both recently deceased. Other influences are sonneurs (bombard and biniou (traditional Breton bagpipe) players) and traditional singers. Amongst the traditional non-Breton accordionists whom I especially enjoy, I would like to name Serge Desaunay, Ricardo Tesi, John Kirkpatrick, Martin O'Connor, Phil Cunningham, Clifton Chenier, Maria Kalaniemi....and so many others! Finally, I would like to say how much I admire other styles of music, such as those of Richard Galliano and Astor Piazzolla. The music which influences me the most (apart from traditional music) is certainly jazz music!"

For 15 years Perroches was the accordionist for the breton band Skolvan. He left in 1998 to try new and different styles of playing and to pursue his own musical interests.

In his leisure time, Perroches is even more broad in his tastes. "Any kind! Classical, jazz, rock, traditional from everywhere, especially African, Asian, European - Italian, Irish, and Rumanian........."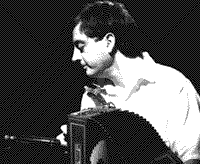 (Photo Gilbert Le Gal)

Perroches is President of the CADB (Collectif Accordeon Diatonique de Bretagne or the "Diatonic Accordion Collective of Brittany"). The objective of the CADB is to bring together the thousands of diatonic accordion players in Brittany so they can get to know each other, play together, exchange scores and tablatures, and to organize concerts and workshops. They discuss accordion and traditional music pedagogy, their history, their current state and their future. The CADB says, "Don't sit pushing and pulling alone in your corner! Unity creates strength, the little streams to the great rivers, and the more, the more of us there will be!" They have a regular newsletter, and also a website listing dates of workshops, concerts, festou-noz, competitions, accordion courses and schools in Brittany, tablatures, etc. One does not have to be Breton or living in Brittany to belong to this association.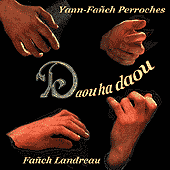 Of the near future in music, Perroches says, "I am playing in a 'big show' with 16 musicians from Brittany, Ireland and Quebec and 6 dancers. This will take place in Nantes (East Brittany) on June 9th, 10th and 11th. I am also beginning a new project with a female singer Vero Bourjot, doing concerts and a CD." Perroches has a new CD soon to be released, a duo project with himself and fiddler Fañch Landreau. They toured in Texas and Louisiana in October and November of 1999, playing at Celtic festivals and clubs. He also is artistic director for a young Breton band, Spontus, who will soon be releasing a CD.
Perroches' long term plans? He says, "I would like to do another CD with my own compositions. The music is almost ready, but I don't have enough time to do this with all of the other things I am presently working on. I'd also like to play more often with other jazz musicians."
Yann-Fañch Perroches is one of the premier diatonic accordionists in the world today, and his style of playing is unique and beautiful. – Kay Hickman
Further adventures:
Yann-Fañch Perroches Web Site
Collectif Accordeon Diatonique de Bretagne (CADB)
More French Music on RootsWorld
daou ha daou, the new CD by Yann-Fañch Perroches and Fañch Landreau will be released in France on Keltia Musique in June, 2000
All photos and audio © 2000 Yann-Fañch Perroches, used by permission
© 2000 RootsWorld
No portion of these pages may be reproduced without written permission