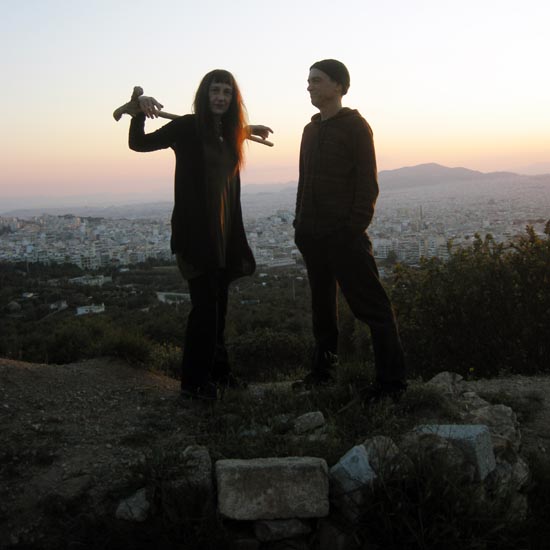 Kristi Stassinopoulou & Stathis Kalyviotis
A song from their upcoming CD NYN (Riverboat Records)
| | | |
| --- | --- | --- |
| | | "Gia Mia Stigmi" |
Kristi Stassinopoulou and Stathis Kalyviotis rocked the Greek music world a few years ago with their recording Greekadelia, described by RootsWorld's Nondas Kitsos as "highly recommended, a definitive recording for the Greek music scene, one that ought to become a standard. "

Three years on and we now get to hear where they will go next. I asked Kristi if we could preview a track for our readers, and here is what she and Stathis sent for you.

"We chose to listen to track four together. 'Gia Mia Stigmi,' meaning 'For A Moment,' is a bluesy, 21st century Zeibekiko dance-song in 9/8 beat, in which we used a distorted bouzouki, like most of the old laika songs. It is speaking about our grey everyday life, about dull thoughts, about anxiety and the struggle to survive in between all the difficulties. But then in its refrain, the song speaks about that door which can suddenly open in our mind for a moment and fill us with light and with the wisdom to put aside such feelings and become gods even only for one moment. To be living in that one moment is actually the main concept, the main idea, the main suggestion in our new CD NYN, which means NOW in ancient Greek."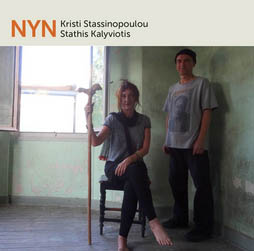 Dull day
Dull thoughts
You live for tomorrow
You live for yesterday
Dust in your eyes
Hides the illusion of everything
around you
Grey ideas
Determine your grey fate
The door opens for a moment
You may get scared by the light
For one moment everything
changes
Man turns into God
Bowed again
Without breath
Running for something
Not knowing what it is
You have no time to feel
How greedy your desires are
Everything is a mistake
Life slides through your hands
NYN will be RootsWorld's Music of the Month recording in September and current subscribers will receive the CD just before the release date. Subscribe now so you do not miss out.
You can also donate 21.00 (including post, worldwide) to RootsWorld and we'll send this CD as a "thank you" when it is released: