Little Big Noz

Sometimes, music falls on my desk that I know will never be fully explainable as a review. Such is the strange world of Little Big Noz, the musical offspring of baritone saxophonist Ronan Le Gouriérec and his antagonist Philippe Chasseloup. Together they have created a satirical show based on the traditional dance music of Brittany.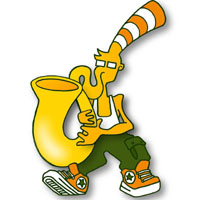 In the CD version of these performances, they play word games with the dances and their sometimes rigid interpretations by the participants, and Le Gouriérec turns the music on its head in a solo saxophone attack that respects the melodies, but more importantly, respects the freedom those melodies offer a creative musician.
Because the chatter is all in local French, and is further complicated by the inside jokes and double entendres they insert, Gouriérec offered to help me interpret a few of them for you.
| | |
| --- | --- |
| | "T'es Lent Perdreau" |
The opening track is "T'es Lent Perdreau." You hear Philippe on the phone with his girlfriend, letting her know their project has been completed. "You know, the project of the boy with the big saxophone. It is a record that will not sell. Same as all of his records, we'll find in a garage sale, between "Loïc Valdor sings Brittany" and Alan Stivell. The boy is cool, but nobody tells him of this problem. We'll drink one last glass and I'll come home. Yes it's a boring project, but I did my best. In twenty minutes, it's over. I love you."
"Bal de la Frime"

"Gavotte Rock and Roll"
In "Bal de la Frime" as in all the bals, the first musical phrase has no fixed tempo and often the musicians take advantage of it to add lots of notes and embellishments. Philippe plays a sports announcer and comments on my interpretations "Ronan concentrates, then, that's it, it's gone! But he's disappointed, it does not please him, his eyes are red. The room is empty, except a little lady who is deaf. I think he's dislocated a lung. Yes that's right, he's dislocated the right lung … " Gouriérec then roars into a solo "Gavotte Rock and Roll," part dance tune, part bebop and wailing.
| | |
| --- | --- |
| | "Chenille Normande" |
The final track is "Chenille Normande," wherein Chasseloup plays the P.R.D.C (Psycho Rigide Du Coin) . It's a French expression (rigid psycho of the corner). He's the one at every dance who knows everything, who has seen everything and is full of certainties. In dance, he is the only one to do it properly and to know all the right steps. He say to the musician, "Sorry Mr. Gouriérec, but the original steps are not respected, the gestures are not good, it's undanceable, it sucks!" The musician carries on with energy and precise tempo, and his challenger leaves the dance in a self-righteous huff.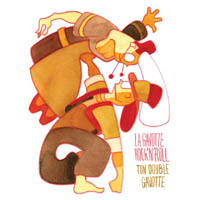 The CD comes with a wonderful collection of illustrations by Laurent Lebot. Throughout the 14 tracks, Gouriérec delivers something very diferent from what is usually excepted at a folk dance in Britany, and he does it with great musicianship and a wry sense of humor, aided and abetted by his stage partner Chasseloup.