October 13, 2001
by Bob Haddad
Ephat Mujuru, master of Zimbabwean music, dies.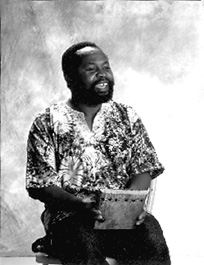 It is with great sadness that I announce the passing of Ephat Mujuru. Ephat suffered a massive heart attack on 5 October in a transit lounge at Heathrow Airport, shortly after disembarking a plane from Zimbabwe. He died on the way to a local hospital.
Ephat Mujuru was born in Rusape, eastern Zimbabwe, into a family of musicians. Ephat's grandfather, Sekuru Muchatera Mujuru, was one of the most important Shona spirit mediums of twentieth century Zimbabwe, and a master mbira player. Under his grandfather's guidance, Ephat learned not only to master the mbira, but also grew to understand many aspects of the mbira as it is used for spirit communication and prayer channeling.
Ephat first travelled outside of Africa in 1980 for teaching workshops sponsored by Temple University in Philadelphia. Here are his words about that experience, transcribed from a 1996 interview: "My first impression of the outside world was that life was too fast, and that everyone seemed to be busy all the time. Despite their being busy however, they never seemed to accomplish what they set out to do. The loud noise of cars, planes and machines disturbed me. Even in the streets, people seemed to always be screaming at one another."
In 1982, Ephat returned to the USA, performed in New York, DC and Boston, and began to teach mbira to groups and individuals. He was a visiting instructor at the University of Washington, Seattle for several years, and returned to the States on semi-annual tours.
He recorded widely in Zimbabwe, and released two internationally-distributed recordings on the Music of the World label.
The first, "Shona Spirit" was a landmark collaboration between him and the late Dumisani Maraire. His last commercial recording, released in 1998, is called "Ancient Wisdom."
He is survived by his wife, 10 children and other family members. He was 51 years old.
For all that he has done, and for the musical hearts that he has touched, may his soul rest in peace.
Condolences may be sent through the Zimbabwe College of Music at the following address:
Zimbabwe College of Music
Box 66352, Rotten Row
Harare, Zimbabwe
fax: +263-4-749077
e-mail: [email protected]

written by Bob Haddad