Värttinä
This band has fallen in and out of my radar for a number of years, producing recordings I loved and some I have hated. So, here then, is a recorded history of the band's recent work, from a variety of viewpoints rather than just my own. - Cliff
There's also a bio of sorts by John Cho.
---
Värtinnä
Vihma
Wicklow (www.wicklowrecords.com)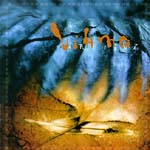 Värtinnä is a band I have loved and hated, going from adoration upon first hearing them as teenage folksters to practically despising their trendy-for-trendy's sake mid-90s incarnation. They are a band that always seemed at war with themselves, with their musical goals and their artistic decisions. The core of their material has always flitted around the edges of the Karelian folk singing, which offers real challenges when trying to fuse it to a pop style. But while always backed by a brilliant band, the main thrust was the front line of women singers, who often seemed focused solely on their cuteness and vivacious stage presence. With a number of major changes in lineup, things are changing. This record finally finds them approaching their art genuinely, with more real energy and spirit and less personality cult.
Vihma finds them forging complex tunes from the elemental Finno-Urgic core. The songs are mostly original, written by fiddler Kari Reiman and vocalist Sirpa Reiman, and they have handled it beautifully. They give an exceptional band more music to wrap around than in the past, and the band's instrumental skills are no longer relegated to a backing position. The production by Richard Horowitz is also direct and vital, and only occasionally falls into the morass of pop crossover this band has been so prone to before. The changes have also allowed this 9 piece band room for more emphasis on soloists, both vocal and instrumental, and ballads are given as serious a treatment as the roaring "wall of girls" sound that has made them more famous. Make no mistake, this is still folk-pop by any definition, but it's well crafted, played with verve, and once again points towards what this band could someday achieve. - Cliff Furnald
---
Värttinä
Kokko
Nonesuch
Finnish and Russian folk songs set to a hybrid folk/rock foundation are the hallmark of one of Finland's most popular groups, Värttinä. Their sixth album, Kokko, continues to improve on the group's uncanny ability to mold traditional songs into very accessible yet powerful music for all ears.
Soothing lullaby-like melodies sung in unison in one song give way to chattery, eastern harmonies in the next, even syncopated drums and samples in others. Kokko stretches the range of the group beyond the unusual arrangements of traditional songs that previous albums offered. They have included more original material and hit on moments of melodrama and a great gritty dirge of a song that would make the likes of Nick Cave shudder.
Värttinä means "spindle," an icon representing women's creativity to the four young women who formed the band in 1983 in a Karelian village near the border of Finland and Russia. Their lyrics often focus on love, courting, marriage and child bearing. With sad tales of women's unfulfilled dreams, Kokko continues to rekindle interest in Karelian folk music, all the while pushing the boundaries of a nations' musical tastes. - Paul Harding
---
Another viewpoint:
Värttinä
Kokko (Nonesuch)
Maybe they just sound too much like a school girls choir backed by an L.A. pop band. Whatever the reason, the once young and exuberant Värttinä have evolved into a "folk/pop band" in their new record company's own words. What was once vibrant and exciting is now pretty much a tame imitation, over- produced to mass market (in Finland I presume, I can't see that much success for it here in the US) dance band with some good singers. The hope I had in their last album was that the marvelous acoustic band that backed these singers would grow and take control of the music. Alas, they have fallen further into the background on Kokko (Nonesuch), supplying drum and bass tracks that most studios would have saved money on by using machines. The accordions, fiddles and guitars are still here, but it's frustrating to hear their innovative Finno, Balkan and Celtic sub-roots cut short at every turn. As with every album they make, there are a few glimmers of real music, and one or two fine tracks that break through all these artifices but they constantly disappear in a barrage of pulsing pop. There's no excuse for this much talent with this much support putting out a recording so boring. - CF
---
VÄRTTINÄ
Seleniko
Mipu Music (Green Linnet-US)
The nine women and men in this Finnish group have been wowing audiences all over Europe, and made the first folk ablum to ever go gold there. The name is the Finn word for spindle, and they will turn your head around. They completely blow out the image of the serious Finnish fiddler, scowling and playing his tunes. This is WILD! Vivacious! This ain't no tango, either! (The Finns seem to have a strange penchant for the tango, but that's another story.) The core of Värttinä is the female group vocals of Mari and Sari Kaasinen, Kirsi Kähkönen and Sirpa Reiman. Most of the instrumental contingent is acoustic; accordions, strings and bass for power with horns, harp, kaval and whistle for color. While it may sound familiar, the sum of it all is mind bending. The harmonies are from out of this world, mixing the Bulgarian/Hungarian sound that dominates Finnish folk (there are some ancient connections between the east and the north) with some other inflections. With time signatures like 5/8, 7/8 and 13/8, you'll learn a few new dance steps. The arrangements, in part the work of one Hijaz Mustapha, are unique and surprising, turning from ancient folk rhythms to almost funky grooves without warning. The musicianship is peerless and powerful. When they're not portraying icy beauty or risque playfulness, they are thundering through some of the richest, densest acoustic music you've ever heard. - CF
---
VÄRTTINÄ have come and gone in my affections, alternately blowing me out of the water with their power and boring me with their lack of adventurousness. Aitara (Mipu/Xenophile-US) continues in that confused vein. Here the instrumental backing is probably the best it has ever been, with a peerless skill and roaring spirit. Praise goes not only to the musicians that sit in this band, but to Janne Haavisto, who's production is flawless, catching both the ancient mood of the Karelian tunes at the root of the music and the modern energy that this band, at its best, can harness. But the central core of this band is the women who sing the songs, and in live performace front the show, and here is where I more and more loose this group. There's a contrived atmosphere to the vocal part of the group, and it comes through live and on tape. The singers aren't all their image cracks them up to be, and both the reckless verve of modern pop singers and the wonderful dynamics of some of the great traditional singers elude them. But on Aitara I am more willing than ever to just let those things go, so fine is the music that backs them up. This is a great group of instrumentalists, on par with any band out there these days. Confused? Me too. - CF
---
See also: Finland, John Cho's Varttina story