NA LÚA
Os Tempos Son Chegados
i+D Cultural (antonr@aie.es)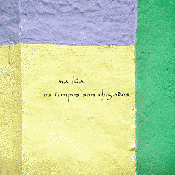 Na Lúa has established themselves as one of the leaders of the new Galician music movement, with six recordings and numerous international tours. Galicia has become the focus of the latest "Celts of the world" fad, but this band exceeds the usual expectations, blending their bagpipes, accordions, percussion and fiddles with healthy doses of electric rock, jazz and even hints of African and Caribbean pop.

They are at their strongest where the Galician elements are the most evident, leaving the local dance rhythms to be accented by the guitars and mouth harps and other non-local instruments, and songs like "Muñiera do Birimbao" show how these regional flavors are the key to their spacious and wonderful sound. They flounder on a few straight-time rock tracks, where they sound as tired as some of the recent dinosaur folk-rock bands from Britain, as they try to make something with "broader appeal." Much better are the traditional tunes and adventurous, original tracks like "Airiņos de Africa" that pulls soukous guitar lines into Galician the folk dance beats, and then turns into a downtown jazz jam at the end. This track has the distinction of being the first ever soukous clarinet solo I have heard.

"Riberiana" also takes an African theme for its brief life as a dual between bagpipes and African guitar lines, punched up by minimal percussion and funky electric bass. These songs strive to be consciously different, but are ultimately more true to the bands creative spirit than simple rock crossover.
The album has some beautiful tracks as well, using the Galician gaita (bagpipes) to their full, moody effect. This is an album to be savored track by track, following a trail through the Galician musical landscape that has a few potholes, some sufficiently pleasant moments, and a number of spectacular views.
- Cliff Furnald
Sound files of "Muiñeira do Birimbao" (a short segment) and "Riberiana" (the full song) are in Real Audio format, used by permission.
See also: Spain, Celtic, Europe, bagpipes, accordions