Various Artists


Gaelic Roots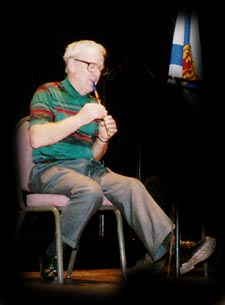 Sean Potts


Kells Music (kellsmus@pipeline.com)




This 2 CD live set was recorded for the Boston College Irish Studies Program, and it represents some fine Irish, Celtic and North American-inspired offshoots of the culture as it has grown and thrived in North America. Ireland, Scotland, Appalachia, French Canada and Cape Breton are all brought together on this well-recorded, high-energy live recordings from the annual Gaelic Roots festival that takes place at the college.

Just the who's-who of artists would consume more space than we have but here's a sampling: a roaring trio of Paddy Keenan (pipes), Cathal Hayden (fiddle) and Mark Simos (guitar); Johnny O'Leary and Jackie Daly's accordions joined by fiddler Maire O'Keefe in a round of polkas; a gorgeous solo on tin whistle by Sean Potts and a wonderful Appalachian duet on banjo and harp by Tony Ellis and Debbie Norris. Cape Breton fiddler Buddy MacMaster makes one appearance on some strathspeys, accompanied by piano. Les Quebecois (piano, fiddle, bones and accordion) tear up a set of Acadienne reels.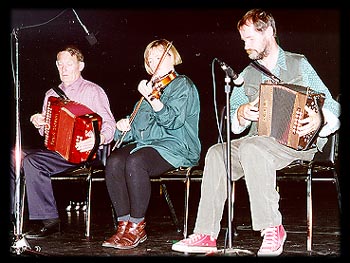 O'Leary, O'Keefe and Daly


The cast also includes Jerry O'Sullivan, Eileen Ivers, Tony Cuffe, Natalie Macmaster, Seamus Egan, John Williams, Daithi Sproule, Zan McLeod, Gerry O'Conner, James Keane, Daniel Lemieux and many more in an impressive line-up of solo to quartet arrangements that brought the true spirit of the this small venue music to a large stage. Enthusiastic notes by Mick Moloney and brief bios of every artist fill out the booklet, making this 2 CD set all the better. - CF

See also: Celtic Music
See the schedule for Gaelic Roots 1998.

Photos courtesy of Boston College School of Music