Vasen and Olov Johansson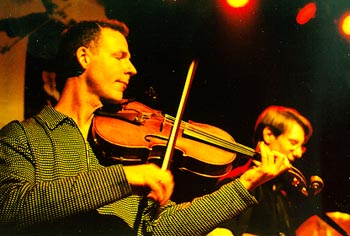 The two highlights of the entire event had to be the rip-roaring, near-rock show of Väsen and the indroductory performance of a new ensemble, Luna Nova. Väsen tore up the stage with material from their latest album, and gave me my first chance to see and hear the newest member, percussionist Andre Ferarri.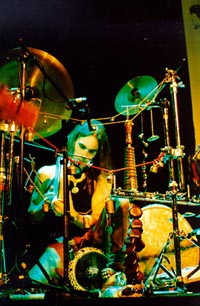 They played a mighty set to the cheers of the audience. Seeing this band in their native setting was a revelation. When they play in the U.S. they are an art band playing a music that is interesting, even curious to the audience. But here in Sweden, they are the hometown rock band, and the crowd (which was dominated by young girls with pins in their noses and teddy-bear knapsacks) cheered and danced and made it clear that this was THEIR music. Väsen may be poised to take the world by storm this year, but they are also clearly the homtown team, as well.
There was also the premier performance of material from Olov Johansson's new solo work, "Storsvarten."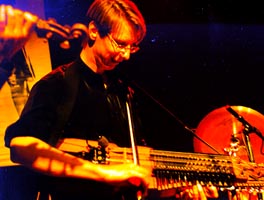 For more about Vasen, look at the links on the Sweden pages.
Photos:
Top left: Michael Marin, viola
Center right: Andre Ferrari, percussion
Bottom: Olov Johansson, keyed fiddle
Missing: Roger Tallroth (sorry, Roger, I ran out of film!)

Return to Falun