Various Artists
Zanzibara Volume 7: Sikinde vs Ndekule: A Battle of Bands in Dar Es Salaam
Zanzibara Voume 8: Rajab Suleiman & Kithara- Chungu
Buda Musique
The label that brought vintage Ethiopian pop music the largest international attention it has ever had - through 28 volumes, including detours into traditional ethnic sounds, sax-led big band intensity and even a solo piano virtuoso who also happened to be a nun - has also been dropping volume after volume of vintage and contemporary sounds from coastal Tanzania and the islands that hug it. So far, the variety has been staggering, and the latest two releases continue to confound assumptions about what the region's music is.
Volume 7 features two of 80s-era Dar Es Salaam's rival bands, the Mlimani Park Orchestra (MPO) and the International Orchestra Safari Sound (IOSS), groups that goaded each other for supremacy from clubs on either end of Tanzania's sprawling coastal city. They both thrived as live acts during the country's socialist heyday. As the country had only one, state sponsored, radio station, Swahili language dance band music was almost all anyone heard commercially. Furthermore, musicians were housed, given health care and schooling for their children. This also ensured that there were talented players for these bands to draw from. In fact, when 6 members of the MPO defected to the IOSS, it didn't take long for the former band to find replacements and retain their slight edge from their perch at the Mlimani Park bar.
This disc contains 11 tracks, 5 from the IOSS and 6 from the MPO, and stylistically, these two bands were cut from quite similar cloth. Anyone familiar with Tanzania's Remmy Ongala or the classic 70s-era guitar dominated Congolese rumba that swept Africa for several decades, will find the sounds here instantly familiar. The guitars sparkle and intertwine, horns stab out unison phrases of joy-soaked declarations and a number of vocalists sing in harmony. The pioneering done by Le Grande Kalle himself is alive and well in this music's roots. And the good news is that, unlike so much of the Congolese recorded sounds of the 80's, these sides lack the slick, tinny tones that zapped the music of so much of its power, at least on recordings.
Then there's taarab, Zanzibar's most familiar musical export. From its eerie oud and accordion harmonies, its melodies enhanced by the trilling of the 78-string qanun, hand drum rhythms and insinuating, smoky arabesque vocal lines, this is a music that could come from nowhere else but a semi-autonomous east African island with former political and cultural ties to Oman and India. To the layperson's ear, it sounds Middle Eastern, but not quite.
On Volume 8, qanun player Rajab Suleiman and his 12-piece band of choral and lead vocalists with percussion, bass, oud and accordion come up with a modern take on taarab. Writing their own songs and blending the older style with the ngoma, a drum typically played in Swahili speaking East Africa, they manage to suggest classic maqam but add an element of dance rhythm only hinted at on older recordings. Yet, this is incredibly traditional sounding stuff; it will never rock a club dance floor, nor is it meant to. Yet, when the drums hit, as they do on "Hisiya Za Muungwana," Kithara has the ability to bring at least a few folks out of their seats. - Bruce Miller
© 2014 RootsWorld. No reproduction of any part of this page or its associated files is permitted without express written permission.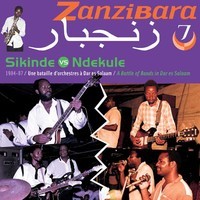 Listen